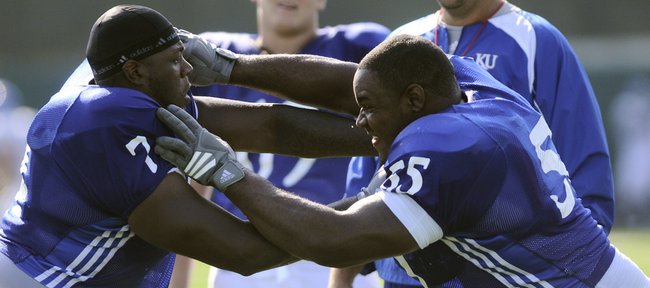 Darius Parish played in 12 games on Kansas University's defensive line as a true freshman two years ago.
Imagine his surprise, then, when halfway into his red-shirt season last year, coaches came to him and suggested — in the way that college football coaches often "suggest" things — that maybe, perhaps, Parish and the Jayhawks better would be served with Parish on the offensive line.
A team player, Parish didn't hesitate to step over the line of scrimmage.
"Coach (Mark) Mangino was more of an offensive coach," Parish said. "I feel he thought that was the best position I needed to be in for the team. I was willing to do anything I need to do for the team."
Of course, Mangino's run as the Jayhawks' coach ended. In came Turner Gill with a clean-slate approach. Gill wiped the board and asked if any of his new charges wanted to change positions.
Once again, Parish didn't hesitate.
"He gave us the chance to move positions, and I did it," Parish said. "It feels great to get back."
Parish, a 6-foot-4, 327-pound sophomore from Wichita, figures he benefited as much from his stint on the offensive line as the Jayhawks' stood to had he stayed.
"I just took it as an opportunity to help the team, but I think it made me better as a player," he said. "I know more about what the offensive line does and can anticipate that. … I've had four position coaches, so I know a lot of different philosophies. Playing both sides, I learned a lot."
Primarily on the offensive side, Parish learned to suppress his nature.
"It was tough trying to transition to offense," said Parish, who played both ways at Wichita North High. "I just had to be more patient on the offensive side. It was hard not to be as aggressive as I wanted to be. At times, I was more aggressive than the other guys who had played offensive line their whole lives. That's why I feel more comfortable now back on the D-line.
"It's an opportunity to prove to coach Gill this is where I belong. It's the position I want to be at, the position I belong to be at."
If he sticks, he'd give the Jayhawks a bit of experience and depth at a position where both are desperately needed.
The four defensive tackles listed on the post-spring two-deep have a combined five letters and 21 career starts, 13 of which belong to junior Richard Johnson.
"My big concern there is depth," KU defensive coordinator Carl Torbush said. "We don't have as many bodies as we'd like. But you're talking about 90 percent of the teams in the country have the same problem we have. We need to stay healthy. We have to make sure they play to their ability, and we have to make sure we have fresh bodies on the field so we don't overplay 'em early in the season.
"But, we've got a great group of young men, with great work habits. Obviously, the previous staff, in my opinion, did a really nice job of coaching them. They're a good group of guys who practice hard and play hard. They're all trying to please and get the most out of their ability, and that's really all you can ask of anybody."
Parish, who has judged Kansas' defensive line from both sides, is convinced it's better than it might look on paper.
"It is what it is," said Parish, who two seasons ago made eight total tackles as one of the Jayhawks' top reserves. "We have some wins and losses. But I have a sense that we'll be good this year. I feel that we give more effort. I feel we go longer. I just feel that we're hungrier now than we were before. We had our losses, but we'll move forward."
Even if first he had to move back to where he started.