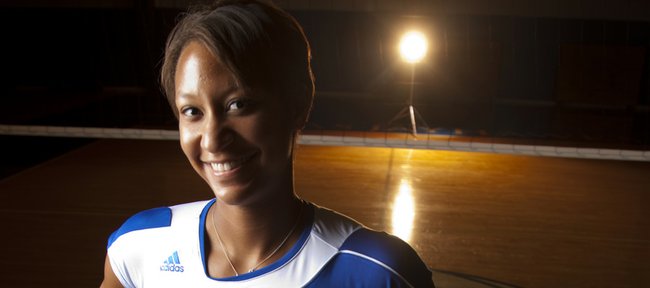 There's an inspirational quote hanging on the walls of the Kansas University volleyball locker room that expresses perfectly the way senior Karina Garlington feels about the 2010 season.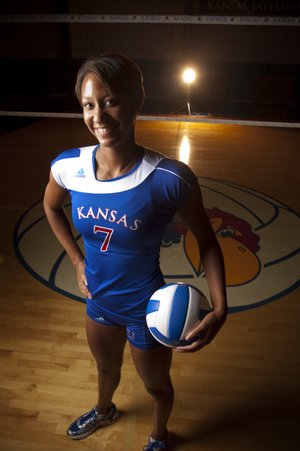 "I expect an NCAA Tournament appearance. I'm not graduating without going. We were so close last year but so far away."
The author? Garlington. The reason? As a senior, the 6-foot outside hitter from Denver is more determined than ever to make her time at KU count.
"I think it's just a natural progression for all athletes," KU volleyball coach Ray Bechard said of Garlington's increased focus this season. "As you first get here, you think, 'Wow, this is fun.' And then each season has more meaning, and it goes by a little quicker than you think it might. She hasn't experienced (an NCAA Tournament) before so I think she feels a little more urgency."
For Bechard, the vision of seeing one of his top players transition into a team leader has been sweet and somewhat surprising. Throughout her competitive volleyball career, Garlington always has been happy in the background. Her club team had five Div. I volleyball players on it, and during her three seasons at KU, the Jayhawks always have had strong leaders above her.
That all changed this spring when the Class of 2010 departed, leaving Garlington and three other seniors — Mel Townsend, Melissa Manda and Jenna Kaiser — to take charge.
"She's had to work at it," Bechard said. "She'll be the first to say she's not the most comfortable leader. Last spring we had some breakthroughs, though, because there was no longer a class in front of her. And I think she understood that, 'Hey, I have to be more accountable before I can expect anybody else to be that way.'"
So she became that way — more accountable at practice, more intense with offseason workouts and more focused than ever. That's what has allowed her to feel comfortable with such demanding goals as the one that hangs on the wall of the locker room for all of her teammates to see.
"I hate to say that my focus is bigger because I'm a senior," Garlington said. "I don't want it to sound like I haven't given the other seniors my best effort in the past. But it's way bigger. It's just very prevalent this year. I'm very aware that it's my last year, and it's my last chance."
So, too, are her teammates. Garlington said the effort put in by her and her teammates during the preseason has been unlike any she's experienced since coming to Kansas.
"Just our mentality in the gym is different," she said. "Usually we're a very offensive team, but this year I feel like our defense is ahead of our offense, which is a positive thing because I feel like our offense always clicks."
In order for Garlington and the Jayhawks to achieve that ultimate goal, it's going to take a lot more than chemistry to click. So far, though, Garlington has noticed that some of those things already are in place, as well.
"This year just feels completely different," she said. "Our coaches put us in the best situation. They gave us 18-19 home matches, which is more than we've ever had, so they're doing everything they can to help us and they deserve our 100 percent best effort. And we're going to give it to them."
In addition to Garlington's inspirational quote — one that, because of its presentation, looks like it should have been uttered by Vince Lombardi or John Wooden — the Jayhawks have adopted a slogan that can be heard as many as 15-20 times per practice at the Horejsi Family Athletics Center on the KU campus. "Hang a banner," they say.
Hanging a banner for an NCAA Tournament appearance — KU hasn't qualified since 2005 — certainly would be nice, but in order for Garlington truly to deem this season a success, she's hoping for more than one banner.
"Everyone's saying let's hang a banner, but I don't really just want to hang a banner," Garlington said. "I want to go to the second round. I want to go as far as we can. I don't want people to just settle once we're in, I want to go farther. I want to see how far Kansas can push it."
The Jayhawks will kick off the season with an intra-squad scrimmage at 6:30 tonight and will open play for real Friday against Lipscomb in the Creighton Tournament in Omaha, Neb.
More like this story on KUsports.com