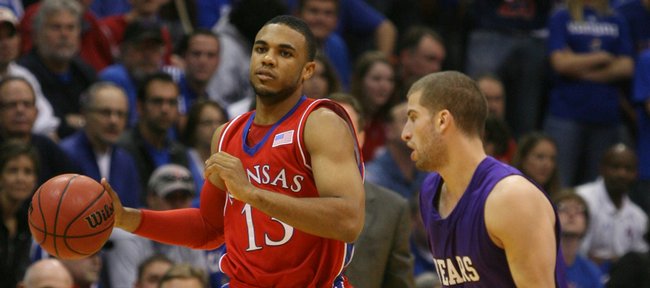 Kansas University basketball walk-ons Chase Buford and C.J. Henry have decided to leave the team, coach Bill Self announced Wednesday.
Buford, a 6-foot-3 senior guard from San Antonio, will remain a student at KU and pursue his degree in business finance. Henry, a 6-4 junior guard from Oklahoma City, has not yet announced if he'll be pursuing a professional hoops career overseas or continuing at another school.
Henry began his career at Memphis, where he red-shirted the 2008-09 season before transferring to KU, where he joined his brother, one-and-done player Xavier Henry, a first-round 2010 NBA Draft pick of the Memphis Grizzlies.
"We, as coaches, have thoroughly enjoyed having Chase as a member of our program the last three years," Self said. "I totally understand — this being his senior year and the time commitment involved — that he wants to pursue some other interests and also enjoy being a normal college student for his final campaign.
"He'll always be a Jayhawk. He will always be part of our program, but certainly we respect the fact that he has other interests and wish him the very best," Self added of the player who appeared in 36 career games, averaging 1.7 minutes, 0.3 points and 0.5 rebounds.
Henry, who battled injuries all last season, averaged 5.6 minutes and 3.1 points in 13 games. He hit 11 of 21 three-pointers.
Henry, who turned 24 on May 31, played professional baseball in the New York Yankees organization from 2005-08. He had orally committed KU his senior year at Putnam City High School. The Yankees paid his tuition to KU.
"C.J. informed us toward the end of July that he was going to look into other options to further his basketball career," Self said. "At this date, I do not know if anything has officially been decided on what he will be doing or where he will be attending, but he has decided to leave KU. It's a decision I totally respect.
"The Henrys have been Jayhawks for many, many years, and certainly Xavier had an outstanding freshman campaign," Self added. Henry's dad, Carl, and mom, Barbara, both played basketball at KU.
"C.J. battled injuries all year long but has been healthy this past spring and summer. He is a good player. He was definitely in the mix for being a major contributor on the court this season, but we respect his desires and certainly wish him the best. I know he will be successful wherever he goes."
Kansas returns two starters – Marcus Morris and Tyshawn Taylor – and 12 letter-winners from last year's 33-3 team.
"We're very excited about this upcoming season," Self said. "My batteries are recharged, and I think the players' are as well. I think we have had the best spring and arguably the best summer with our guys from a personal-improvement standpoint.
"We have a nice nucleus returning but have other players that just haven't had the opportunity to show what they can do yet, waiting and champing at the bit to put themselves in a position to be on the court. This will be a fun and athletic team."
KU loses two walk-ons in a year the Jayhawks add two non-scholarship players. Justin Wesley, the 6-8 brother of former KU player Keith Langford, will red-shirt this season after transferring from Lamar. Niko Roberts, a 5-10 guard from St. Anthony's High in Long island, N.Y., is the son of former KU assistant coach Norm Roberts. Other walk-ons on the team are senior Conner Teahan and junior Jordan Juenemann. Wesley averaged 1.2 points and 1.3 rebounds a game in 23 games (two starts) at Lamar. He averaged 9.0 ppg and 6.6 rpg his senior year at North Crowley High in Texas. Roberts averaged 15.0 ppg and 5.0 assists his senior season.
Return of infamous Facebook page
KU junior Tyshawn Taylor, who caused some problems for himself by writing inflammatory material on his Facebook page last year, has brought back the page after a multi-month absence.
"I just turned it back on last week," Taylor told Foxsports.com. "But I'm watching myself. I'm taking good care of it. That's what I plan on showing — both on and off the court — this year," Taylor added, referring to maturity. "I think even by coach Self letting me do Facebook and Twitter, it shows that he trusts me."
Recruiting
Nick Johnson, a 6-2 senior from Findlay Prep High in Henderson, Nev., has committed orally to Arizona, Rivals.com reports. Johnson had planned on visiting KU in September. However, he has long been considered a heavy Arizona lean. ... Mikael Hopkins, a 6-8 senior from DeMatha High in Hyattsville, Md., likely will visit KU the weekend of Sept. 11, Rivals.com reports. Rivals.com's No. 76-rated player also is considering Florida State, Virginia, Virginia Tech, Maryland, Georgetown, Boston College, Pitt and others.
More like this story on KUsports.com