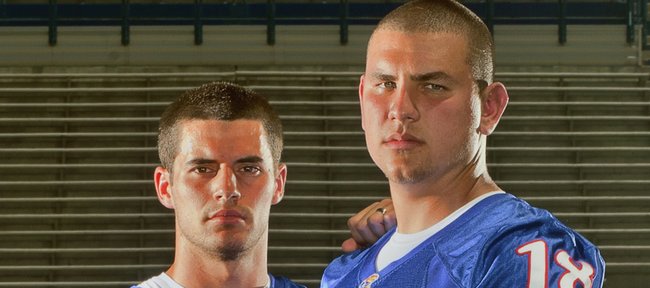 There should be great chemistry between Kansas University's placekicker and holder during the 2010 college football season.
"We spend 24 hours a day with each other," KU senior kicker Jacob Branstetter said, exaggerating only a tad about his friendship with senior punter Alonso Rojas, who takes over for Kerry Meier on placements.
"Besides sleeping in the same room (during training camp at Naismith Hall), we are together all the time. We've got each other's back. Text messages, phone messages, anytime he needs me or I need him, we're always there. Even just the little stuff like, 'Yo, I'm hungry, let's go eat,''' Branstetter added.
Rojas — he's used to taking deep snaps as KU's veteran punter — should be able to provide stability on holds as well as lend emotional support to his "own blood brother."
"We are from two completely different worlds. He's from Oklahoma. I'm from Florida," Miami native Rojas said of Lawton native Branstetter.
"When I first got here, he introduced himself and helped me through the whole transfer process, which was hard," explained Rojas, who bounced from Bowling Green University to KU in 2007.
"It just grew from there (to the point) any time I have problems at home or I'm struggling at school or anything off-the-field related, he's the first person I go to other than my parents. He is loyal and trustworthy. Everything you would ask for in a best friend, he's pretty much it," Rojas added.
It was a no-brainer for Branstetter to invite Rojas to be a member of his wedding party. Branstetter and KU softball player Kolby Fesmire were married in July.
"He was right there with me all the way," Branstetter said. "We joke. We laugh at each other. We get angry at each other just like brothers do. We fight like brothers. We love like brothers. We play games like brothers. We try to relax a bit when we are not kicking."
The two have already put up some impressive numbers at KU.
Branstetter connected on 13 of 19 field goals and 42 of 44 extra points in 2009 after converting nine of 12 three-pointers and 51 of 52 PATs his sophomore season.
He drilled a 57-yarder against Oklahoma to tie for the fourth-longest field goal in KU history. At one point, he made six straight field goal attempts, including five of the longest of his career.
"He's hit the ball better every year," Rojas said. "He's extremely focused. Nothing distracts him."
Branstetter actually has something of a mean streak on the field.
"Don't try to return a kick on him. He can lay the wood. He will hit you," Rojas said of the 5-foot-9, 170-pounder out of MacArthur High School, who has eight career tackles off kickoffs.
"I enjoy that point of football," Branstetter said of contact. "Everyone always says, 'I wish I was a kicker.' Sometimes I wish I was a safety. If I weighed 20 more pounds, I would not be a kicker. I would be playing safety.
"I'm not going to go at them recklessly or out of my position," Branstetter added, when asked if he'd be headhunting return men his final season at KU.
"But I understand my job. I'm the last guy. If he's there and I need to make the tackle, I'm going to try to make it."
Special teams coach Aaron Stamn has given Branstetter permission to tackle a ballcarrier, "only if he has to (as last resort). He tells me he does (like to hit). His teammates have told me he does, but I told him he has to chill out."
Overall, "Jacob is a hard worker. I have to tell him to leave the field each and every day. He comes to work hard every single day. He's consistent," Stamn added of Branstetter, a management and leadership major who has designs on working for a major sporting goods company someday.
Rojas earned honorable mention all-Big 12 in 2009 after posting a 41.4 yard average off 52 punts. Sixteen of his punts landed inside the 20-yard line with 10 fair catches. He had eight punts of at least 50 yards, including a 72-yarder at Texas Tech.
"My honest opinion ... I think he has NFL talent. I really do," Branstetter said. "This year is going to be important for him. He can hit the ball high and far. He can hit the ball as well as I've seen anyone hit the ball and I get to watch him every day."
Some NFL Draft analysts had Rojas on the board last spring.
"I heard that, but it's something you don't start to think about until your senior season comes up," Rojas said. "Even then, a lot of guys are more concerned about, 'I hope I get drafted. I hope I get picked up. I hope I get a tryout.'
"That's a dream-come-true obviously. It's what you have to keep in the back of your mind, but right now during the season, all I'm thinking about is to perform to the best of my ability to put the team and the defense in a situation where they don't have their backs against the wall."
Rojas, who wants to be a lawyer someday, has already achieved much on the gridiron.
"Growing up in Miami, I had friends play at the University of Florida and Florida State. A lot of guys I played high school football with and against are making it to the next level. It's always driven me to reach that goal," Rojas said. "A lot of people told me I'd never play college football. I've proven a lot of people wrong. That's something I'm going to do that again, prove people wrong, that I do have what it takes to play on the next level."
Special team coach Stamn won't bet against the 6-3, 228-pound Rojas.
"Alonso is really a strong guy," Stamn said. "Hopefully, he is going to be a big weapon for us. Hopefully, we don't have to put him on the field a lot. It's always a good thing when your punter doesn't have to play a lot.
"He has a lot of talent. It's been fun to work with him. I wish I had more time to work with him to be truthful."
One might expect the public to hear a lot from KU's specialty teams duo this season.
Both players are comfortable in front of reporters and both are seniors.
Could they emerge as media darlings following the graduation of the likes of Todd Reesing, Meier and Darrell Stuckey?
"Oh no, no, no, no," Rojas said with a laugh. "No one is the face of the program. Everyone is the team. That's why we have 'believe' as our team motto. We all believe no one is better than anyone here. We are all the same. We all have one goal to win. It's what we have in mind as far as getting things done this year."
More like this story on KUsports.com