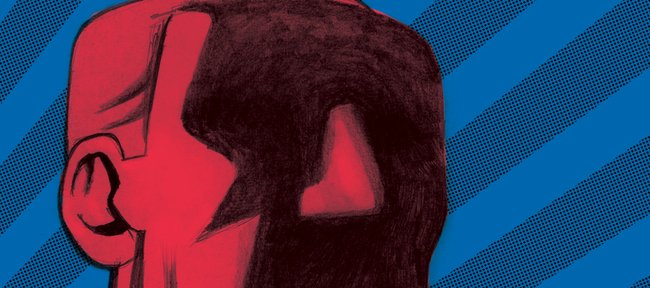 A. Drue Jennings isn't sure yet whether he'll help Kansas University in its search for a new athletic director when Lew Perkins retires following the 2010-11 school year.
Jennings — KU's interim athletic director when Perkins was hired in 2003 — does know this much, though: the university won't have a lack of suitors.
"There are a lot of people that are going to lust for this job," Jennings said, "and out of every 100 who think they would like to be the athletic director, there's probably one or two maybe that are qualified to be."
Finding that perfect fit isn't easy.
So what are the steps to hiring a new athletic director? And what should KU be looking for when choosing a new leader in the athletic department?
Let's start by looking at the process that led to the hiring of Perkins in 2003.
A new strategy
Though KU used a 15-member committee in 2001 to hire Athletic Director Al Bohl, Perkins' predecessor, Jennings suggested a different method to Chancellor Robert Hemenway in 2003.
Jennings believed that the chancellor should have a greater say in the candidate being selected. So Jennings and Hemenway conducted the search by themselves, using former Big Eight Commissioner Chuck Neinas as a consultant.
After receiving résumés — and seeking out some candidates — Jennings tracked down backgrounds with Neinas' help and also checked references. Candidates were not even considered if they had any involvement in rules infractions at a previous school.
From there, Jennings conducted telephone interviews with about a dozen candidates before trimming the list down to set up face-to-face interviews. During those talks, Jennings prepared scripted questions so that the same topics were covered with each candidate.
"You try to read through voice and body language the sense of conviction they may have, the sense of interest in the job, and certainly the sense of interest in the University of Kansas," Jennings said. " ... Anybody can say, 'I really want this job, and I really want to work at KU,' but some say it with sincerity and some are doing it as part of the interview."
KU's wish list for an athletic director was lengthy. Jennings was looking for a "professional" athletic director who had years of experience managing a major athletic department. He also wanted someone well-versed in athletic administration, and someone who had already been an AD in another location.
The candidate also needed to have the ability to manage a budget while communicating well with coaches, university administration and elected officials.
Hemenway ultimately chose Perkins, hiring him on June 10, 2003.
The next decision
So what should KU be looking for in its next AD?
Monte Johnson, who served as KU athletic director from 1982-87, said one aspect of the job had not changed over the years: ADs still need to be good businessmen.
In the first six months of his tenure, Johnson hired a new men's basketball coach (Larry Brown) and also a new football coach (Mike Gottfried).
"At that point I have to think there wouldn't have been half the alumni at best that thought very highly of me," Johnson said. "But that's one of the things about running the business. You don't make emotional decisions. You make decisions based on what's best for the company you're working with or the athletic department you're working with."
One of Johnson's advantages was that he already knew a lot about the situation at KU. He had worked for the school from 1961 through 1970 in positions ranging from academic adviser all the way up to associate athletic director, and already knew many of the people who were employed in the athletic department.
"You can't just say, 'Hey, we're going to give you six months to learn who the people are,'" Johnson said. "You've got to get started quick. But if you're a very good manager, a good administrator, that learning curve is going to be shorter."
Though someone with a KU connection might make the transition easier, Johnson said KU should be more concerned with simply hiring the right candidate.
Jennings confirmed that in the last AD search, having KU ties was not one of the criteria on the school's checklist.
Overall, Johnson said the top priority for a new AD was to maintain and improve the top two revenue-creating sports: men's basketball and football.
From there, an athletic director could work on bettering KU's nonrevenue sports, which struggled in the 2009-10 season. KU finished 11th in the Big 12 in the Directors' Cup standings — a measure of the best overall collegiate programs.
"We're lucky," Johnson said. "Right now, if you ask most of our alums, they say, 'Boy, do we have a great athletic program.' I think what they mean is, 'Boy, do we have a great men's basketball program, and hopefully we'll bring the others up to those standards someday.'"
Dealing with adversity
Though Jennings hasn't heard yet how Chancellor Bernadette Gray-Little will conduct her athletic director search — with a small group of confidants or a large committee — he said he believes that any realistic candidate should be fully informed about what's been reported regarding KU's ticket scandal in the last few months.
"I don't think you want to hire anyone who comes in with some preconceived opinion or notion about who's right and who's wrong and who's guilty and who's not," Jennings said. "Anybody who comes in with those kind of biases are going to, I think, have a difficult time."
With a federal investigation still ongoing, the new athletic director will most likely be called upon to help restore KU's image.
"I've always operated under the premise that you can really do a good job of running a business or a company or an organization if you remove all the negatives," Johnson said. "If we can get rid of all the negatives and just concentrate on the positives, we'll do fine."
More like this story on KUsports.com