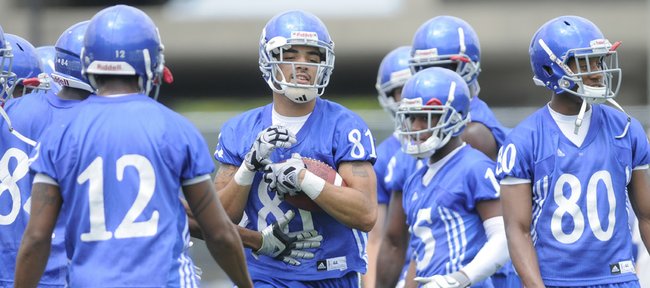 A few weeks ago, Johnathan Wilson ran into former Kansas University wide receiver Kerry Meier in the training room on campus.
Meier had a bit of advice for the KU senior wideout: "Be a leader."
Wilson, who played the last three years behind NFL draftees Meier and Dezmon Briscoe, said following his old teammate's advice has been an adjustment.
"I wasn't a very vocal person during those days with them guys," Wilson said. "That's one thing I had to change. I had to open my mouth and get on guys and encourage guys to give it all their effort."
Though it doesn't come naturally, Wilson is doing his best to be heard.
Last week, during an individual drill at practice, some of the younger receivers were stopping after they made a catch instead of continuing to run up the field.
Wilson knew he needed to speak up.
"I didn't get on them, I just told them, 'Catch the ball and run upfield. Simulate a game situation,'" Wilson said. "Just little stuff like that. We need to practice hard so you play hard."
Teammates have noticed Wilson's personality change.
"Since he's been here, he's been kind of a quiet guy," KU running back Angus Quigley said. "He's kind of felt like he was off in the shadows behind Kerry and Briscoe and things like that. But, this past offseason, John's done a lot of good things.
"He's working hard. I see him encouraging. Those are things he hasn't been doing."
Wilson, who caught 35 passes for 449 yards in 2009, was listed at the top of KU's spring depth chart. Junior Daymond Patterson, sophomore Bradley McDougald and freshman Christian Matthews also figure to be the favorites for playing time.
"I think all the guys are very talented," Wilson said. "We can all be No. 1 receivers. I hopefully will be a No. 1 receiver and make some plays and hopefully get the chance to make some in a game."
Wilson has the most experience of the Jayhawks' receivers. His 81 career receptions are more than all the other KU receivers combined (52).
The 6-foot-2, 190-pound native of Houston also has impressed KU coach Turner Gill.
"John Wilson has done some great things," Gill said during the team's media days Monday. "He isn't the fastest guy, but he has run some great routes. He has done an excellent job at catching the football."
Wilson has set his own goals high, wanting to earn a spot on the Big 12's all-conference team.
"That's something I've always kind of wanted," Wilson said. "I feel like I have the talent to do it, I've just got to put my mind to it."
He's not just talking about honorable mention, either.
"I'll take second team, though. Nah, I'm going for the first team," Wilson said with a smile. "You've got to shoot for the highest one."
In the meantime, Wilson will do his best to follow Meier's advice — and his example.
"Even if I'm not making plays, still be a leader," Wilson said. "If they start running the ball more than passing, just be a leader. Just block, catch, do what you have to do."
More like this story on KUsports.com