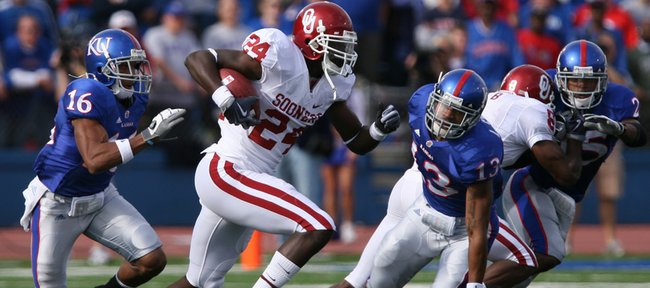 Note: This story is part of the 2010-11 KU football preview section that appeared in Saturday's Journal-World.
Kansas University's football team returns seven starters on defense from a season ago. But don't expect those same faces to mean it will be the same ol' defense for the Jayhawks in 2010.
"We're going to get to be a lot more aggressive," said senior cornerback Chris Harris, one of the few Jayhawks who has started since his freshman season. "We'll get to take a lot of chances. As a defense, we're bringing a lot now. It's just an aggressive-minded defense."
By "bringing a lot," Harris does not necessarily mean lots of blitzing, though that will be an option under the new leadership of first-year head coach Turner Gill and new defensive coordinator Carl Torbush. What Harris means is more effort, energy, schemes and, perhaps most importantly, accountability.
"Our coach has been saying that we've played pretty good technique, and sometimes when our technique isn't perfect our athleticism will make up for that," Harris said. "But that's not the standard he's put on us. We want to play a perfect technique every time because we know once the season comes there are going to be good receivers every day."
This spring, Gill and Torbush got their first look at their new defense, and what they saw was a nice mix of seasoned veterans and inspired young talent. While it seemed as if a new player stepped up each day, there was one unit that caught Gill's eye.
"I would have to say the secondary," he said. "It has the best depth, and that's why they've stood out. There (continued) to be one guy week after week, even day after day, who (stood) out."
Harris leads the charge in the secondary, where he'll be joined by fellow cornerbacks Calvin Rubles, Isiah Barfield, Anthony Davis, Greg Brown and Tyler Patmon.
Replacing safety Darrell Stuckey, a fourth-round draft pick of the San Diego Chargers, figures to be the most difficult challenge for the KU defense, but, just like at the cornerback spot, there is no shortage of safeties eager to step into that role.
Senior Phillip Strozier and sophomore Lubbock Smith have the most experience in the group, while senior Olaitan Oguntodu and red-shirt freshman Prinz Kande also opened eyes this spring.
As for the specifics of what kind of defense the Jayhawks will look to run, Torbush said he always had operated out of a 4-3 set but that he anticipated throwing several other formations onto the field this season. He mentioned multiple looks up front, a 3-3 formation and even a defense that employs six defensive backs, a clear sign that he's aware of the challenge of keeping up with the Big 12's spread offenses.
"We're a multiple defense. That's the great thing about what we'd like to do," Torbush said. "We've gotta make sure that whatever we do is something our players can handle and we can get the best players on the field to be successful."
That might be easier than they'd like it to be at linebacker and along the defensive line, where a lack of depth and experience could make things challenging for the Jayhawks.
Up front, KU returns All-Big 12 honorable mention end Jake Laptad, a senior who has recorded 13.5 sacks in the past two seasons combined. Laptad missed most of the spring due to a lingering injury, but is expected to be ready for the start of the season.
Joining Laptad in the trenches are tackles Patrick Dorsey, Darius Parish, Richard Johnson, John Williams and Randall Dent. All five have logged significant playing time, but each is still waiting for a breakout season.
Defensive end is another fairly large question mark for the Jayhawks this season. While Laptad has established himself on one side, unproven products Quintin Woods, Kevin Young and Tyrone Sellers will compete for snaps on the opposite side.
Many were encouraged by the fact the D-Line recorded nine sacks during the spring game in April, but defensive-line coach Buddy Wyatt cautioned against reading too much into that statistic.
"We've got to keep working on being more explosive off the football," Wyatt said. "We've got to get off the ball better. We've got to realize the situation that we're in and anticipate that a little bit better."
In senior Drew Dudley, KU returns one of its top linebackers from a season ago. Dudley spent the spring nursing an injury, and sophomore Huldon Tharp is out for the year after injuring his foot early in preseason camp, bringing depth at their position into question, as well. Senior Justin Springer was the most productive linebacker this spring. Springer is expected to hold down the middle linebacker spot for KU this season. He's also expected to be one of the defensive leaders.
"I'm a senior now, so I'm trying to take that leadership role," Springer said. "My teammates respect me, and they know how hard I work. I've been trying all spring to be a good leader. I've been trying to finish first in drills and learn the new defense as quick as I can. I like the defense we're running now."
Junior Steven Johnson also had a good spring, cementing his place on the field for what he hopes will be a breakout season. Johnson has played all three linebacker spots during his career, making him valuable as a starter or in a rotation role.
While the KU defense might be lacking in depth to start the season, there are plenty of players who have seen firsthand how to be a good leader and they, along with the coaching staff, are hoping those leadership qualities help ease the transition.
"I just try to really lead by example," Strozier said. "That's the best way. People can talk all you want to, but if you don't do it yourself, they can just look you by. Stuckey, that's what he did all the time. He led by example. He talked as well, but his actions backed up his words. So that's what I try to do."