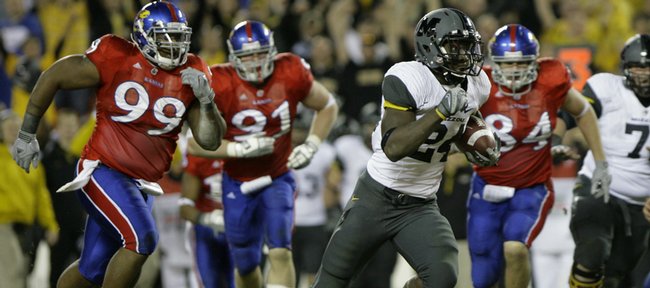 Note: This story is part of the 2010-11 KU football preview section that will appear in Saturday's Journal-World. Check back to KUsports.com throughout the week for a breakdown of each Big 12 team, including an in-depth look at KU's offense, defense and non-conference schedule.
Having a star wide receiver hasn't been a problem for the Missouri football team in the previous two seasons. This season, however, is a bit of a mystery.
In 2008, Jeremy Maclin electrified college football as a route runner and return specialist. The current Philadelphia Eagles wide receiver caught 102 passes for 1,260 yards and 13 touchdowns two years ago.
Just one year later, Danario Alexander led the country with 1,781 receiving yards, to go along with 113 catches and 14 scores.
So who will take over the star-receiver reins in 2010?
"We were one of the top offenses last year," junior quarterback Blaine Gabbert said at Big 12 media days in Irving, Texas. "We're going to be even better this year. We're just plugging in new guys (at wide receiver). It was a huge spring for a bunch of receivers, from Wes Kemp to T.J. Moe and Jerrell Jackson. They stepped up and showed me that they can play at a high level."
Jackson and Kemp, both juniors, figure to have the first crack at following in Maclin and Alexander's footsteps. Moe, a sophomore, only caught two passes for eight yards last season.
"I think you get caught up looking at guys like Danario Alexander and Jeremy Maclin who we've had in the past," senior cornerback Kevin Rutland said. "They were excellent players, and there's no wrong in getting caught up in that. But these guys are coming from the shadows of those people and will really show that they're outstanding players as well. They have a lot of talent, and that's going to show this season."
Jackson, who suffered a wrist injury in fall practices and is expected to miss MU's opener against Illinois, finished third on the Tigers last year in catches (37) and yards (458).
Rutland said Jackson consistently runs a 4.4-second 40-yard dash.
"What most people don't know about Jerrell Jackson is even though his size isn't that big (6-foot-1, 190 pounds), he's a pretty hard runner," Rutland said. "He played safety in high school. He brought that same style to his offensive game, to where he's not dodging you. He's coming right at you hoping that you move out of his way. His physical play will really be a shocker to most guys."
The receivers figure to have steady production from the guy who is tossing them the ball behind center. After starting in 2009, the 6-5, 240-pound Gabbert is known as the best returning quarterback in the Big 12 North.
Gabbert's 3,593 passing yards were second only to Kansas University's Todd Reesing (3,616) in the Big 12 last season. Gabbert threw for 24 touchdowns and had nine passes intercepted.
He had to play with a nagging ankle injury for the final half of the season after he injured it five games into the season against Nebraska. MU finished the season 8-5 with a loss to Navy in the Texas Bowl.
This season, Gabbert and his rested ankle are back to 100 percent.
More like this story on KUsports.com