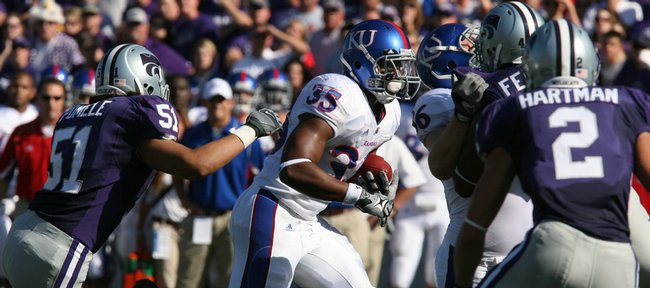 Although most of the outside world is fixated on finding out which quarterback — red-shirt freshman Jordan Webb or sophomore Kale Pick — will win the starting job this fall for the Kansas University football team, the Jayhawks, for now, seem more interested in other areas.
During last Saturday's intra-squad scrimmage, the KU offense ran about 70 plays, according to offensive coordinator Chuck Long. Of those snaps, Long said about 50 were running plays.
"We had a big run emphasis in our scrimmage," Long said. "We wanted to find out some things about run schemes and some of our players. We're still trying to figure some things out as far as personnel."
In all, the Jayhawks have at least six running backs to choose from when deciding how to split carries this fall.
Sixth-year senior Angus Quigley emerged from spring drills as the No. 1 back on the depth chart, and red-shirt freshman Deshaun Sands came in at No. 2.
Beyond those two, the Jayhawks also have returners Rell Lewis and Toben Opurum as well as true freshmen Brandon Bourbon and James Sims.
KU coach Turner Gill said Monday, at KU's annual media day, that he would like to find one running back who could handle 20-25 carries a game.
"No doubt. No doubt," Gill said. "If we don't have it, we'll find a way to still move the football and run the ball. But if I had to sit here and say exactly what I would like to have, it's having somebody that would carry the ball 20-25 times."
Long said the reason for the staff's desire to find a true featured back is that running backs, like quarterbacks, often need time to get into the flow of a game.
"There's a misconception out there with running backs that if they can run just give 'em the ball, it doesn't matter if it's one time or 25 times," Long said. "That's really not true. They need the rhythm just like a quarterback needs the rhythm, and people don't realize that. Their rhythm is the timing with the offensive line, the timing of the play. Some plays are run at a slower pace than others, and that's what they have to get used to. That's why you want a guy to get 20-25 (carries) because some of your best production is from carry 15 to carry 25."
"Are we there, can we say it definitively right now, no," Long continued. "It's still a work in progress. But, ideally, you'd like to get to that point."
The general opinion is that bigger backs are better suited to handle that kind of workload. That school of thought would favor Quigley and Opurum, who both stand 6-foot-1 and weigh 221 and 240 pounds, respectively.
But Long said another way of looking at things could make a case for smaller backs like Sands, who measures 5-7, 190.
"The thing that helps Deshaun is he's quick," Long said. "He never gets hit, it's just glancing blows. (NFL Hall of Famer) Barry Sanders is a guy that just never got hit square on, so he stayed healthy all the way through the year. The opposite (is often) true with those big guys who don't have the quicks, it's just pound, pound, pound."
Regardless of the size or style of his stable of running backs, Gill said Monday he wants the same thing from all of them.
"I want them to be a physical runner, to be athletic, make people miss, and hopefully we have a home-run-hitter that has the speed and can go the distance," he said. "We are still evaluating and trying to figure out the best fit for our running game. We won't have a true answer until we are in game situations. But once we get into some games, we will be able to see what our guys can really do; who are the strong blockers and what guys can really get it done. There is not a leading guy at this point."
Fan Appreciation Day set for Aug. 22
Jayhawk fans will get a chance to see the 2010 KU football team up close and personal at Fan Appreciation Day on Aug. 22.
The event will coincide with a KU practice, which is scheduled to begin at 5 p.m. at Memorial Stadium. Gates will open at 4:30, and admission is free.
Following the workout, the entire team will be available for autographs. Fans are asked to limit autograph requests to one item per player or coach.
Round 2 for two-a-days
The Jayhawks will hit the practice field twice today for the second of three scheduled two-a-day practice sessions.
The first such workout came Tuesday, when the Jayhawks practiced once in the morning and again in the afternoon in temperatures that soared into triple digits. Today's forecast calls for more heat as the high is expected to hit 102 degrees.
KU coach Turner Gill said Monday that he liked the fact that his team was able to practice in extreme conditions now because it better prepares them for the hot and humid days of the season.
Two-a-days for most Jayhawks begin with a big breakfast around 6:45 a.m. and end around 10 p.m. after an evening film session.
KU's final two-a-day session of the preseason is scheduled for Monday.
More like this story on KUsports.com