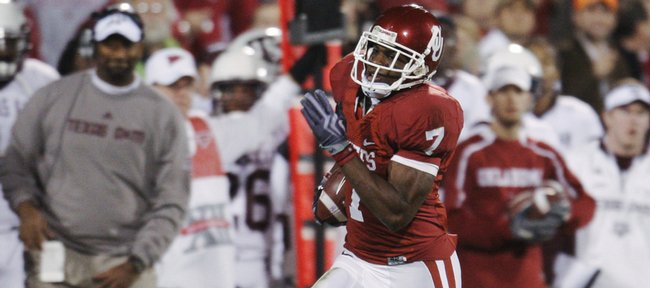 Note: This story is part of the 2010-11 KU football preview section that will appear in Saturday's Journal-World. Check back to KUsports.com throughout the week for a breakdown of each Big 12 team, including an in-depth look at KU's offense, defense and non-conference schedule.
When Heisman Trophy winner Sam Bradford fell to the turf, re-injuring his throwing shoulder on Oct. 17, 2009, the Oklahoma University football team basically lost all hope of making a return appearance to the BCS Championship.
Making matters worse for the Sooners? Archrival Texas won last year's Red River Rivalry in Dallas after Bradford was hurt, won the Big 12 Championship — something OU had done six of the past 10 years — and represented the conference in the BCS Championship.
Oklahoma sputtered to an uncharacteristic 8-5 record in 2009. The surprising slide catapulted several Sooners onto the field earlier than expected, but, in the process, created a sense of optimism for 2010.
"What happened with Sam was kind of a blessing in disguise for us," Oklahoma senior running back DeMarco Murray said at Big 12 media days. "Obviously, it was hard for him. It was his last year, last go-around. That's why he came back, to win a national championship. But that got (then-freshman backup) Landry (Jones) the opportunity to play and get that year of experience under his belt. This year, (Jones) will be used to the crowd, used to going to different venues. I'm just looking forward to seeing what he's going to do this year and how he's going to lead us."
Jones showed poise, especially for a freshman, in replacing Bradford, a guy who owns several OU passing records. Jones started 10 games and threw for 3,198 yards and 26 touchdowns.
Naturally, he looked like an 18-year-old at times, piling up 14 interceptions, and occasionally lacking the consistency OU coach Bob Stoops would have preferred. What freshman quarterback doesn't experience growing pains, though?
"It's night and day. Coming into this season and even walking into spring ball, you can tell he's in command," Stoops said of the 6-foot-4, 216-pound Jones. "You can tell how confident he is and sure of what he's doing. You know, through a whole season, he's a totally different guy had Sam not gotten hurt coming into this year. It's obvious to everyone."
Of OU's six Big 12 titles in the Stoops era (2000-present), the Sooners have had five different starting quarterbacks.
"(Jones) is very similar to those guys," Stoops said of a list that includes Bradford, Paul Thompson Jason White, Nate Hybl and Josh Heupel. "That says a lot. He's in that mold of all of those guys."
Aside from a more polished quarterback, several factors seem to be working in the favor of OU, which the media tapped as the preseason Big 12 favorite in the South in 2010.
• Of the Sooners' five losses last season, four were by a combined 12 points.
"I didn't go to Vegas last year after the season, I know that," Stoops joked.
• Oklahoma boasts arguably the most decorated triumvirate of skill players in the conference, with Jones at quarterback, Murray at running back and junior speedster Ryan Broyles at receiver. The multipurpose Broyles — he also returns kicks and punts — caught 89 passes for 1,120 yards and 15 touchdowns last season.
• The Sooners have a preseason All-Big 12 selection in each layer of its defense: senior defensive end Jeremy Beal, junior linebacker Travis Lewis and senior free safety Quinton Carter.
With the steady stream of talent OU consistently trots on the field, a few luckier bounces this season could result in another Sooner appearance in the Big 12 title game.
"Going through an 8-5 season, we have a change of mentality and look at things differently now," Beal said. "Hey, if we're only that far away — we lost three games by a total of five points — we can work that much harder and make up for our mistakes. We have a whole different mentality from last year to be better this year."
More like this story on KUsports.com