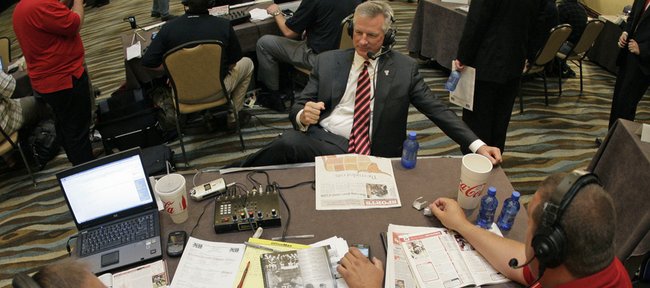 Note: This story is part of the 2010-11 KU football preview section that will appear in Saturday's Journal-World. Check back to KUsports.com throughout the week for a breakdown of each Big 12 team, including an in-depth look at KU's offense, defense and non-conference schedule.
Texas Tech's reputation for being a pass-loving offense isn't likely to change in 2010, even under new coach Tommy Tuberville.
"We'll put our stamp on it, but we're going to throw the ball around," Tuberville said. "We're going to throw it deep, and we're going to be very fast. We're going to be different, but, again, we're going to be explosive.
"We'll run the ball a little bit more. That will be the difference."
Tuberville — replacing Mike Leach, who was fired last season after 10 years as head coach at Tech — said his optimal split would be 60 percent passes and 40 percent runs. Or even 65 percent passes and 35 percent runs.
He promised this, though: The Red Raiders would never be afraid to put the ball in the air.
"If we get into a game and find a team that can't cover anybody, we're going to throw it 100 (percent)," Tuberville said. "We're going to throw it as many as we can. ... I think we can win games throwing the ball almost every down this year at Tech with the receivers and quarterbacks that we have."
At quarterback, Tuberville will have to choose between seniors Taylor Potts and Steven Sheffield.
Potts played in 11 games for Tech last season, throwing for 3,440 yards and 22 touchdowns with 13 interceptions.
Sheffield threw for 1,219 yards and 14 touchdowns with four interceptions in six games.
"I haven't been around two quarterbacks like this in a long time," Tuberville said. "They're both very, very good athletically."
Tuberville already has announced that he will not rotate quarterbacks, meaning one will win the full-time position in fall practices.
Both quarterbacks are coming off injuries. Sheffield broke a foot last year, then re-injured the same foot in spring practices. Potts, who has battled concussions, broke a finger in spring practices.
Tuberville said both were healthy for the start of fall practices.
Tech also boasts some of the best receiver depth in the conference. Senior Detron Lewis (65 receptions, 844 yards in 2009) and sophomore Alex Torres (67 receptions, 806 yards) both return, while senior Lyle Leong and junior Tramain Swindall also combined for 100 receptions and more than 1,200 receiving yards as third and fourth options.
In addition, the Red Raiders bring back senior Baron Batch, who led the Big 12 with 14 rushing touchdowns while averaging 5.3 yards per carry.
As crazy as it sounds, Tech's offensive statistics might actually increase in 2010. Tuberville has installed the new "NASCAR" offense — a fast-break philosophy, which has the goal of running 100 offensive plays each game.
Defensively, the Red Raiders will be led by senior linebacker Brian Duncan and senior defensive lineman Colby Whitlock. Duncan led the team with 88 tackles last season, while Whitlock has been named All-Big 12 honorable mention each of his three seasons.
Tuberville already has the Tech players dreaming big.
"The first thing he told us was he was trying to win a Big 12 championship," Sheffield said. "That was something that never was brought up before."