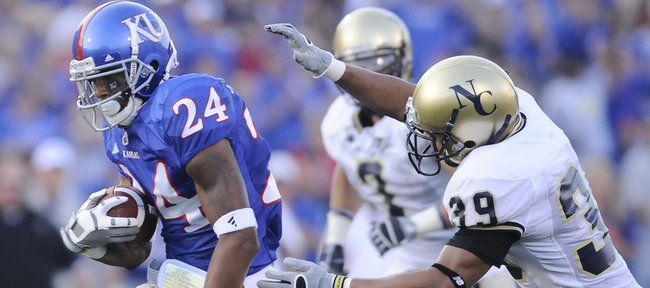 Tuesday afternoon, the Kansas University football program announced its three non-conference games for the 2012 season, which will be the second year for the Big 12 without Colorado and Nebraska in the mix.
The 2012 schedule, which likely will feature the Jayhawks playing all nine remaining Big 12 opponents, includes home games against South Dakota State and Rice and a road game at Northern Illinois.
The Big 12 portion of the 2012 season has not yet been announced. What is known, however, is that the Jayhawks will open the year on Sept. 1 at home against South Dakota State.
KU then will host Rice in the first of a two-game series on Sept. 8. The Jayhawks also will play at Rice in 2013. On Sept. 22 KU will travel to Northern Illinois in a return game for the Huskies' trip to Lawrence in 2011.
KU has played all three opponents in the past, defeating South Dakota State 86-6 in 1947; knocking off Rice, 33-7, in the 1961 Bluebonnet Bowl; and falling, 37-34, to Northern Illinois in the first game of the Mike Gottfried era in 1983.
The 80-point victory against SDSU is second in history behind an 83-0 win against Washington (Mo.) in 1923. The win over Rice was KU's second ever bowl appearance and first bowl victory.
The last time Kansas played just three regular-season non-conference games was 2005.
More like this story on KUsports.com