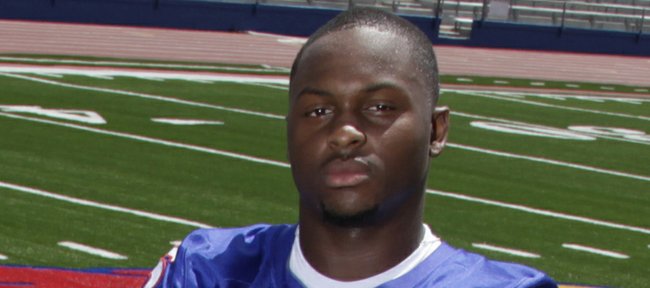 Because he carried the ball 133 times, rushed for 554 yards and scored nine touchdowns in 2009, people may have a small misconception about Kansas University running back Toben Opurum.
"I think people forget that I'm only 19 years old because I had success my freshman year," Opurum said Monday at KU's annual media day. "This is only my second year here at Kansas. But I think it helps that I've had a year here, played in the Big 12 and faced heavy competition."
Oklahoma, Texas and Nebraska may have been tough. But those schools are nothing compared to the battle Opurum has tackled during the past eight months.
Hampered by an ankle injury that limited him to just two carries during the final two games of 2009, Opurum entered rehab mode while the Jayhawks attempted to reload. Gone was the coach who continually gave Opurum the rock and in to take his place was a new coach, Turner Gill, who brought a new offense, a new coaching staff, new opportunities and a reputation as a player's coach with him.
As Opurum's teammates did their best to make good first impressions, the sophomore from Plano, Texas, limped through practices. While Angus Quigley, Rell Lewis and the rest of the KU running backs ran drills full speed this spring, Opurum fought like mad just to make it through them. The result was a depth chart that did not include Opurum's name anywhere on it.
"I was kind of in a bad situation with the new staff coming in and me being fresh off injuring my ankle," Opurum said. "At the same time, though, I can't really use that as an excuse. The spring is gone, we're in training camp right now and that's my opportunity, so I'm going to take advantage of it."
As far as Opurum's concerned, the next step has nothing to do with rehashing the heroics associated with his 2009 season.
"I felt like I had some success here and there but, overall, if you lose seven games straight (the way KU did in finishing 5-7) you can't really feel pleased with anything," he said. "I could've rushed for 2,000 yards, but if we lost seven games straight, I can't be satisfied with the effort I gave."
"What I did last year, that's gone with everybody else," he added. "So I gotta show this new staff what I can do."
Maturity is the one skill Opurum would like to showcase most. At 6-foot-1, 240 pounds, Opurum is still the same bullish running back who is best between the tackles and when he's able to use his size to his advantage. He likes contact, does his best to absorb it and almost always finds the extra effort that helps him fall forward.
Finally, after 15 practices this spring in which almost none of that was possible, Opurum feels as if he's back to his old self.
"I'm running pretty good right now," he said. "I'm done with my rehab so there's really no limitations on what I can do. I'm just out here working hard. The running back competition is just making each and every one of us better each week."
Many of Opurum's teammates have been impressed by the way last year's leading rusher has come back from the injury.
"He's been doing real well," Quigley said. "He came back after the spring and he's been working. I think he's making a lot of progress in scrimmages and practice. He thinks he's a little lighter, but he looks about the same, still a big guy."
Added junior receiver Daymond Patterson: "He was thrown out there (last year) and he showed he could play. We've never had any problems with him in the program as far as working, and that's what he's come out here to do. He's the same back, he's still the same Toben you all saw last year, and he's going to be even better this year."
Opurum's long road toward a return was just one of a handful of stories that emerged from media day, all of which shared the common theme that has come through since Gill took over the program.
"Our guys have done a great job coming together as a team and I see a great bond forming," Gill said. "We are moving ahead in the right direction and have been moving well in the first week of practice ... I have seen progress that was made over the summer. Obviously, we still have things we need to improve on before the first game, but I know we still have some time."
The Jayhawks open the season Sept. 4 at home against North Dakota State.
More like this story on KUsports.com