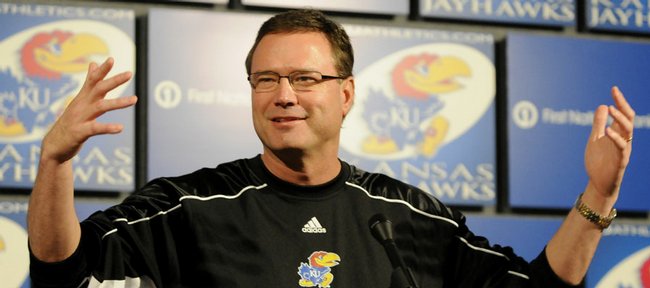 Kansas University basketball coach Bill Self received good grades on his NCAA Academic Progress Report grade card for coaches, released Thursday.
Self, KU's eighth-year coach, received perfect APR scores of 1,000 for the past four seasons compiled in the report (2008-09, '07-08, '06-07, '05-06). He had a score of 982 in 2004-05 and 923 in '03-04. A score of 925 is a passing number.
"It is a nice testimony to the work of our players and how good our academic support is," Self said Thursday in a phone interview. "Under the direction of Paul Buskirk and Scott Ward ... they do a great job with our guys," he said of KU's associate ADs involved directly with academics.
"They pull our players together, not only to get them to satisfy eligibility, but to graduate. We never talk about guys being eligible. We talk about them graduating," added Self.
On Thursday, the NCAA released coaches' scores in six sports — baseball, football, men's and women's basketball and women's indoor and outdoor track — from 2003-04 through 2008-09.
KU football coach Turner Gill's APR scores in the four-years recorded at Buffalo were 949, 921, 933 and 884. KU women's basketball coach Bonnie Henrickson had a score of 1,000 in 2008-09. Prior to that her scores were 984, 970, 944, 958, 847 and 981. Baseball coach Ritch Price had a score of 963 in 2008-09. Prior to that scores of 976, 985, 923, 949 and 848. Track coach Stanley Redwine had women's outdoor team scores of 950, 981, 984, 950, 962 and 965 and indoor scores of 950, 980, 984, 966, 962 and 964. Former KU football coach Mark Mangino had a score of 954 in 2008-09. Prior to that 987, 919, 948, 909 and 899.
Walter Harrison, chairman of the committee on academic performance, said the governing body should not penalize coaches based on the scores, which NCAA officials said are being released primarily to help provide recruits and their families with more information about academics.
"With the release of these APR portfolios, we are calling attention to the success of coaches and having transparency. I personally feel that is right, that we should not go further," Harrison said on a conference call. "I personally think, for some of the reasons you just mentioned, and the fairness of it, there are a lot of people responsible for academics, so I'm comfortable with where we are."
Most of the top men's basketball programs had little to quibble with.
Thirteen teams in this year's final AP Top 25 basketball poll, including all the 2010 Final Four teams, produced perfect scores of 1,000 in 2008-09, the most recent numbers. Butler coach Brad Stevens had three straight perfect marks, while Duke's Mike Krzyzewksi, Michigan State's Tom Izzo and West Virginia's Huggins all scored 1,000 two consecutive years.
"It's a commitment by the athletic department and the university to supply the resources to help the players succeed academically," Huggins said. "I commend our guys not only for their performance on the floor but in their academic work in the classroom as well."
Kentucky's John Calipari also did better than expected, topping 925 each of his final three seasons at Memphis. He had a 980, 1,000 and 960.
But Connecticut's Jim Calhoun, whose program is under NCAA investigation, had an 844 and 909 after scoring 981, 978, 889 and 941 the previous four years. Tim Floyd, Southern Cal's coach during the O.J. Mayo scandal, had a 949 in 2007-08, the year Mayo played in Los Angeles. The year before, Floyd's score was 804.
Former Indiana coach Kelvin Sampson, who left Indiana amid a major NCAA scandal, had only two scores topping 900 on the books. His low, 811, came in his final season with the Hoosiers.
Twenty-four of the 25 teams in this year's final AP Top 25 football poll also topped 925. The exception: Brigham Young, whose coach Bronco Mendenhall had a 910.
Former Trojans coach Pete Carroll, at the center of another Southern Cal recruiting scandal, topped 925 all six years, including a 971 in the 2008-09. Nick Saban, coach of national champion Alabama, had a 972. Mack Brown, whose Texas team lost to Alabama in the BCS title game, had a 959.
All of it, Harrison said, points to one conclusion.
"Some people say that coaches don't care about academics. That is not true," Harrison said. "I know from our baseball, men's basketball and football working groups that coaches feel very strongly about their students' academic progress, and academics is the first thing they often ask about on the recruiting trail or when they meet with recruits."