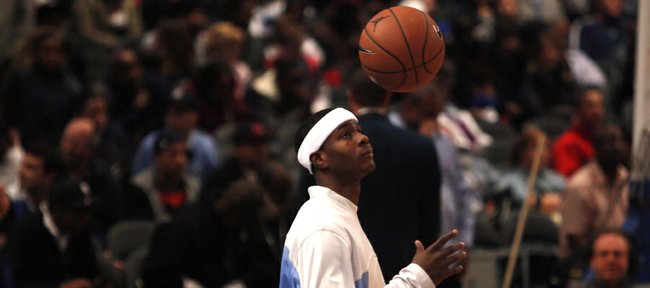 The mother of incoming Kansas University freshman Josh Selby is not alarmed that the No. 1-ranked prospect in the Class of 2010 has yet to be cleared by the NCAA to play college basketball because of questions about her son's amateur status.
"I personally don't see any problems with the NCAA," Maeshon Witherspoon, said Thursday in a phone interview with the Journal-World.
"Josh has not yet been cleared. I'm sure there are other kids (that) have not been cleared as standard procedure. I don't anticipate us having any problems whatsoever with the NCAA. I can't control what people say. I can't control hearsay. My statement is I don't foresee any problems at all."
She responded to a CBSsports.com story that indicated the NCAA "is looking into, among other things, a relationship between Selby and Robert Frazier, the business manager for NBA star Carmelo Anthony."
Witherspoon told the Journal-World she's already spoken to NCAA officials and other media outlets about the family's friendship with Frazier, who said in an April interview with the New York Times he served as an adviser to Selby in the recruiting process.
"With all due respect, I'm not talking about him (Frazier) because there's nothing to talk about," Witherspoon told the J-W. "I just don't see any problems with my son."
CBSsports.com sources said the NCAA has spent months looking into Selby's relationship with Frazier to see whether Selby's "amateur status has been compromised." Reports of the NCAA's interest in the matter did not come as a surprise to KU coach Bill Self, who issued a statement late Thursday afternoon.
"I will say, as we have experienced in the past in our program, it is not at all unusual for the NCAA to look into many of the country's top-rated recruits each year for any number of reasons," Self said.
It's not known how long it'll take the NCAA to clear Selby or indicate any possibly wrongdoing.
"I think we all hope it gets resolved soon," Witherspoon told the J-W. "We'd like it to get resolved quickly like anybody would so Josh will be able to play."
The New York Times wrote a long piece about Selby and Frazier in April.
The paper reported that when a host of prospective agents were trying to talk to Selby's mom, friends recommended Witherspoon speak with Frazier, business manager for Anthony, who like Selby, is from Baltimore.
Witherspoon, the Times wrote, "said she soon recognized Frazier from her elementary school, and now talks regularly with him."
"Bay's been a lifesaver; so glad we reconnected," Witherspoon told the Times. "He's behind the scenes providing a place for us to meet with coaches and giving so much information. He doesn't need us. To be honest, we need him."
Frazier, whose nickname is "Bay," said there's been no wrongdoing.
"It's a new hustle in Baltimore. People think they can take a kid out for a meal or buy him something, but that's not what I am about. I've had relationships with Carmelo and Josh since they've been young," Frazier told the Times.
NCAA rules permit contact between a student-athlete and an agent — as long as the athlete does not agree to be represented by the agent. Selby would be ruled ineligible to play college basketball if he'd entered into a verbal or written agreement to be represented by Frazier.
If Selby accepted improper benefits from Frazier, who according to the Times was in Lawrence for last year's KU-Missouri game, he'd have to pay back the benefits and likely face a suspension of a couple games, much like the case of Kentucky's John Wall, who was suspended two games last season.
According to the Times, Selby last year at times had been allowed to drive the Mercedes-Benz of Scottie Bowden, his former principal at Golden Ring Middle School and coach with Selby's Baltimore Select team.
"He told me he's going to get me a Benz when he makes the NBA," Bowden told the Times. "I told him that's not what this is about. I'm not in this for gain. I'm in it to see him succeed."
KU associate athletic director Jim Marchiony said department policy is to "not comment at all on prospects or recruits before they come to campus (in fall)."
Selby is in Chicago with the adidas nations camp, working as a counselor. NCAA officials do not comment on eligibility matters. Self acknowledged in his statement, "I have received several calls about the article. As has been mentioned previously, we do not comment on recruits (eligibility matters) until they arrive on campus for the fall semester."
Several top athletes have been under scrutiny recently. Selby's cousin, Memphis frosh Will Barton, was ruled ineligible by the NCAA on Wednesday because of issues about his academic background, sources told CBSsports.com.
Enes Kanter, a freshman at Kentucky, is having past involvement with a professional team in his native Turkey scrutinized, CBS says.
More like this story on KUsports.com