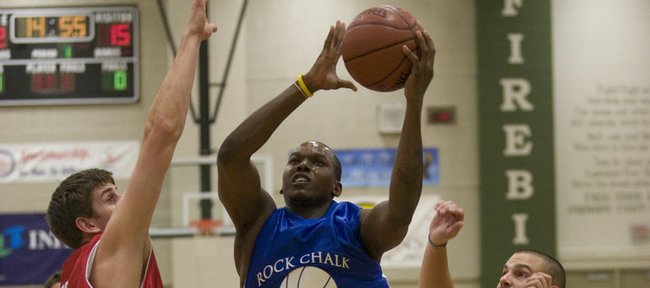 Russell Robinson is putting his NBA dream on hold — for at least one year — as he heads overseas to make a good living playing basketball.
"Every free agent in the world is trying to get to Spain. It's great money. Spain is the best league for money, period. I'd rather not say more than that," said Robinson, starting point guard on Kansas University's 2008 NCAA championship team who has agreed to a one-year contract with DKV Joventut of Spain's top professional league.
Terms were not disclosed. One NBA official said the 24-year-old Robinson, who played in the NBA Developmental League last year, likely would be making in the $200,000 range while playing in a high-profile league scouted regularly by the NBA.
"I talked to my agent about it. There was a lot of interest (from NBA teams), as he put it of me, 'trying to win a roster spot (at a preseason camp),''' said Robinson, who last month played for the Indiana Pacers' summer league team.
"We all know (a free agent's) chances of making a team are limited with no guarantee. I needed a guarantee somewhere. It's a numbers game, a matter of playing my cards and making a move I felt was best for my career."
Robinson — he averaged 16.3 points and 5.6 assists per game last season for the NBADL's Reno (Nev.) Bighorns — could entertain NBA offers down the line.
"I am excited. It's a great career move, a great opportunity to improve my basketball stock for the NBA and Europe," Robinson said. "It's arguably the most competitive league in Europe."
"It's going to be an opportunity to build on," said Robinson, who had a short stint in Turkey two seasons ago, which he didn't enjoy. "This is obviously a way better situation. My placement in Europe ... I'm going to a way better city."
The 6-foot-1, 190-pounder from New York will receive free lodging and a car and possibly a driver for his year in Badalona, a city in eastern Catalonia, Spain. It is near the city of Barcelona.
"My goals are to get better. (The NBA) is still a goal," he said. "I tried the D-League to get there. This is probably an even better route."
An NBA official agrees with that assessment.
"For that money, I don't think anybody would want to mess with the D-League," the official said, requesting anonymity. "We scout Spain regularly. Every team in the NBA will know how Russell is doing next season."
Robinson, who leaves for Spain in a couple of weeks, had a message for KU fans: "Continue to root for me, follow me and know I'll miss you guys while I'm gone."
More like this story on KUsports.com