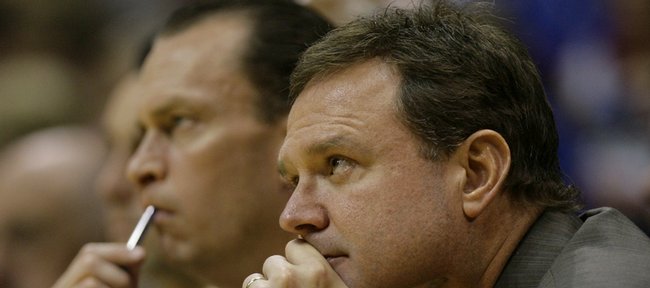 Two ESPN Big Monday games at home, two on the road, a Senior Day contest against Texas A&M;, a season-ending trip to Missouri and the possibility of ESPN GameDay setting up shop in Lawrence highlight Kansas University's 2010-11 Big 12 Conference basketball schedule, released Tuesday.
The Jayhawks, who open the conference season against Iowa State on Jan. 12 in Ames and conclude versus MU on March 5 in Columbia, have Big Monday home games versus Mizzou (Feb. 7) and Oklahoma State (Feb. 21), as well as Big Monday games at Baylor (Jan. 17) and Kansas State (Feb. 14).
An intriguing possibility is ESPN's GameDay crew perhaps venturing to Allen Fieldhouse for the KSU game on Jan. 29.
The time listed for that game currently is TBA, meaning ESPN could be considering the Jayhawks and Wildcats for a second straight year. KU spoiled KSU's GameDay experience last season in Manhattan.
"There's always a chance," KU senior associate athletic director Larry Keating said of KU playing host to the day-long GameDay activities. "The whole conference has several Saturday games left as TBAs right now. It's a great event for the weekend for whoever hosts it. We haven't had it for a couple years now."
KU has hosted GameDay against KSU (2008), Texas A&M; (2007) and Texas (2005).
Earlier this summer, the nonconference portion of KU's slate was revealed. The Jayhawks play UCLA (Dec. 2) and USC (Dec. 18) at home, travel to California (Dec. 22) and Michigan (Jan. 9) and also play Memphis in the Jimmy V. Classic (Dec. 7, New York) and Ohio (Nov. 26) and Arizona (Nov. 27) in the Las Vegas Invitational.
"I think it's excellent," Keating said of the schedule. "I don't think people realize how good Memphis is going to be. I expect UCLA, Michigan and Arizona will all come back (after so-so seasons). USC will be strong. Cal may be picked to win the Pac-10 again. Our overall schedule is good."
KU coach Bill Self believes it rates as another demanding slate.
"Ever since I have been at Kansas, year in and year out we rank in the top five nationally in strength of schedule and this season is no different. Our league will be as strong as ever and the non-conference games really showcase some national powers," Self said.
CBS will televise three games, while seven will be on ESPN, four on ESPN2, four on ESPNU and one on Fox Sports Network. ESPN will air two more of KU's conference games on either ESPN or ESPN2, which the network will determine at a later date.
Three KU games will air on the Big 12 Network, while eight contests will be shown on the Jayhawk Network (JTV). The Big 12 Network and JTV contests will be available nationally on ESPN's Full Court package.
"The TV exposure we get goes right back to the scheduling, the great tradition at Kansas, the great fans we have and the players," Self said.
KU has the country's longest active home court winning streak (59 games). The school record for longest home court winning streak is 62 set from 1994-98. KU could tie the record against North Texas (Nov. 19) and set it against Texas A&M-Corpus; Christi (Nov. 23).
KU will have four ESPN Big Monday appearances for the fifth-straight year and 11th time in 15-year history of the league. KU is 38-14 all-time on Big Monday during the Big 12 era, including 21-1 in Allen Fieldhouse. Under Self, KU is 11-0 at home on ESPN Big Monday and 19-7 overall.
KU plays 21 games against teams from BCS conferences: four from the Pac-10, one from the Big Ten and the 16 from the Big 12.
KU will play three league champions: Cal (Pac-10), Ohio (MAC) and North Texas (Sun Belt).
Kansas is 0-2 in the Jimmy V. Classic, losing to St. Joe's (70-67, 2005-06) and Temple (75-66, 1995-96).
KU meets UCLA as part of the Big 12/Pac-10 Hardwood Series. KU beat the Bruins, 73-61, in the series last season at Pauley Pavilion.
The full slate is below.
2010 KU men's basketball conference schedule
Wed., Jan. 12 — at Iowa State, 8 p.m., ESPN2

Sat., Jan. 15 — Nebraska, 1 p.m., ESPNU

Mon., Jan. 17 — at Baylor, 8:30 p.m., ESPN

Sat., Jan. 22 — Texas, 3 p.m., CBS

Tues., Jan. 25 — at Colorado, 7 p.m., Big 12

Sat., Jan. 29 — Kansas State, TBA, ESPN

Tues., Feb. 1 — at Texas Tech, 8 p.m., ESPNU

Sat., Feb. 5 — at Nebraska, 3 p.m., Big 12

Mon., Feb. 7 — Missouri, 8 p.m., ESPN

Sat., Feb. 12 — Iowa State, 3 p.m., Big 12

Mon., Feb. 14 — at Kansas State, 8 p.m., ESPN

Sat., Feb. 19 — Colorado, 1 p.m., ESPN

Mon., Feb. 21 — Oklahoma State, 8 p.m., ESPN

Sat., Feb. 26 — at Oklahoma, 1/3 p.m., ESPN/ESPN2

Wed., March 2 — Texas A&M;, 8 p.m., ESPN/ESPN2

Sat., March 5 — at Missouri, 11 a.m., CBS
More like this story on KUsports.com