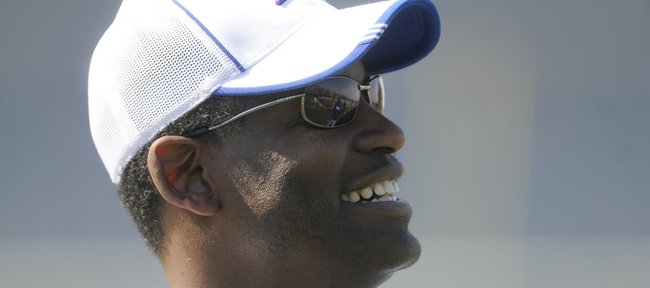 Topeka — New Kansas University football coach Turner Gill met with Jayhawk fans Sunday in advance of today's unofficial start of the 2010 season.
Gill attended a rally at the Kansas Historical Society and Museum. He has scheduled the first meeting of his staff today.
Players report Tuesday, with the first official practice Wednesday.
"The first time around is giving the people an opportunity to meet me," Gill said. "Hopefully I'll meet them again as years come by for a long, long, long time.
"I just want to connect with people and let them know I'm open, thanking them for all the support they've done in the past and hope they continue their support in the present and a long time in the future."
Staff members, including former KU great Gale Sayers, also were on hand for the rally in Topeka.
Gill repeated the thoughts of last week's conference media days in Irving, Texas, that he's raring to go in his first season at KU. He was head coach at Buffalo the last four years.
"Coaching is coaching, but (with) the media and you come to a place in the Big 12 Conference, I think it's just a lot more people are watching what you do," Gill said. "Football is football no matter where you are at."
Sunday's outing was part of the Jayhawk Summer Tour, a collaboration between Kansas Athletics and the KU Alumni Association.
Remaining stops: Aug. 20, Corinth Square, 83rd Street and Mission Road, Prairie Village; and Sept. 23, Winfield Country Club.
T.O. bad news for Briscoe?
Former KU receiver Dezmon Briscoe, a sixth-round pick of the Cincinnati Bengals in April, saw the Bengals' wide-receiving corps become a little more crowded last week, when the club announced that it had signed former All-Pro wideout Terrell Owens to a one-year deal.
Owens, who has been part superstar part problem child for San Francisco, Philadelphia, Dallas and Buffalo during his 15-year NFL career, joins the Bengals in the twilight of his career but, no doubt, with the intention of making an impact.
That may make it difficult for Briscoe, who recently signed a four-year deal worth $1.89 million, to make the team's opening-day roster.
Also on the Bengals depth chart at the position are: vibrant showman Chad Ochocinco, former 1,000-yard receiver Antonio Bryant and third-year pro and program guy Andre Caldwell, along with fellow 2010 draft pick, Jordan Shipley, who was taken out of Texas in the third round. Caldwell and Shipley are expected to compete for the team's third receiver slot.
More like this story on KUsports.com