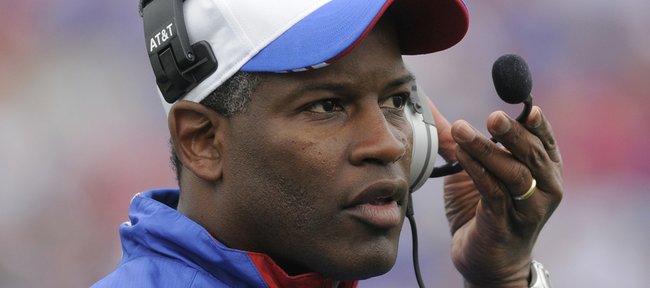 Though he's been at Kansas University for just seven months, KU football coach Turner Gill has been around college football long enough to make a pretty solid name for himself.
Never was that more evident than earlier this week, at Big 12 media days near Dallas, when many of the league's coaches and players shared their feelings about Gill, one of two coaches new to the Big 12 this year.
The relationships ranged from business-like run-ins to lifelong friendships, and it was clear that Gill, who has yet to coach his first game in the conference, was familiar to just about everyone.
Few connections ran as deep as the one between Gill and Oklahoma coach Bob Stoops.
"You know what people don't get," Stoops asked. "I actually tried to hire Turner Gill as my first offensive coordinator out of Nebraska. He was comfortable and excited about what they were doing and couldn't (leave). So, anyway, just from competing against him in the past, he's always done a great job."
After Gill turned Stoops down, the OU coach turned to Mike Leach, who spent one year as the offensive coordinator at Oklahoma before leaving for Texas Tech and giving way to Mark Mangino. When Mangino left for Kansas, Stoops handed the keys over to Chuck Long, who now serves as Gill's offensive coordinator.
For Stoops, a four-year starter at defensive back at the University of Iowa, the familiarity with Gill extends to the field, as well.
"I remember him as a player," he continued. "I played against him as a player. He killed us, too. But I think he'll do a great job, and I'm excited to see him in the league."
Others, such as Texas A&M; coach Mike Sherman and Nebraska boss Bo Pelini, painted a glowing portrait of their experience on the same sideline as Gill.
"Turner coached for me in Green Bay in our player program development, and he's just a quality person," said Sherman, who was the head coach of the Packers from 2000-2005. "I think he's great with kids. He did a great job in our program, with our players, and I'm sure he'll do a fine job at Kansas."
Gill spent one season in Green Bay, helping players make the transition to pro football, along with assisting the wide receivers coach and serving as an offensive assistant.
In Nebraska, where he starred at quarterback in the early 1980s, Gill and Pelini worked together in 2003 as assistants to Frank Solich.
"I coached with Turner and I think he's a good football coach who has done a great job," Pelini said. "Being from back in Ohio, we are familiar with Buffalo and how far he took the program. It just goes to show he's a great football coach and I think it's good to have him back in the conference."
Another man familiar with Gill's time at Nebraska is Baylor coach Art Briles. Although Briles has only been a college coach since 2000, he was there, on the front porch, when a man wearing all red came to see his son, Kendal, that year.
"I've actually known Turner for a long time; you know he's a Texas guy," said Briles, a native of Rule, Texas, which sits about 175 miles northwest of where Gill grew up in Fort Worth. "He actually recruited my son when he was at Nebraska. He didn't go there but that wasn't (Gill's) fault. He was there at 8 a.m. the first morning you could see him."
Kendal Briles wound up signing with the University of Texas, where he played safety for two seasons before finishing his career as a wide receiver at Houston after his father was named head coach.
While a handful of Big 12 coaches shared memories of their personal experiences with Gill, others spoke of knowing him only on a football level, choosing to talk about brief encounters and what they've heard from others. Even those recollections had a common theme.
"Turner and I have a professional relationship, seeing each other at clinics and places like that," said Iowa State coach Paul Rhoads, last year's new kid on the block in the Big 12. "His character, integrity and reputation are beyond reproach. He's just an excellent, excellent human being and a good football coach. He's proven that already."
Added Oklahoma State coach Mike Gundy, who, like Gill, was a standout Big Eight quarterback in the 1980s: "Turner and I have been friends a long time. Obviously, because of our jobs, we don't hang out much. I probably see him two or three times a year. But I have a lot of respect for Turner and look forward to him being in the league with us."
Though things will most certainly change during the weeks that these coaches line up against Gill and the Jayhawks this season, the overwhelming message conveyed by Gill's Big 12 counterparts this week in Dallas was one of admiration for what he has done already and what many expect him to do in the future.

"I have a lot of respect for him, professionally and personally," Briles said. "He just brings a lot of class. He's a class guy, he's a great football coach and he'll be a great representative for Kansas University."
Pelini agrees.
"KU, I think they're exciting," Pelini said. "I think (having Gill) brings a little jolt of energy to the program. I'm excited for Turner. Obviously he thought it was the right situation for he and his family, and I think he'll do a good job."
More like this story on KUsports.com