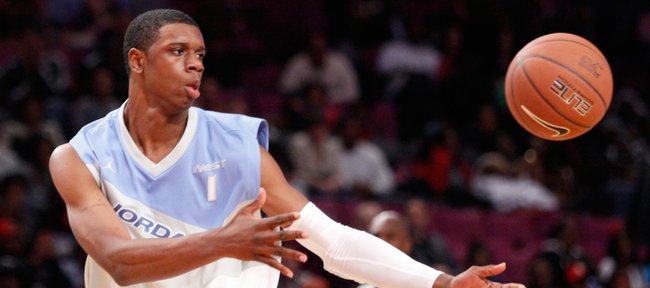 Terrence Jones, a 6-foot-8, 220-pound senior forward from Jefferson High in Portland, Ore., announced plans to play basketball at the University of Washington on Friday in a ceremony at his high school.
Jones, who is ranked No. 13 nationally by Rivals.com, chose the Huskies over Kansas University, Kentucky, Oklahoma, UCLA and Oregon. His mom, Linda, told the Seattle Times that Kentucky was the runner-up choice.
"I wanted to be close to home," said Jones, who averaged 32 points, 13 rebounds, five assists, three blocked shots and three steals for Jefferson (26-3) last season.
"Like I've been saying since eighth grade, I wanted to play with Terrence Ross (Jefferson teammate who also chose Washington Friday). And coach (Lorenzo) Romar is like a father figure to me."
The Seattle Times indicated Jones did not sign a letter of intent and that the player spoke to Kentucky coach John Calipari 15 minutes after the news conference.
Jones insisted he didn't know which school he would select until he grabbed a Washington hat off a table in front of him at the news conference in his high school gym. He reached for the KU hat before shifting and picking up the UW hat instead.
Jones, who is a good buddy of recent KU signee Josh Selby, visited KU's campus Sunday through Tuesday. He also visited Oklahoma (Oct. 10, 2009), Washington (Oct. 17), Kentucky (Oct. 28) and UCLA (Nov. 6).
"Coach (BIll) Self is a great coach and Kansas a wonderful program," Jones said. "Coach Self has developed players ever since he's been there."