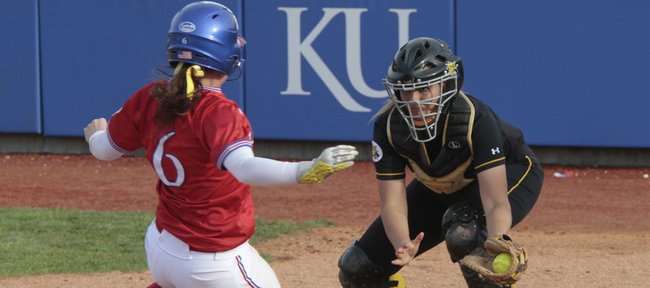 In a doubleheader split — 4-1 and 9-2 — with Wichita State on Wednesday at Arrocha Ballpark, Kansas University's softball team recorded five hits in an opening-game loss and a season-high 14 in the nightcap.
So, were there some strong words from KU coach Megan Smith between games, did it just take awhile to get going or was it simply a case of a team realizing what it did wrong in one game and correcting it the next?
"Yes, to all those," Smith said. "Our offense definitely stepped up in the second game, sparked by the top of our order, and we were attacking the ball. We did everything we always want to do in the same game."
The top three hitters in the Jayhawks' lineup combined to go 8-for-15 in Game 2. Freshmen Alex Jones and Rosie Hull each recorded three hits and drove in a run, and freshman Mariah Montgomery was 2-for-5 with an RBI.
Most of those came in the bottom of the fourth, when KU sent 11 batters to the plate and turned a 3-2 lead into an 8-2 runaway. The best part about the fourth? All five RBIs came from Jayhawks other than Jones, Hull or Montgomery. Marissa Ingle, Allie Clark and Maggie Hull delivered RBI singles, and Amanda Jobe and Sara Ramirez recorded their RBIs via walks.
"When one person gets a hit and gets on base, that sparks the rest of the team to do the same thing," Jones said. "You start to realize that it doesn't matter if it's a home run or a double as long as you're putting the ball in play and making the defense work."
While the offense finally got rolling, the KU pitching staff had a solid night. Clark pitched a complete game to get the win in Game 2 and also logged three innings of work in the opener in relief of Sarah Vertelka.
The split moved KU's record to 19-30.
"It's been awhile since we've beaten a team like that," Rosie Hull said. "A win like this makes you realize that it's all worth it."
More like this story on KUsports.com