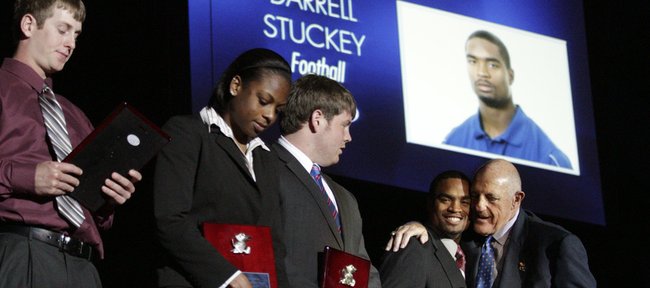 For the first time in the history of the Jayhawk Senior and Scholar Athlete Banquet, the ceremony took place at the heart of the Kansas University campus Monday night.
In front nearly 1,000 people seated on the floor of an elegant and made-over Allen Fieldhouse, scores of KU student-athletes were honored during an event themed, "There's no place like home."
"Our senior scholar athlete banquet is the best event we have at the University of Kansas," KU athletics director Lew Perkins told the crowd Monday. "I'm so proud of all of you."
Highlighting the night was senior cross country and track and field athlete Lauren Bonds, who presented one award and accepted three more, including the Best-Actress-esque Robert Frederick Female Scholar Athlete of the Year Award. The award is named for the late KU athletic director who died last June after a cycling accident, and, this year, a short video honoring Frederick's life accompanied the presentation.
Bonds, who also shared the Prentice Gautt Big 12 Postgraduate Scholarship Award with cross country and track athlete Eric Fattig, holds four school records and a 3.93 cumulative grade-point average. Former KU quarterback Todd Reesing, who is preparing for a professional football career and was not present, was named the Male Scholar Athlete of the Year. Accepting the award on Reesing's behalf was his father, Steve Reesing.
"It is definitely a huge honor, especially since we have such an impressive class," Bonds said. "A lot of these seniors are going to the NFL and the WNBA, so it is really an honor to be selected with so many other strong candidates."
Ten Jayhawks received Senior Athlete of the Year honors. They were: Bonds, Robby Price (baseball), Sherron Collins (men's basketball), Danielle McCray (women's basketball), Kerry Meier (football), Darrell Stuckey (football), Emily Powers (women's golf), Lindsey Lawrence (rowing), Estelle Johnson (soccer) and Meghan Proehl (swimming & diving). Stuckey was chosen to deliver the senior speech and talked fondly about the well-rounded experience he said he received at KU.
In addition to the student-athletes being honored, several behind-the-scenes contributors were recognized for their assistance. Women's basketball player Kelly Kohn sent out special thanks to the tutors and academic advisors; sociology professor Sandra Albrecht was presented with the Del Shankel Teaching Excellence Award; and Perkins presented the Lifetime Service Award to men's basketball administrative assistant Joanie Stephens.
"Kansas Athletics is my family," an overwhelmed Stephens told the crowd. "And I am thrilled beyond belief. All I can say is, thank you with all my heart."
More like this story on KUsports.com