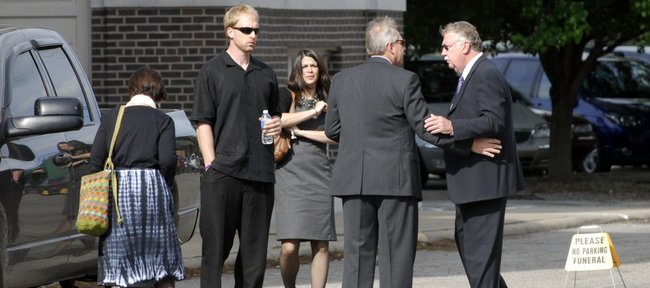 Pittsburg — Former Kansas State quarterback Dylan Meier was a tough competitor who spent his time off the field living life to the fullest and befriending those around him, according to speakers at Meier's funeral.
Meier was laid to rest Monday after services attended by more than 1,000 people in Pittsburg. The 26-year-old was hiking in Arkansas last week when he fell to his death at Whitaker Point, also known as Hawksbill Craig.
Kansas State coach Bill Snyder said Meier tackled football and life with exuberance and curiosity, the Pittsburg Morning-Sun reported.
Meier life was peppered with adventures and experiences such as running with the bulls in Spain, visiting Russia and learning about organic food production in New Zealand. He was planning to move to South Korea to teach English when he died.
"He was mature beyond his years," Snyder said. "He lived more than most of us will throughout extended lives. He was adventuresome, in such a positive, positive way."
Pittsburg High School football coach Merle Clark remembered Meier's toughness, recalling how he led Pittsburg against Salina South with an injury that later required surgery. Another time, he got stitches on the sideline and returned to play after missing just one series.
"He had such a passion for life," Clark recalled. "Man ... what a zest for life he had."
A friend, J.T. Knoll, said Meier was a gifted writer. He read from Meier's e-mails about a trip to New Zealand. The journal ended with Meier saying he hoped to hear from everyone soon.
When Knoll urged the audience to let Meier hear from them, people responded with a loud standing ovation.
Speakers also said Meier was close to his family and made friends into an extended family wherever he went.
"We have a family environment at Kansas State," Snyder said. "And Dylan was the consummate family member. I admire Dylan. He was an easy friend, a quick friend."
Snyder said Meier genuinely cared about people he met and had a gift for making everyone feel important. He urged the crowd to celebrate Meier's life, rather than mourning his death.
"Nothing ever took Dylan down," Snyder said. "Dylan always lifted people up."