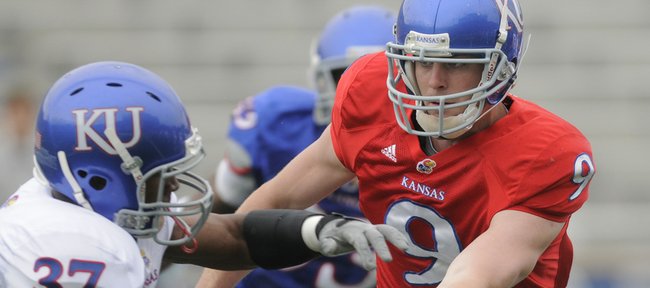 Conner Teahan's major-college football debut consisted of one completion in two attempts for 10 yards and a whole lot of applause from those fans who stayed for the second half of Kansas University's spring football game Saturday in Memorial Stadium.
"Honestly, I was just running out there," said KU junior basketball guard/football quarterback Teahan, who entered with 14:44 remaining in a 25-minute second half, oblivious to the loudest ovation of the day.
"They (teammates) were telling me I needed to say the cadence a little bit louder because the crowd was finally getting a little life in it. It was fun."
In front of about half of an announced crowd of 12,500 that included basketball players Tyshawn Taylor, Mario Little, Thomas Robinson, Travis Releford and the Morris twins, Teahan lasted four plays.
After a false start at the 25 yard line, Teahan accepted a snap out of the shotgun and handed to Ryan Burton for three yards.
On second down, he completed a 10-yard pass to Chris Omigie. Burton gained no yards on third down. A short Teahan fourth-down pass was deflected by a safety and fell incomplete.
"I've gotten some snaps in practice. It was a little different in front of people, but I felt pretty comfortable. I felt ready," said the 6-foot-5, 215-pound Teahan, who last took a snap in front of a crowd his senior year at Kansas City Rockhurst High. "Honestly, I'd like to say it was great and fun, but I was not surprised," he added of his first completion in his first pass attempt. "It was an easy play. I read the linebacker, boom, made the throw.
"(The second one) I tried to float it in there because it was fourth down. I felt, if I put a little more on it or released it earlier, it would have been a completion. I wish we'd have gotten a first down, but it was fun."
Teahan, who believes he made a lot of progress the past couple weeks, said he'll meet with coach Turner Gill this week and finalize his plans.
"I don't really know now. I feel I have a lot more upside in football than I do in basketball. I feel I can get a lot better quick," Teahan said. "It's going to be kind of what opportunity I have. We have a bunch of good quarterbacks on the team.
"I've always loved both sports. I kind of have to look out for what's best for not only my future, but the (two) teams' future. I feel whichever one I might be a bigger help for and whichever is also best for me."
The plan is if he plays football, he likely will also return to the hoops team.
"It depends what the situation is," Teahan said. "If I don't have a chance of playing, I'd probably just do one or the other."
As far as coach Gill's take: "As I mentioned, he's not going to be as far as in the top two," the first-year coach said, noting either Kale Pick or Jordan Webb would start at QB. "It's just a matter what his thoughts are, feelings toward basketball or football, and we'll talk about it, discuss it and come to a decision."