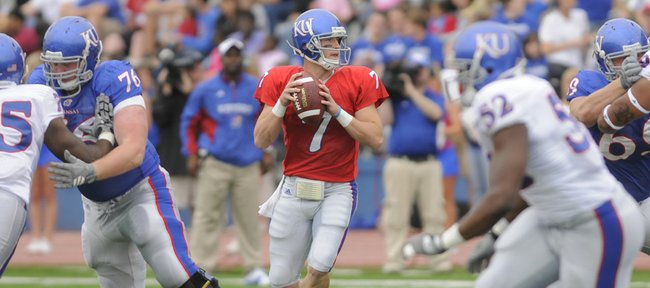 On the Monday before the Kansas University football team's annual spring game, red-shirt sophomore quarterback Kale Pick talked about his goals.
"Obviously, whatever team you're going to quarterback you want to win," he said.
Small problem. Saturday, when Pick and the Jayhawks took the field for the first time under new head coach Turner Gill, the QB from Dodge City actually suited up for both sides.
Pick got the white team on the board early with a 72-yard touchdown strike to Chris Omigie and then led the blue team to a 14-10, come-from-behind victory, leaving plenty of room for confusion about his feelings following the contest.
"I guess it works both ways," Pick said. "It was awesome to get the white team on the board, and I was happy that I could put the blue team ahead. I got a chance to get the last drive for the blue team, and they were down. I know all the linemen and the running backs wanted to win, they didn't want the white team to win, obviously. So I think they were happy with me when we drove down and scored."
Pick's performance — 4-for-8 for 92 yards and one touchdown with the white team, and 10-for-14 for 122 yards and one touchdown with the blue team — highlighted the day for the Jayhawks, who ran just 30-40 percent of their offensive playbook, Gill said, and focused more on running the plays that were called than getting fancy.
"It was pretty simple," Gill said. "We were just running our base plays. We didn't get too exotic. We wanted to see execution."
A quick look at the final game stats revealed that there was far better execution in the passing game. In addition to Pick's line of 14-for-22 for 214 yards and two touchdowns, red-shirt freshman Jordan Webb was 8-for-13 for 46 yards and a touchdown. His scoring strike, which gave the blue team a 7-0 lead, came on a 20-yard scramble and throw to tight end Tim Biere. Biere, three catches for 56 yards, was another bright spot for the KU offense on Saturday. But when it was over, everyone wanted to know which quarterback sat atop the depth chart.
"I wouldn't say there's a leader," Gill said. "But I can say Webb and Pick are the two guys. And they're going to continue to battle it out as we go on."
That's just fine with their teammates, including two of the three players who were on the receiving end of touchdowns on Saturday.
"I didn't think about who was throwing the passes or anything," Biere said. "I know they're both going to get the job done, and I think they both did a great job today."
Added Omigie: "I don't ever notice until I get back (to the huddle) and see the number on their jersey. The way they play, they both can throw, they both can run, they both can make something happen if they get a little pressure. They're a lot alike."
As for the rest of Saturday's showing, the KU ground game struggled. The two teams combined to gain 126 yards on 45 carries or, more bluntly, 2.8 yards per carry.
Sixth-year senior running back Angus Quigley offered an explanation for why his unit was slow to get started.
"I don't know exactly what happened," Quigley said. "You gotta credit the defense. They know us, we've practiced against them all spring. We did some decent things, but some other things we didn't do so well."
Quigley, a member of the blue team, finished with 35 yards on seven carries. Twenty-five of those came on one run. Red-shirt freshman Deshaun Sands finished with 33 yards on seven carries and had a long of 18 yards, and Toben Opurum, the team's top returning rusher, managed just 16 yards on seven carries. On one of those, Opurum made a quick cut to the right in the backfield and then ran over freshman cornerback Tyler Patmon en route to a six-yard gain.
That was the second time on the day that Patmon came up on the wrong side of things, as he was beaten by three yards on Omigie's touchdown.
Outside of those two plays, the KU defense played well. Red-shirt freshman Dexter Linton intercepted a pass from Quinn Mecham in the second quarter, and senior defensive back Calvin Rubles picked off a pass from Webb late in the game to set up the winning drive, which was capped by by a nice pitch-and-catch from Pick to red-shirt freshman Christian Matthews.
"You guys will see in time he's a heck of a deep-ball guy," Pick said of Matthews. "He goes and gets the ball and has a heck of a lot of athletic ability, and I wanted to give him a shot."
Linebackers Steven Johnson and Dakota Lewis led the defense in tackles with five apiece, and Lubbock Smith, Jamal Greene, Isiah Barfield and Quintin Woods each had four. Woods and red-shirt freshman Kevin Young each recorded two sacks, albeit of the touch-football variety because of the rule about not hitting the quarterbacks. In all, the defense "sacked" the offense nine times.
"It was great," Pick said. "It was good to be out on the field. It has been awhile, but it's a good feeling to be back."