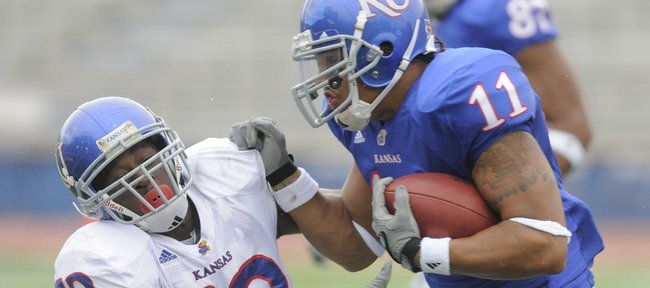 Atmosphere inspired
The announced attendance for Saturday's spring game was 12,500 people, and many of those spent the moments leading up to the game tailgating. Although the outcome didn't count in any kind of standings and was only loosely played during the hour and 40 minutes on the field, the atmosphere around the stadium was near that of what it would be on a Saturday in the fall.
In addition, KU senior Chris Harris and head coach Turner Gill led the crowd in a drug-free pledge at halftime. Harris helped the young people in the crowd through the pledge, and Gill performed a repeat-after-me version with the adults.
Although rain threatened the area for most of the day, the skies never broke open and the game was played under cloudy skies and temperatures around 60 degrees.
Tight ends more prevalent
The KU tight ends made a big impact during Saturday's game in both the passing game and the running game. Tim Biere led the blue team with 56 receiving yards, and AJ Steward, although he made just one catch for eight yards, made several nice blocks in the running game, including one that broke running back Angus Quigley loose for a 25-yard gain on the longest run of the day.
"You could see out there, a lot of sets had two tight ends and one tight end, so we get used a lot more than we did last year," Biere said. "Right off the bat, I think I caught more passes on that first day of practice than I did in about a week last year. Right away I knew that we would have a lot more of a role in the offense than we did last year."
Defensive ends disruptive
They didn't garner much mention from Gill during the four weeks of spring drills, but Saturday a couple of defensive ends had big games. Red-shirt freshman Kevin Young and senior Quintin Woods each recorded two sacks, and they combined to make six tackles.
A look at starting units
Though it's still early and might not mean much when the 2010 season rolls around, here's a look at Saturday's starters from both sides of the ball.
Offense: OL Tanner Hawkinson; OL Brad Thorson; OL Jeremiah Hatch; OL Trevor Marrongelli; OL Jeff Spikes; QB Kale Pick; RB Angus Quigley; WR Bradley McDougald; WR Daymond Patterson; WR Johnathan Wilson and TE Tim Biere.
Defense: DL Travis Stephens; DL Richard Johnson Jr.; DL Kevin Young; DL Patrick Dorsey; LB Justin Springer; LB Jacoby Thomas; LB Steven Johnson; CB Chris Harris; CB Calvin Rubles; S Lubbock Smith; and S Phillip Strozier.
Speed on display
Although the Jayhawks only showed a little of their offensive playbook, it was clear that speed would be a big part of it. Slot receivers Daymond Patterson and D.J. Beshears combined to make nine catches — for 53 yards — and Gill said both have been impressive throughout the spring.
Draft excitement
With 1:11 to play in the first half, the Memorial Stadium public address announcer revealed to the crowd that former Jayhawks Darrell Stuckey and Kerry Meier had been selected in the 2010 NFL Draft. At the time, former receiver Dezmon Briscoe, a sixth-round pick of Cincinnati, also had been picked, but that announcement didn't come until the next timeout when the press box was notified about the pick. Stuckey was picked in the fourth round by San Diego, and Meier was snagged in the fifth round by Atlanta.