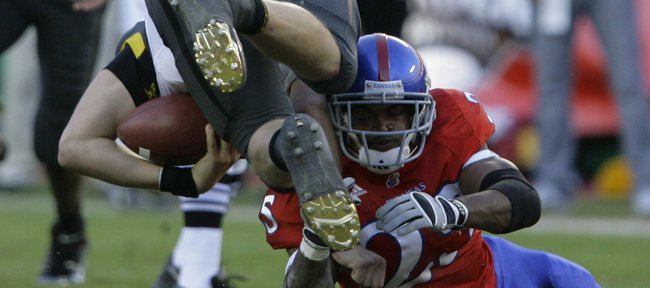 One of the first people that former Kansas University safety Darrell Stuckey spoke with after being selected by the San Diego Chargers with the 12th pick in the fourth round (110 overall) of Saturday's NFL Draft was San Diego secondary coach Steven Wilks.
Shortly after the introductions, the Chargers assistant had one question for his newest pupil.
"He just asked me, 'Are you ready to be great,'" Stuckey said. "And I said, 'Heck yeah, I'm ready to be great.'"
Although he had hoped to be drafted on Friday, when rounds two and three took place, Stuckey was thrilled to go early in the fourth as the ninth safety taken. When his name was read over the speakers at Radio City Music Hall in New York City, it was just after 9:45 a.m. central daylight time. Shortly thereafter he grabbed a Chargers hat he received from the team at the combine.
"It feels good," he said. "It's just like going through a six-month process for a job interview. I talked to the secondary coach already, and he said if I go out there and battle and bust my butt and work hard, I could easily find my way onto the field."
Another person within the organization that Stuckey spoke with was former KU teammate James Holt, a San Diego linebacker.
"I asked him about the cost of living," Stuckey said before breaking out into laughter. "Nah, he said it's a beautiful place, I've heard nothing but great things about it. It's a great place to play, it's a great environment and they have a great organization. I've personally never been in California. The first time I was on the beach was at the Orange Bowl."
Stuckey leaves Kansas as one of the most accomplished defensive backs in recent memory. He played in 45 games in four years, starting every game from his sophomore season on, and finished with 295 tackles. In addition, he grabbed eight interceptions, made 11 tackles for loss and was a captain in 2009. In 2008, Stuckey was KU's lone all-Big 12 first-team selection.
"I knew I was a fourth-round gem, and I want to be (with San Diego) for a long time," Stuckey said. "They told me on the phone that they were surprised I was still there in the fourth round, and I said, 'We've got something in common.'"
More like this story on KUsports.com