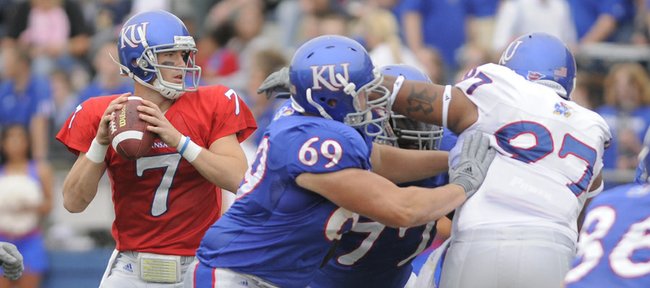 2:44 p.m.
Pick's final numbers (when you combine his Blue and White team stats): 14-for-22, 214 yards, two TDs, 0 interceptions.
Webb's final numbers: 8-for-13, 46 yards, TD, INT
FINAL: Blue defeats White, 14-10
Sands ends the game with an 18-yard sideline run, and officially, the Blue squad wins, 14-10.
Blue 14/White 10 — 3:00 left in game
Pick strikes again with another nice deep pass.
The QB throws a ball deep down the sideline for Matthews, who makes a great adjustment on the ball to bring it in before running to the end zone for a 37-yard touchdown. Nice play by Matthews, who looks like he'll find the field in some fashion because of his athleticism.
White 10/Blue 7 — 9:26 left in game
Outstanding play by cornerback Calvin Rubles, who breaks in front of an out pattern, catches a Jordan Webb pass, then taps a foot inbounds for the interception. Tertavian Ingram didn't do a great job of coming back to fight for the ball.
White 10/Blue 7 — 11:36 left in game
Conner Teahan checks in at quarterback and receives the loudest applause of the day. He completes a pass to Omigie, but on fourth down has a throw in heavy traffic knocked away.
White 10/Blue 7 — 17:07 left in game
Quarterback Jacob Morse with his first action. The running clock is making this second half go quickly.
White 10/Blue 7 — 22:30 left in game
A KU football tradition continues: A large rush of fans leave at halftime.
Opurum with one of the best runs of the day, bulling over Tyler Patmon for a six-yard gain.
The next possession, Quigley breaks free on the right sideline for 25 yards. Great block by tight end A.J. Steward to break Quigley for the long run.
White 10/Blue 7 — Halftime
For those of you wondering, here were the first teams on both sides:
Offense
OL Tanner Hawkinson
OL Brad Thorson
OL Jeremiah Hatch
OL Trevor Marrongelli
OL Jeff Spikes
QB Kale Pick
RB Angus Quigley
WR Bradley McDougald
WR Daymond Patterson
WR Johnathan Wilson
TE Tim Biere
Defense
DL Travis Stephens
DL Richard Johnson Jr.
DL Kevin Young
DL Patrick Dorsey
LB Justin Springer
LB Jacoby Thomas
LB Steven Johnson
CB Chris Harris
CB Calvin Rubles
S Lubbock Smith
S Phillip Strozier
White 10/Blue 7 — Halftime
Branstetter misses a 45-yard field-goal attempt with three seconds left to take us to halftime.
White 10/Blue 7 — 1:11 left in 2nd quarter
A little razzle-dazzle by KU, as Pick keeps the ball on a fake end-around. He floats a pass that appears to hang in the air too long, but the 5-foot-7 Sands skies to catch the pass over a defender and also save the interception. Sands is pumped about it, too, jumping up to high-five Pick.
White 10/Blue 7 — 4:19 left in 2nd quarter
Jacob Branstetter knocks through a 36-yard field goal from the right hash. The drive stalled when Webb received heavy pressure up the middle and had to release the throw quicker than he wanted to.
Blue 7/White 7 — 8:36 left in 2nd quarter
Quinn Mecham goes in with the blue squad, but after picking up a first down, he has a floating pass intercepted by Linton. The freshman returns it 30 yards before getting shoved out of bounds.
Blue 7/White 7 — 11:09 left in 2nd quarter
Pick and Webb trade three-and-outs. Christian Matthews goes back as a punt returner. The coaches seem to have a lot of plans for Matthews this season.
Blue 7/White 7 — 13:35 left in 2nd quarter
Kale Pick answers, delivering a deep ball in stride to Chris Omigie deep down the field for a 73-yard touchdown pass. Omigie high-steps into the end zone, and we'll see if KU coach Turner Gill talks about that after the game. Safety Dexter Linton was the one burnt on the play.
Blue 7/White 0 — 14:55 left in 2nd quarter
Webb makes a play by himself offensively, scrambling away from pressure to his right before firing a bullet off his back foot to Biere, who brings it down in the end zone for a 20-yard score. To get that kind of mustard on a pass like that is impressive, regardless of level of football.
Blue 0/White 0 — End of 1st quarter
Webb switches to the Blue side. His favorite target is Beshears, who has caught a few passes in the flat and turned them into nice gains.
Blue 0/White 0 — 2:27 left in 1st quarter
Quintin Woods with a third-down sack. Webb's elusiveness and ability to get around defenders doesn't play well in a spring game when the QBs are sacked when they are simply touched.
Blue 0/White 0 — 4:00 left in 1st quarter
Kevin Young with a touch-sack. The defensive front seven has gotten some good push so far.
Young with another sack, this time on third-and-20. The defensive line is the story of the game so far.
Blue 0/White 0 — 7:10 left in 1st quarter
Darius Parish sacks Webb on third and long. Alonso Rojas comes in for his first punt. D.J. Beshears will return the punt.
Blue 0/White 0 — 8:56 left in 1st quarter
Travis Stephens touches Pick for a sack on fourth-and-10.
Jordan Webb starts for the White Team, even though the original roster had him on the Blue squad.
Blue 0/White 0 — 10:23 left in 1st quarter
On third-and-12, Pick completes a pass in traffic to Biere for 14 yards.
Also, KU's offensive players — much like last year — are still looking to the sideline before the snap to get the final play call.
Blue 0/White 0 — 11:45 left in 1st quarter
Deshaun Sands returns the opening kickoff. Could that be his role next year?
Kale Pick gets the first rep at QB for KU. Pick's first pass is a rollout completion to Tiim Biere for 21 yards.
12:55 p.m.
The new videoboard on the south side of Memorial Stadium should be a highlight for those folks coming to the game today. The board appears to be at least three times bigger than the old board, and the picture on the screen also is about as clear as you can get on a videoboard that large.
We haven't been given a depth chart up to this point in the spring. Quickly, let's look at the surprises I see from the depth chart below.
• Christian Matthews, WR
Just a couple weeks ago, Matthews was wearing a red jersey and competing for the quarterback spot. Now, he appears with the first unit of wide receivers. KU's coaches must be wowed by his athleticism to move him so high on the depth chart already.
• Randall Dent, DT
This 6-foot-5, 275-pound red-shirt freshman from Grand Prairie, Texas, has a short bio in the media guide. He was named the defensive scout team player of the week twice last season, and now, he's with the first team in a crowded position battle on the defensive line.
• Erick McGriff and Chris Omigie, WRs
These red-shirt freshmen have received their share of hype — and deservedly so — but as of now, they haven't appeared to crack the first team just yet.
• Justin Puthoff, FB
He appears with the first-team on offense at fullback over Steven Foster. Puthoff switched from tight end to fullback during spring drills.
12:10 p.m.
Here is the format for today's game:
• First half will feature two, 12-minute quarters
• Halftime will be 20 minutes
• Second half will consist of one, 25-minute running-clock period
12:05 p.m.
Welcome back to the Newell Post Live, coming to you from Memorial Stadium where the Kansas football team is preparing for its annual Spring Game — the first under new coach Turner Gill.
The Blue and White rosters have been selected. From looking at the roster, it appears the blue squad on offense is the first unit, while the white squad on defense is the first team.
Here are their rosters. An asterisk indicates that person will play for both the Blue and White teams. The players are listed in no particular order.
Blue Offense
OL Sal Capra
OL Jeremiah Hatch
OL Tanner Hawkinson
OL Trevor Marrongelli
OL Jeff Spikes
OL Brad Thorson
OL Duane Zlatnik*
WR D.J. Beshears*
WR Tertavian Ingram*
WR Christian Matthews
WR Bradley McDougald
WR Daymond Patterson
WR Johnathan Wilson
QB Kale Pick
QB Jordan Webb
RB Toben Opurum*
RB Angus Quigley
RB Deshaun Sands
TE Tim Biere
TE Bradley Dedeaux
TE A.J. Steward
TE Ted McNulty*
FB Justin Juthoff
White Defense
DT Randall Dent
DT Patrick Dorsey
DT Richard Johnson
DE Jake Laptad
DE Travis Stephens
DE Kevin Young
LB Jordan Fee
LB Steven Johnson
LB Justin Springer
LB Huldon Tharp
LB Jacoby Thomas
CB Greg Brown
CB Chris Harris
CB Ryan Murphy
CB Calvin Rubles
S Brandon Hawks
S Taylor Lee
S Lubbock Smith
S Phillip Strozier
White Offense
OL Gavin Howard
OL Tom Mabry
OL Michael Martinovich
OL Joe Semple
OL Alex Smith
OL Riley Spencer
OL Carl Wilson
OL Duane Zlatnik*
WR D.J. Beshears*
WR Roderick Harris
WR Tertavian Ingram*
WR Chase Knighton
WR Erick McGriff
WR Chris Omigie
WR Willie O'Quinn
WR Reece Petty
WR Patrick Schilling
QB Quinn Mecham
QB Jacob Morse
QB Conner Teahan
RB Ryan Burton
RB Rell Lewis
RB Toben Opurum*
TE Ted McNulty*
TE Nick Plato
TE Ian Wolfe
FB Steven Foster
FB Tyler Hunt
Blue Defense
DT Jamal Greene
DT Darius Parish
DT Shane Smith
DT John Wililams
DE D.J. Marshall
DE Tyrone Sellers
DE Quintin Woods
LB Drew Dudley
LB Dakota Lewis
LB Steve Mestan
LB Ryan Nelson
LB Chea Peterman
LB Josh Richardson
CB Isiah Barfield
CB Anthony Davis
CB Tyler Patmon
CB Corrigan Powell
S Brian Blackwell
S Prinz Kande
S Dexter Linton
S Olaitan Oguntodu
Special Teams
P Alonso Rojas (Blue)
P John Millsap (White)
K Jacob Branstetter (Blue)
K Nathan Kalish (White)
LS Justin Carnes (Blue)
LS Matt Wohlgemuth (White)
More like this story on KUsports.com