One of the most accomplished high school basketball players in Oregon history will be making an official recruiting visit to Kansas University on Sunday.
He's McDonald's All-American Terrence Jones, a 6-foot-8, 220-pound senior forward who recently led Portland's Jefferson High to a third consecutive state title.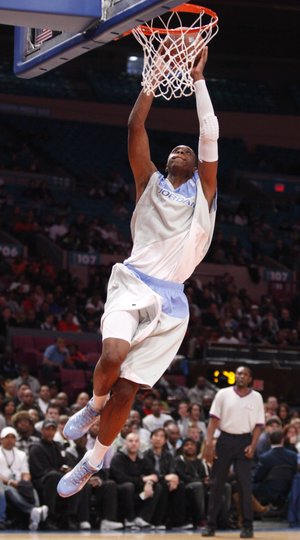 Jones — he will announce for either KU, Washington, Oregon, UCLA, Oklahoma or Kentucky next Friday in a ceremony at his high school — recently was named the Oregonian newspaper's Class 5A player of the year for the second straight season. He joined Kevin Love and Fred Jones as the only two-time winners of that award. Love won it three times, Jones twice.
"This is obviously a huge development for coach (Bill) Self, coach (Kurtis) Townsend and Kansas," said recruiting analyst Shay Wildeboor of Rivals.com. "They conducted an in-home visit in September. From that point on, Terrence visited several other schools, but hadn't made it to Kansas.
"He is coming in Sunday through Tuesday and is an absolute difference-maker. He's an inside/outside guy who could step in right away and immediately impact the rotation."
Jones, who is ranked No. 13 nationally by Rivals.com, averaged 32 points, 13 rebounds, five assists, three blocked shots and three steals for Jefferson (26-3) last season.
Following Saturday's Jordan Brand Classic game in New York, Jones told the Journal-World that he wanted to visit Lawrence before deciding on a college. He has visited Oklahoma (Oct. 10, 2009), Washington (Oct. 17), Kentucky (Oct. 28) and UCLA (Nov. 6).
"Hopefully, I will get that done," Jones said Saturday. "I have one official visit left. I want to use it."
Jones and recent KU signee Josh Selby have been friends since meeting at the Nike Hoops Jamboree a few years back.
"He's anxious for me to join him," Jones told the J-W. "He feels it would be best for both of us. Possibly, we could do great things there."
Selby isn't Jones' only buddy who is a major-college recruit. Jefferson High senior Terrence Ross, a 6-5 guard, will visit Washington on Monday, according to Oregonlive.com. Ross is the country's No. 30-rated recruit.
Wichita prep Ellis named top soph
Perry Ellis, a 6-8 sophomore from Wichita Heights High School, on Friday was named ESPN RISE's national sophomore of the year.
The two-time all-state pick and two-time Gatorade Player of the Year averaged 22.2 points and 10.4 rebounds in leading the Falcons (23-2) to their second straight state title.
Ellis, who has Kansas University on his list of prospective colleges, will play for the Pray and Play Players in the 2010 Jayhawk Invitational, next Friday through Sunday.
The invitational will be held at Haskell, Lawrence High, Free State High, South, Central, West and Southwest Junior Highs, Seabury Academy, as well as Eudora High, Baker University and Okun Fieldhouse in Shawnee. More information will be available in days leading up to the event.
Austin Rivers, a 6-3 guard from Winter Park, Fla., was tapped RISE's junior player of the year.
Jaban Parker, a 6-6 forward from Chicago Simeon High, was named freshman of the year.
Jayhawk Invite organizers said Friday that Team Texas was a recent addition to the field.
Recent KU commit Zach Peters, a 6-8 sophomore from Prestonwood Christian High in Plano, Texas, plays for Team Texas.
More like this story on KUsports.com