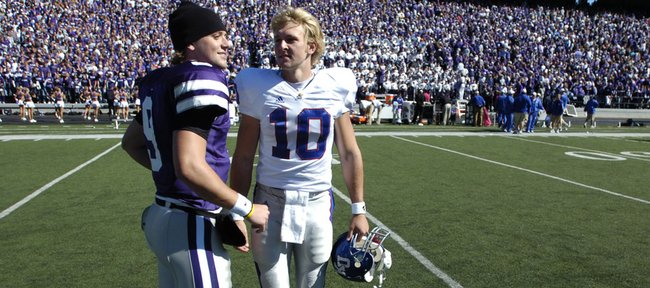 Sometimes, it can look a little creepy when a 50-something man waits and waits and waits for an autograph from a college athlete. Is he selling it? Does he have so little going on in life that he makes heroes of young men in helmets?
John Rathbun of Cutler Repaving in Lawrence doesn't fit into those categories. He worships God, not heroes in helmets and pads. For him, faith and family come before his beloved football. Members of Corpus Christi Catholic Church would recognize the voice and face, even if the name doesn't ring a bell. He's a lectern. Glasses. Sharply dressed. Follically challenged.
Wife Kathy teaches first graders at Langston Hughes. Their daughter, Kelly Hart, teaches eighth-grade English at South Junior High. Their son Johnny, a para at Langston Hughes, is developing a reputation for having a nice touch working with special-education students.
Yet, there was John Rathbun, waiting at a December function honoring KU's senior football captains, waiting for a chance to talk to Kerry Meier, clutching the Sports Illustrated cover that featured Meier catching a touchdown pass in the end zone.
"Kerry, I just wanted to tell you I've been watching Kansas football since 1975 when I came to KU, and what you guys have accomplished is extra special," Rathbun told Meier. "For a guy my age, 55 years old, I've seen a lot of bad football. To see the things you guys have achieved, and you in particular, has been great. You have to be the greatest teammate anybody's ever had."
Rathbun said Meier just looked at him, stunned, and said, "I don't even know what to say."
As always, the chatty Rathbun happily filled the gap.
"You don't have to say anything," he told Meier. "I just wanted to say thank you."
Rathbun spoke for an entire Jayhawk Nation. Meier touched Kansas football fans for the classy way he stepped aside for Todd Reesing and quickly found his way back onto the field as a record-breaking receiver and for the way he stood behind his ousted coach, Mark Mangino.
Look into the past of most athletes coined great teammates and you'll find they grew up in a closely knit family. The way Meier always has talked about his brothers, former Kansas State football players Dylan and Shadley and former Pittsburg State football player Adam, it's no surprise he turned into such a great teammate. Teams often refer to themselves as families, and the reverse of that is true.
The richer a relationship, the deeper it hurts when it ends. Kerry, Adam, and Shadley lost the best teammate they ever had when Dylan died in a hiking accident Monday in Newton County, Ark. He reportedly fell 94 feet. Kerry and other family members were with Dylan when the accident happened.
It's painful to think what Kerry must be feeling.
"That was the only time I ever talked to him and I'm sitting here with a hole in my heart," Rathbun said. "I lost a sister about seven years ago, run over by a truck in Chicago, waiting for the bus on her way home from work."
An atypical melancholy colored the rapid-talker's voice.
"I don't want to say you never recover, but it takes a long time," Rathbun said. "I know exactly what that family's going through. It stabs you right in the heart. To see that happen to someone else, it just makes you get down on your knees to say a prayer. Not a day goes by that I don't think about what she meant to me. I know it will be hard for the Meier family to get through it, but they'll be all right. They're a strong family."
The entire state of Kansas is praying for that strong family.
More like this story on KUsports.com