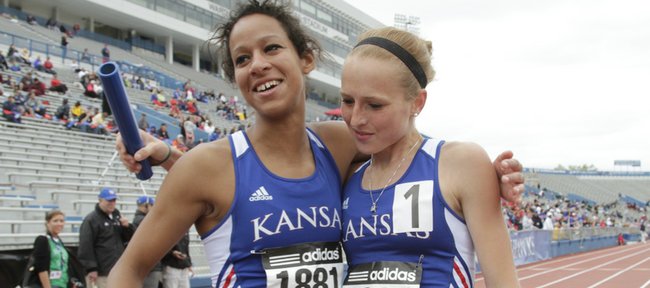 Northern Iowa assistant track coach Jacob Pauli decided against driving a university van from Cedar Falls to Lawrence for the 2010 Kansas Relays.
"Ours is a rental from a dealership. We don't have anything written on it, because we wouldn't have any tires after we got out of the hotel," Pauli said jokingly on Friday at Memorial Stadium.
The 30-year-old world class pole vaulter, who won his fifth Relays title Friday in 17-51⁄2, realizes folks in Lawrence aren't too fond of UNI athletes these days — not after the Panthers stunned Kansas in the second-round of the 2010 NCAA Tournament.
"The rest of the Northern Iowa track team is in Oklahoma, but they had to drive through Emporia last night," explained Pauli, who brought five UNI competitors to the Kansas Relays. "They stopped there and were getting hazed real hard, so we kept a low profile. We try to not wear our UNI clothes out.
"We were warming up on the (football) practice fields there and we about dropped one of the security guys in his tracks. When he saw the thing (UNI logo on backpacks) he stepped back. He couldn't handle it. It was too much for him," Pauli added.
Seriously. ...
"I am so proud," Pauli said. "We come from a mid-level university. We are a bunch of hard-working guys and the basketball team ... those guys are great. It was by far the most amazing thing that obviously has ever happened to Northern Iowa. It was really cool to watch that happen."
Pauli is one of UNI's great success stories. He placed fifth at the 2008 Olympic Trials and was an alternate for the Beijing Games. On Friday, he defeated Stefanos Koufidis of Culver-Stockton (17-51⁄2) as well as KU standout Jordan Scott, who cleared 16-111⁄2 after a huge leap of 18-83⁄4 at the Texas Relays.
Scott, who wore a crazy white-bleached, red-checkerboard hairstyle at the Texas Relays, on Friday sported red, white and blue hair, with a splash of green. He also had a pink logo supporting breast cancer awareness painted on the back of his head.
"I was a little creeped out more than I was intimidated (by his hair)," Pauli joked. "We jump in Europe all over in the summer. We see about everything there is to see."
Explaining his wild hair coloring, Scott said: "I'm doing it for fun, trying to take a little pressure off myself, to let loose, get a little individuality.
"I'm going to keep doing it. I don't look at it anyway, so it doesn't bother me."
Scott, a senior from Watkinsville, Ga., is hoping to break KU's all-time pole vault record mark of 18-103⁄4, set by Jeff Buckingham in 1983.
"Pole vaulting is such a (wild) sport, you can have a great day or a horrible day but jump the same. It's just luck whether you hit the bar or not," Scott said. "I'm moving on to next week (Drake Relays). I don't want to get down about this meet. I still will have a good year. It's already been a good year."
Gold medalist competing: A runner with one of the best resumes in Relays history will compete today. She is Jamaica's Veronica Campbell-Brown, who won the 200 meters at both the 2004 and '08 Olympics. Campbell-Brown and Barbel Wockel of Germany (1976, '80) are the only two athletes to win 200 titles at successive Olympic Games.
Campbell-Brown, who ran a personal-best 21.74 at the Beijing Games, will run her specialty event at 3:30 p.m. today. She'll also run in the 1,600 relay at 5:05 p.m.
"It's lovely," Campbell-Brown said of the feeling of being a five-time Olympic medalist. "It's a blessing, a lot of hard work. I've been fortunate to have a lot of support. A lot of positivity motivates me to achieve what I have accomplished. I'm hoping to make it three consecutive wins in London in '12. I'd be the first one to do that."
Of being the featured performer at the Relays, the former Barton County CC and Arkansas phenom said: "It's a blessing. I've been in track a long time. I'm thankful to God that I've achieved a lot. I have a lot of fans that support me. I'll keep training hard and keep making them happy.
"I am making my 200 debut, and I really want to start my 2010 season with a good time. I'm praying for much better weather than today."
Churandy Martina, a two-time Olympian from the Netherlands Antilles, will run the 100 at 2:45 p.m. Nichole Denby, Relays record holder in the 100 hurdles, who fell while leading that event at the '08 Olympic Trials, will run at 1:25 p.m. today.
Firsts for KU on Friday: Freshman Mason Finley in the shot put (60-41⁄2); distance medley relay team of Corinne Christensen, Anna Barber, Lauren Bonds and Rebeka Stowe (12:00.7); four-mile relay team of Kathleen Thompson, Kyra Kilwein, Tessa Turcotte and Christensen (21:24.87); four-mile relay team of Greg Bussing, Bret Imgrund, Kaleb Humphries, Zach Zarda (17:25.16).
Top six for KU on Friday: Andrea Geubelle, third in triple jump (41-8); Heather Bergmann, third in javelin (159-1); Elizabeth Beisner, fourth in high jump (5-5 which actually tied for the second-best leap); Sam Cosgrove, Derrick Perry, Sean Proehl and Clay Schneider, fourth in distance medley (10:30.57); Darryl Trotter, fifth in triple jump (49-11); Amanda Radovich, sixth in javelin (126-1); Brian Bishop, sixth in shot put (52-8 3⁄4).
More like this story on KUsports.com