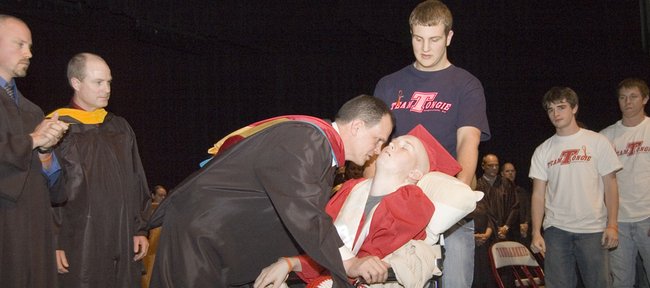 With a "thumbs up" sign, Tonganoxie High School senior Connor Olson let THS Principal Jamie Carlisle know he was ready to receive his high school diploma.
Even though THS commencement exercises are scheduled for May 15, Olson received his diploma a month early, during a special ceremony Thursday.
Olson has been battling bone cancer for about a year. It started in his right leg. His right leg and foot were removed because of the cancer. Then the cancer attacked his lungs and a hip. On Sunday, Olson suffered a stroke, according to THS athletic director Brandon Parker.
Read more about how Olson inspired the KU football team.
But Thursday, wearing a THS red cap and gown, Olson received his diploma in front of a capacity audience at the school auditorium.
"He has earned the right to walk across this stage today," the principal said.
With help from friend Ben Myers, Olson entered the auditorium in a wheelchair, to the strains of "Pomp and Circumstance." A photo slide show told a story of Olson and Myers and other friends through the years. Though he did not speak during the ceremony, footage of Olson previously being asked questions about Tonganoxie was shown.
"Tonganoxie, Kansas, has to be one of the strongest and most resilient communities I know," Olson said.
A few weeks after Olson's diagnosis last year, then-THS senior Austin Stone was hospitalized following an incident during a routine dental procedure that left him legally blind, hard of hearing and with limited use of gross motor skills. Days later, another THS student, Jeremy Elliott, died in his sleep from a heart condition.
Team Tongie — a service group that raises funds for students and their families who are battling serious illnesses — was formed soon after.
Myers helped Olson across the stage Thursday. And after Olson received his diploma and shook hands with THS officials, Myers lifted Olson's tassel from left to right.
His friend officially graduated.
More like this story on KUsports.com