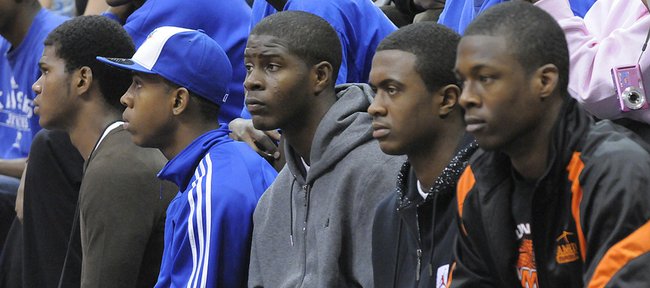 The first day of college basketball's spring signing period figures to be a quiet one for Kansas University's basketball program, which hopes to receive some good news later in the week regarding prospects Josh Selby and/or Doron Lamb.
The spotlight today instead shines on John Calipari's Kentucky program.
The Wildcats are expected to receive a commitment from Brandon Knight, Rivals.com's No. 1-rated player, who in a 3 p.m. appearance on ESPNU, will select either Kentucky, Kansas, Florida, UConn or Syracuse.
Kentucky is the overwhelming favorite of the recruiting analysts, with nobody considered a close second.
"All signs point to Brandon Knight signing with Kentucky," Rivals.com's Shay Wildeboor said.
"I'd be surprised if Brandon Knight doesn't pick Kentucky," agreed Rivals analyst Jerry Meyer in an interview with the Lexington Herald-Leader.
Rivals.com reported that Florida stopped recruiting Knight, a 6-foot-3 senior point guard from Pine Crest High in Fort Lauderdale, Fla., several weeks ago. KU coaches haven't had contact with Knight for more than a month, while UConn and Syracuse have also received no serious mention of late.
"There will be some things announced Wednesday. Hopefully there's gonna be a lot of Kentucky attached to it," Wildcats' coach Calipari said Tuesday on Lexy.com.
Some analysts believe Knight and No. 4-ranked Selby have decided to not attend the same college. Selby, 6-2 from Baltimore's Lake Clifton High, will choose between KU, Kentucky, UConn, Tennessee and Arizona at halftime of Saturday night's Jordan Brand Classic in New York. The game is set for 7 p.m.
"Both those guys (Selby, Knight) want to be the man," Meyer told the Lexington Herald-Leader.
Lamb, 6-4 from Oak Hill Academy in Mouth of Wilson, Va., will choose between KU, Kentucky, Arizona, West Virginia and UConn at the Brand Classic. St. John's is trying to get involved.
"I think Kentucky and Kansas are his two leaders," Oak Hill coach Steve Smith told Rivals.com. Most analysts believe West Virginia also remains in contention.
KU coach Bill Self, who signed 6-foot-3 Phoenix native Royce Woolridge in November, is hopeful KU will ink one or two additional players.
"We need to hit a home run in recruiting the next couple weeks. Hopefully we're in position to do so. You never know until it's done," Self said Monday.
Self on Bzdelik
Self on Colorado's Jeff Bzdelik being named new Wake Forest coach in a news conference this morning: "Jeff's done a good job at Colorado. He took over a tough situation. He's got the talent level to the point they are ready to break through and have success in the league. I think our league will miss him because I think he's done a good job. I think it's a great opportunity also."
CU athletic director Mike Bohn told the Boulder Daily Camera that CU assistant Steve McClain would be a candidate to replace Bzdelik. Northern Colorado's Tad Boyle, a KU grad, also has been mentioned as a possibility.
Bohn, a former KU quarterback, told the Daily Camera that Wake AD Ron Wellman did not phone him for permission to speak with Bzdelik about the Wake Forest opening.
"I can ensure that is the case," Bohn told the paper, when asked if he contacts his fellow ADs, when seeking to interview or hire candidates from other schools.
Bohn added to the Associated Press: "I'm pleased for Jeff. He was able to move the program forward. He wanted to be in that part of the country (North Carolina)."
More like this story on KUsports.com