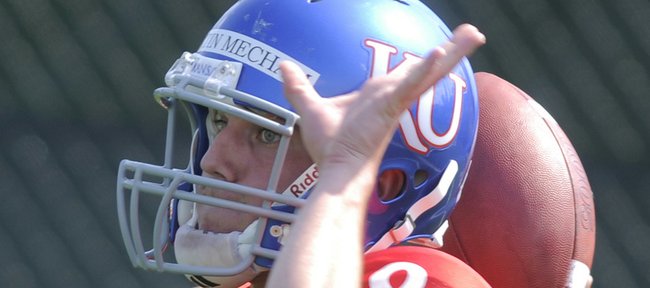 Fifteen minutes into Monday's practice — the 10th of the spring for the Kansas University football team — KU coach Turner Gill scurried behind red-shirt freshman quarterback Jordan Webb as the Jayhawks shuffled between drills.
"Go find No. 7," Gill barked at Webb, who wears No. 2. "Go find No. 7."
The player wearing No. 7 was third-year sophomore Kale Pick, and at this particular time, Pick was ahead of the rest of the KU quarterbacks, sprinting to be first in line for a footwork drill with offensive coordinator Chuck Long.
"I think that might have been the first time that's happened," said Webb of Gill's extra encouragement. "But he's an upbeat coach, and it's awesome to play for a coach like that. He's wanting you to get better, you can feel it."
It's not that Gill was showing any allegiance to Webb, who is locked in a six-man battle to become the Jayhawks' starter this fall.
Instead, he was demonstrating just how much he enjoys competition.
"There's really no front-runner in the quarterback spot," Gill said Monday before practice. "There's great competition, I can tell you that. I think we probably have two or three guys that can win ballgames for us."
Through one week of spring practices, the battle for the job appeared to be a two-man race between Webb and Pick.
But from the way Gill talked Monday, things are as wide-open as ever, with Pick and Webb continuing to perform well and junior-college transfer Quinn Mecham showing improvement.
"This last week you saw good progress out of everybody," Gill said. "I think Jordan has done some things in a great way. Kale Pick has done some great things. Quinn Mecham's coming along. He made big strides this past week. A lot of guys have definitely improved at the quarterback position. And it puts a smile on my face, when you've got some guys who can make plays, versus the other way around, where maybe you have three or four guys but you don't know if you have much there."
With just four practices remaining before the team's annual Spring Game — 1 p.m., April 24 — the guys in the heat of the battle continue to bring their best to the field every day without worrying about who's ahead and who's behind.
"I'm going to come out and push myself no matter what the situation is," Pick said. "If anybody gets a lead, or even if I get a lead, I'm not going to just sit comfortable with that. That's not the way it should be. Even if someone gets the starting job, they should keep pushing themselves."
Added Webb: "I can't really talk about the depth chart because we don't have one. We've had (10) practices with this new staff, and if they were going to make a decision that fast, I think that would be pretty hasty. The competition's going to last for a long time, I think. They gotta make sure they find the right guy for what we want to do."
Four work to return kicks
Gill said Monday that Daymond Patterson, D.J. Beshears, Isiah Barfield and Deshaun Sands were doing the most work in the kick-return roles. "Those are the three or four guys getting most of the reps," Gill said. "We're still evaluating things. But we've got guys who have some speed and can make plays."
More praise for the D-Line
Gill continued to show appreciation for the work put in by KU's defensive tackles. "Pat Dorsey has been pretty steady and done some nice things," Gill said. "(With) Richard Johnson, Darius Parish and Jamal Greene, we have a good group of interior guys. And we need a lot of those guys because they get a little winded and we'll have to be able to substitute in there."
RBs banged up
Running backs Toben Opurum and Rell Lewis returned to a full day of drills Monday after being limited late last week.
Both backs are dealing with minor leg injuries.