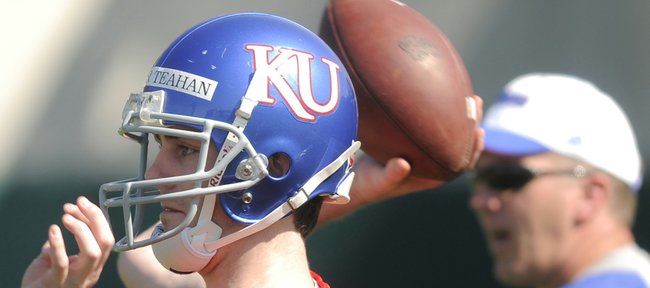 Conner Teahan arrives at Kansas University's spring football practices early.
He leaves late.
The 6-foot-5, 215-pound junior basketball guard's attendance record the past two weeks indicates his attempt to resurrect his gridiron career is no publicity stunt.
"I mean, I am coming out here serious," Teahan, a former two-sport standout at Kansas City Rockhurst High, said after Friday's spring football practice at Memorial Stadium. "I know what I want, and I am going for it. I am not trying to play around, honestly."
He'd just trudged off an otherwise-deserted field with Rockhurst grad Patrick Schilling, a 6-1, 187-pound third-year sophomore wide receiver.
"He said he needed to work on his hands. I said, 'Hey, you need to call me. Any time you want to do anything (extra), I'll be ready,''' Teahan said.
Teahan — he turned down a football scholarship offer from Tulsa to walk on KU's basketball team — said he has had a blast the past couple weeks.
"I like it a lot. The guys have been really nice to me," Teahan said. "When I chose basketball (to play in college), I was like, 'I don't know how much fun I would have had playing football.' This kind of proves what I felt was wrong."
He said his rusty right arm has felt fine during drills.
"It was definitely sore after the first couple practices, and there was a little soreness after yesterday. I was throwing more balls than I have been," Teahan said. "It doesn't take you very long to get back since I've been doing this a lot. Once I get it stretched out, everything is all good."
He'd had more problems with his feet.
"I worked on my footwork all yesterday. It was one of the bigger things holding me back," Teahan said. "The biggest thing is I'm kind of understanding what the routes are and what kind of speed they are developing at."
Teahan said he has learned a lot studying the likes of KU QBs Jordan Webb, Kale Pick and Quinn Mecham.
"I mean, I go last in pretty much all the drills. I just watch their footwork and watch what they are doing," Teahan said. "They are very good quarterbacks. They've all been here. They know what they are doing. Whoever gets the job is going to be qualified, lets put it that way," Teahan said.
None of the QBs have been hit by defenders yet this spring.
"That's the last thing on my mind. I am going to get hit. I know that and if I get hit, it's going to hurt, but I mean if you are playing football, that's the contract you sign right there," said Teahan, who has taken a shot or two in hoops the past three seasons.
"I mean when you get a blindside screen ... my freshman year I wasn't very big and strong and Darnell Jackson, Sasha (Kaun) would come hit me, knock my neck out of place. I'm sure these guys bring it a little bit harder."
He's hoping KU coach Turner Gill sees enough potential to ask him to continue as a member of the football team into the summer and fall.
"I am obviously a couple quarterbacks back," Teahan said. "Probably reps and stuff will be a big factor. I'll probably know what my situation is when spring ball is over. I have to talk to coach Gill. He's the man, so he calls those shots."
Gill's take? "So I think the biggest thing is we're just trying to see what he has skill-wise. He's not going to learn all the terminology because these guys have been involved, really, for the last month, with our terminology.
"We'll just kind of see if we see at the end of spring football practice, can he be at the top of the list as far as challenging for a starting job?"
Dooley nets offer: KU assistant basketball coach Joe Dooley on Friday was offered the head coaching position at UNC-Wilmington, the Wilmington Star-News reported Saturday. UNC-Wilmington athletic director Kelly Mehrtens is a former assistant AD at KU. The newspaper indicated that Dooley has been offered a five-year contract "up to $300,000 annually." Dooley makes $234,000 base salary at KU.
If Dooley declines the offer, UNCW will likely turn to College of Charleston associate head coach Mark Byington, the Star-News reported.
Woolridge update: Future KU guard Royce Woolridge scored 11 points in the United States' 79-68 loss to Germany's Under 17 team in the consolation game of the Schweitzer tournament on Saturday in Mannheim, Germany.
The 6-foot-3 Phoenix native scored three points in Friday's 64-59 semifinal loss to Germany's Under 18 team. The U.S. placed fourth in the 16-team tourney.
"I had a great time. It was a great experience," Woolridge told Stars and Stripes.
Knight to announce Wednesday: Brandon Knight, a 6-foot-3 senior guard from Pine Crest High in Fort Lauderdale, Fla., will announce his college choice at 3 p.m., Wednesday, on ESPNU. Kentucky is believed to be the favorite. Others on his final list: Kansas, UConn, Florida and Syracuse. Knight averaged 31.9 points, 8.9 rebounds and 3.9 assists a game his senior year at Pine Crest.
Rutgers restricts Rosario: Rutgers University will file tampering charges against the University of Southern California regarding the potential transfer of sophomore guard Mike Rosario, according to MyCentralJersey.com. A source told the Web site that Rutgers officials will restrict Rosario from transferring to USC, Florida and Kansas.
The newspaper's attempts to interview Rutgers AD Tim Pernetti were unsuccessful. It is not known what, if anything, he has against KU and Florida. Rosario's high school teammate Jio Fontan last winter transferred from Fordham to USC. KU's Tyshawn Taylor also was a prep teammate of Rosario.
Zagsblog.com had reported that Rosario was considering a transfer to either USC, North Carolina, Arizona, Kentucky, Georgia Tech or Michigan State.
More like this story on KUsports.com