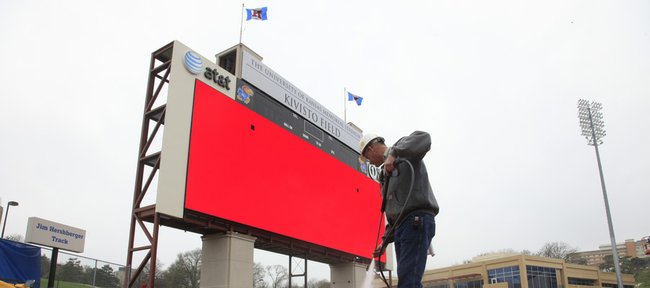 It remains to be seen what kind of impact new Kansas University football coach Turner Gill will have on the program, but there's no debating that Jayhawk fans will enjoy a new stadium experience during the 2010 season.
Construction crews are in the process of putting the finishing touches on a new video board at Memorial Stadium and, when complete, the active area on the new viewing screen will be three times the size of the one it replaced.
Not only will the screen be larger — the new board measures 28 feet high by 85 feet wide — it also will be the first of its kind (HD15 technology) to be installed by Daktronics Inc. Daktronics regional manager Tony Mulder said the new screen, which features an LED display, would have tighter resolution and better picture enhancements.
"This addition to historic Memorial Stadium will help generate more excitement from the fans and will be another great enhancement for the Kansas football program," Mulder said.
The new video board will allow operators greater flexibility. They'll have the option to display graphics as one giant image across the entire screen or in multiple windows that can be used to display a wide variety of statistics, information, graphics, animation and video.
The funding for the $3.2 million video board was part of a five-year, $86 million extension to a multi-media deal between KU and IMG College. The extension takes the agreement between KU and IMG through the 2021-22 academic year.
"This agreement — and the new video board — will ensure that we are able to provide the best experience possible for our student athletes, coaches and fans," KU athletics director Lew Perkins said in a statement.
The expansion is the first since 1999, when the old video board was installed. The new board, which features approximately 2,380 square feet — as opposed to the 740 square feet of the old one — is expected to be up and running in time for both the Kansas Relays (April 14-17) and the KU football Spring Game on April 24.
"That's the goal," KU associate athletics director Jim Marchiony said.
More like this story on KUsports.com