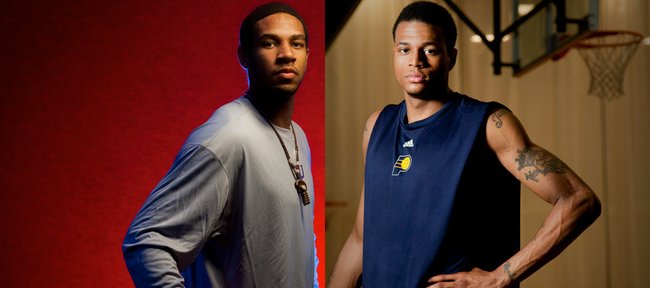 Three of life's mysteries I'll never understand, no matter how long I contemplate them.
Why do we park on a driveway and drive on a parkway?
Why does Hawaii have interstate highways?
Why is Xavier Henry ready for the NBA if Brandon Rush was not after his freshman season?
Puzzling questions, all of them.
Before comparing the NBA-readiness of the basketball players, first consider them as people. As a freshman, Rush was one year and eight months older than Henry. Rush had a more worldly air to him than Henry, a young man who seems in so many ways to have a pure innocence about him still.
Know this about NBA veterans at the end of benches: They want to extend their careers as long as possible because the money is unbelievable. Some of them don't want rookies to succeed, and they treat them like garbage. Henry just turned 19 two days after Kansas University won the Big 12 Conference tournament. In many good ways, he seems every bit that young.
As basketball players, Rush the freshman and Henry share more similarities than differences. Both essentially are one-handed dribblers. Rush's game leaned farther to the right than Sean Hannity, Henry's is more left-winged than Keith Olbermann.
Both players stand 6-foot-6 and have long arms that come in handy defensively. Henry has greater anticipation skills and is more clever playing the passing lanes. Rush has much quicker feet and was so good defensively he developed into a stopper as a freshman. He was the leading scorer on a team that won the Big 12 regular-season and conference tournament titles despite starting three freshmen and two sophomores.
Both players have strong leaping ability, though Rush is more explosive.
The obvious advantage Henry has on Rush is in the physique department. The go-to move for those who express the opinion that Henry is one-and-done ready is that he already has an NBA body. No argument there, but it's not as if Rush as a freshman was as thin as Butler post player Matt Howard's mustache.
The next place advocates of Henry bolting to the NBA go to is his jump shot. The Web site nbadraft.net, which projects Henry as the 10th selection, says, "Pure stroke with a quick, smooth release. No hitches."
Disagree. Better description: Accurate, though streaky, stroke with a slow release and a hitch. Rush, also a better passer than Henry, gets more elevation on his jumper, and his form comes straight out of a West Point basketball text book.
Henry's youth compared to Rush's means it's logical to project more improvement from Henry, but how much more?
Rush averaged 13.5 points, 5.9 rebounds and two assists in 31.7 minutes as a freshman. Henry averaged 13.4 points, 4.3 rebounds and 1.5 assists. Rush made 47.2 percent of his three-point shots, Henry 41.8 percent of his.
What am I missing? Why are scouts supposedly so fired up about his NBA prospects?
"I think it's his body and the poise with which he plays," said Philadelphia-based Jim Clibanoff, who counts roughly half of the NBA teams as subscribers to his scouting service, Clip Hoops.
Scouts employed by NBA teams are not allowed to talk about players to the press. Clibanoff, an independent contractor not bound by any gag order, can let it fly.
"He started the season out playing well, and people assumed he was one of the top three or top whatever freshmen, and then I don't want to say he hit a wall, but whatever he hit, he hit it pretty hard," Clibanoff said. "He had a bunch of steam behind him, and I'm not so sure he's got so much behind him now."
From memory, Clibanoff accurately rattled off the numbers from Henry's eight-game shooting slump that coincided with the beginning of Big 12 play. He shot 29 percent overall and 27 percent from three-point range during that stretch.
Clibanoff said he likes Henry's size, poise and feel for the game, but questions other aspects of his potential.
"He's not an elite athlete," Clibanoff said. "He's not regularly an above-the-rim guy. By NBA 2-guard standards, his athleticism is not special. He's not overly aggressive, averaged only four rebounds a game and is a decent defender, but needs to be more of a factor on that end of the floor."
Don't look for that annoying and redundant draft cliché "upside potential" to be uttered about Henry much during television coverage of the draft, should he, as expected, announce his intentions to make himself eligible.
"Guys they say that about are run-and-jump guys who don't have the skill component," Clibanoff said. "He already has the skill. He was very good as a freshman. I'm not sure he'll continue to get progressively much better."
The order of the 14 teams with the best draft position is determined by a weighted lottery. The system was put in place so as to remove the incentive for bad teams to tank in hopes of getting the top pick. The term "lottery pick" has evolved as the ultimate status symbol for prospects.
"I can't say with certainty that he's a lottery pick," Clibanoff said.
Henry was groomed by his father, former Kansas basketball player Carl Henry, to become a one-and-done star. It would take a man to stand up to a father who has done as much for Xavier in the way of preparing him for a professional basketball career as Carl has done.
Herein lies the Catch-22: It also would take a man to be ready to face all the negative forces he'll confront in the NBA. Here's my fear: As do most teenagers, Xavier still has a lot of child in him, too much to be able to stand up to his father and too much to be ready for the culture shock of joining the NBA.
Kansas will reload just fine either way. Don't worry about Bill Self's roster. It's Henry that worries me. I fear he's going to go to the NBA and just don't get the feeling he's quite ready.