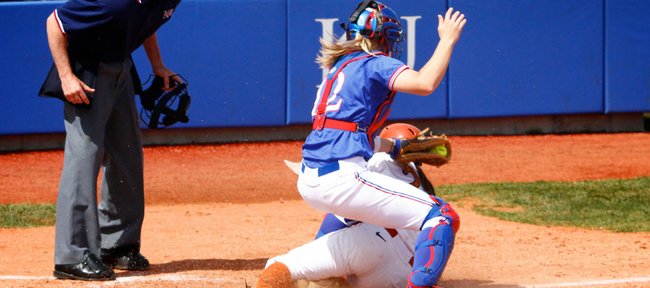 Megan Smith isn't questioning the dominance of Texas Longhorns standout pitcher Blaire Luna.
Document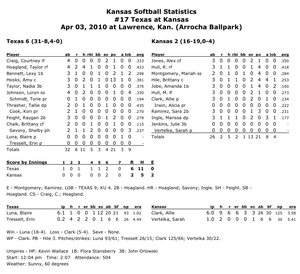 Photo Gallery
KU softball vs. Texas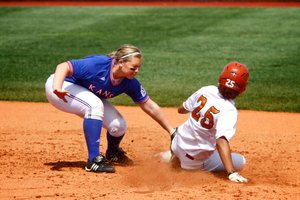 Photos from the KU softball team's Saturday game against Texas on April 3, 2010.
The Kansas University softball coach just thinks her Jayhawks might have contributed a little something to it.
"She's a great pitcher," said Smith, whose team failed to manage a hit through the first five innings of Saturday's 6-2 loss to the No. 17 Longhorns at Arrocha Ballpark. "She certainly is not as good as we made her look. We just failed to make the adjustments we talked about yesterday and just had a rough time with her today."
Make that a rough couple days.
In addition to her dominating performance Saturday — the Longhorns team leader in wins, ERA and strikeouts didn't give up a run, allowing just one hit and striking out 12 in 61⁄3 innings of work — Luna handcuffed the Jayhawks in a 7-0 UT victory on Friday, fanning 14 and twice striking out the side.
"She's good, but if we're really on our A-game, we can at least hit off of her," said KU right fielder Rosie Hull, who finished 1-for-3 with a run Saturday. "I don't think she's that good where she (should be able) to completely throw a no-hitter for six innings."
Saturday's loss, meanwhile, represents the most recent in a string of underwhelming offensive performances for Kansas.
In its past five games, the team has scored more than two runs just once, while being outscored, 24-9, during that stretch.

"I think it has to do with doing a lot of the little things," said KU designated player Marissa Ingle. "Making all the plays, making routine hits instead of swinging for the fences. Just trying to hit base hits and get one after the other and just do our thing, instead of trying too hard."
The Jayhawks did manage to get a bit of offense going in the sixth inning, when Luna had been pulled in favor of reliever Erin Tresselt. Ingle hit a solo home run to left field with one out for KU's first hit of the game, and three other players recorded a hit in the inning, including a two-out single from Brittany Hile that scored Hull and gave Kansas its second run of the day.
But the Longhorns promptly brought Luna back into the game, and she closed things out with little problem, dropping the Jayhawks to 16-19 (0-4 in the Big 12) for the season heading into Wednesday's doubleheader against Missouri in Columbia, Mo.
Kansas pitcher Allie Clark suffered the loss, giving up six runs on nine hits in six innings of work.
"It's not a matter of not knowing the information," Smith said of her team's recent offensive struggles. "They know what adjustments they need to make, they know our game plan, they see it on video, it's clear. It's just a matter of getting it to translate to the actual game, and that's where we're kind of in a rut right now."
More like this story on KUsports.com