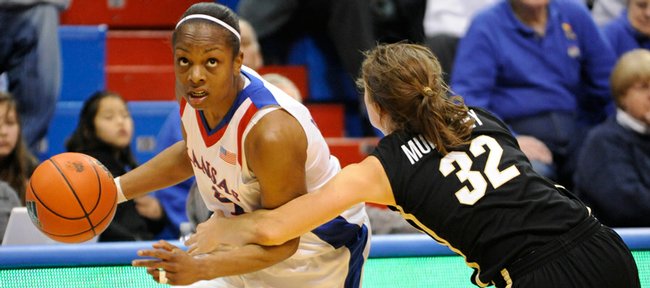 Former Kansas University women's basketball standout Danielle McCray figured a season-ending ACL injury would affect her stock in the upcoming 2010 WNBA Draft, and a pair of league analysts agreed with that assessment Wednesday.
During a WNBA media conference call in advance of the league's April 8 draft, Carolyn Peck and Rebecca Lobo indicated they expect the injury to hinder the player's draft position, but seemed to feel it wouldn't prevent the collegiate standout from being selected.

"It would have to be with a team who can wait for her to recover from her injury," Peck said. "And there are some teams with that luxury."
While McCray's body of work is hard to argue with —she was an honorable-mention All-American selection as a junior and looked to be in the running for similar honors before going down this year — her fate likely will fall into the hands of a team willing to be patient, comfortable with the knowledge that McCray, who isn't expected to return before the conclusion of the upcoming WNBA season, won't be able to contribute until 2011.
At the same time, said fellow analyst and former WNBA standout Lobo, the team that displays such patience could see considerable returns.
The general consensus is that this year's draft is shaping up to be guard-heavy, and McCray — who played both guard and forward during a KU career in which she earned All-Big 12 honors twice and finished fourth on the Jayhawks' all-time scoring list — established herself as one of the Big 12's most versatile players.
Before suffering the injury during a Feb. 4 practice, McCray ranked second in the Big 12 in scoring (19.8 points), ninth in rebounding (7.2) and fourth in three-point field goals (48).
"This is a really talented, talented player," said Lobo, who called McCray a potential top-six pick before her injury. "But it's going to be a team (that's) in a certain situation where they don't have to fill a need right now, who can wait a year. And for a team like that, it's like getting a steal."
McCray, for her part, seems to understand the business aspect of her predicament.
"It's all about what teams need you right away, and obviously I can't play this year," she said. "And there are going to be teams that need an individual that can produce right away."
For now, the senior from Olathe is focused on what she can control.
Today represents the six-week point since McCray underwent surgery, and her focus now is on rehabbing the injury in Lawrence as the behind-the-scenes draft developments play out across the country. On Wednesday, she reiterated her plans to play overseas beginning in August or September, and in the meantime will attempt to make the best of her unenviable situation.
"It's just a setback that I have right now, and I have to take it day-by-day and just focus on my rehab," McCray said. "You can't go anywhere if your knee's not right, and I have to (keep at it)."
More like this story on KUsports.com