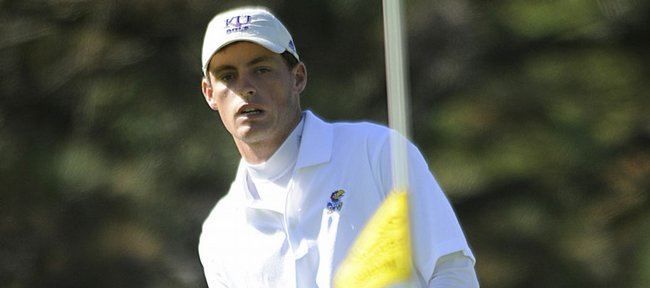 Kit Grove, Kansas University's men's golf coach, was on his way out of Alvamar Golf Club on Monday night when he noticed a solitary figure stationed on the course's putting green, tapping in six- and eight-footers as dusk settled over Lawrence.
Despite a quality showing during the first day of the Kansas Men's Invitational — which left him in second place heading into Tuesday's final round — junior golfer Nate Barbee, unhappy with what he viewed as a flawed putting performance, had sought after-hours refuge on the clock, bent on working out his short-game kinks.
"That's how he is," said Grove of the Dakota Dunes, S.D., native. "You go out to the parking lot and there's a little silver Equinox with South Dakota plates all the time."
In the end, it was hard to argue with the results.
Following Monday's putting woes — and the subsequent evening spent working the green — the Jayhawks' top men's golfer returned Tuesday to card a 4-under 68, earning his first career individual tournament title and helping the Jayhawks, with a team score of 888, to a share of second place on the tournament's final day.
Having notched seven career top-10 finishes but failed to take top honors, Barbee finally got over the hump Tuesday, thanks in no small part to an improved putting game that — while not perfect — provided a marked improvement from that of past tournaments.
During one three-hole stretch, for instance, he connected on an 18-foot putt for birdie on hole No. 16, and followed with consecutive six-foot par putts on 17 and 18 to help lock up a three-stroke victory over runner-up Jace Long from Missouri.
"My first tournament, Nebraska, I finished fifth and ended up losing by six," Barbee said. "I definitely struggled with putting there, and then also struggled with putting the last tournament at Kansas State. And honestly, I struggled really badly yesterday for the first two rounds putting (before) kind of turning it around a little bit the last round."
It didn't hurt that Grove, who walks the course with a different player each round, spent Tuesday with Barbee, acting as a second set of eyes and trying to keep the player's mind off the grind of his third round in the past 24 hours. Sensing some frustration from his prized pupil in recent weeks — despite solid play and multiple top-five finishes, Barbee had been unable to capture his first individual crown — the coach made a point to steer the conversation away from golf.
At one point, for instance, he pointed to the 18th hole, where both of their fathers were standing together, and said, "Well, that's us in 20 years. It looks like we won't be wearing medium shirts."
"You got to keep it loose," Grove said. "If you try to grind for five straight hours out there, you have no chance — you lose your mind."
In the team standings, the Jayhawks fell short in their quest to overcome a seven-shot deficit, finishing two strokes behind team champion Oklahoma (886) and tied with fellow second-place finishers Missouri and Louisiana-Lafayette.
Freshman Chris Gilbert was the only other Kansas golfer to finish in the top 20, carding a final-round 73 to tie for 14th. Sophomore Ian Anson and senior Patrick Roth — both competing as individuals and therefore not factoring into the team's final results — finished tied for tenth and tied for 14th, respectively.
With a renewed sense of confidence, meanwhile, Barbee heads into the Oct. 19-20 Bill Ross Intercollegiate hosted by UMKC hoping to build upon this week's success.
"After today, I definitely feel like I can win more often now," Barbee said. "I kind of feel like I've got more experience when I get in that situation. Where I'm right in the hunt for winning. I know what to do, I know how to kind of keep my composure and hit the shots I need to."
More like this story on KUsports.com