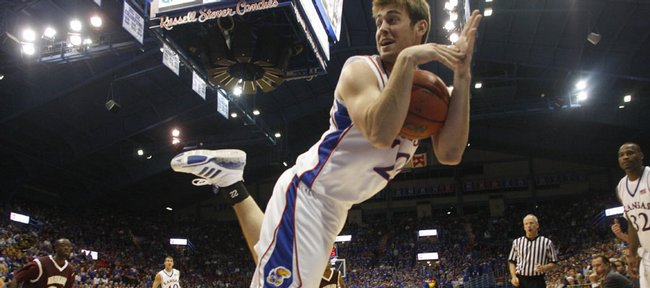 Several trash cans were stationed near the goals Monday morning in Kansas University's basketball practice facility.
"They had them lined up, but not with my picture on them. I think I'm sharing them this year. They might get a new name," KU junior guard Chase Buford said with a laugh.
He was referring to the "Chase Cans," so named in honor of the 6-foot-3 San Antonio native who in his first two years at KU regularly lost his breakfast at strenuous 6-7 a.m., Boot Camp conditioning sessions.
"I won't throw anybody under the bus, but I'm not leading it this year. I'm not alone. There have been a few guys, three or four guys," Buford said of those Jayhawks who also have barfed at Boot Camp.
Coach Bill Self's annual two-week conditioning program officially started Monday. Yet two Boot Camp sessions were held Thursday and Friday as Self responded to the team's involvement in a couple of scraps with the KU football team.
"Last Thursday was a little tough," Buford said of the only day he has gotten sick at Boot Camp this year. "In the afternoons, I never have that problem. The morning doesn't sit well with me."
He's hoping his third Boot Camp proves easier than the first two.
"(Strength coach Andrea) Hudy got us in great shape this summer. It really prepared us for Boot Camp," Buford said. "I think a lot of our guys are closer to their ideal weight at the start of the year. We're in better shape than we've been, at least going into it."
Junior guard Tyrel Reed just might be in the best shape of anybody.
"When it comes to sprints, Tyrel is kind of a machine. He has a motor that doesn't seem to stop," Buford said.
"He's a beast. I think everybody would say that, too. He can run for sure," KU freshman center Jeff Withey said. "He did track when he was in high school. That might be part of it."
Withey, a 7-footer from San Diego, said Boot Camp is as tough as advertised.
"It's rough ... waking up in the morning, having to do a lot of running. It's tough throughout the day," Withey said. "It's tough, but it gets the team up, and it's real good bonding."
Morning conditioning consists mostly of sprints and defensive sliding drills without the use of a basketball.
"Everybody pretty much told me what to expect. It got in my head, kind of got me ready for it," said Withey, who reports he's up to 225 pounds. "I was pretty prepared coming in (by) running all the time. I was mentally prepared, too. (Hearing about it) it's kind of scary."
For Buford, it's not as scary as his first year at KU.
"I was talking to Conner (Teahan, junior). Your mentality going into it your junior and senior year is not the morbid outlook you have as a freshman or sophomore," Buford said. "You know what it entails.
"Cole (Aldrich, junior) was talking about some of the things we do at Boot Camp as freshmen we'd think was brutal. Now it's just a warmup."
Lamb for Late Night
Doron Lamb, a 6-foot-4 senior shooting guard from Oak Hill Academy in Mouth of Wilson, Va., will attend the Oct. 16 Late Night in the Phog as part of his official recruiting visit to KU, Oak Hill coach Steve Smith told Rivals.com. Lamb will visit Oklahoma this weekend.
More like this story on KUsports.com