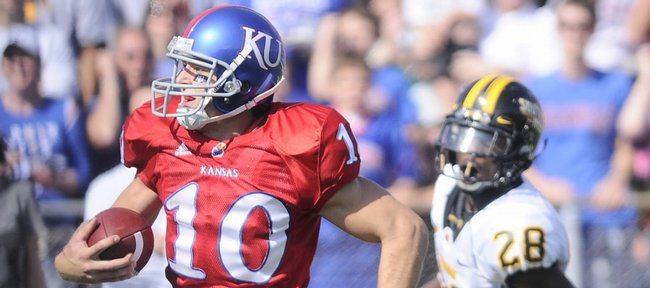 Even as he has developed into Kansas University's most reliable wide receiver, and even as red-shirt freshman Kale Pick has proven himself to be a capable No. 2 quarterback, Jayhawks senior Kerry Meier still shows up to football practice every day wearing a red jersey.
It's the one issued to the program's quarterbacks — the one that acts as an essential stop sign for defenders — and, to be perfectly honest, Meier's not quite sure why he's still wearing it.
"It kind of throws me for a loop," the Pittsburg native said after Saturday's 35-28 victory over previously unbeaten Southern Mississippi. "I guess you'd still consider me a quarterback, and if you're playing quarterback at KU, you're going to be wearing that bright red jersey during practice."
Jersey color notwithstanding, however, Meier's work at the quarterback position this season has seen a significant dive — he spends approximately 95 percent of his time this year working at receiver, compared to about 50 percent last season — and the extra work seems to be paying dividends.
Meier's 10 catches for 141 yards and two touchdowns against the Golden Eagles on Saturday were all team-highs, for instance, and his 62-yard touchdown grab from quarterback Todd Reesing on the game's opening drive marked the team's longest score of the season.
Dating back to last season, Meier has recorded triple-digit receiving yards in four of the team's past six games, and as he has spent an increasing amount of time watching film from a receiver's perspective and frequenting receivers meetings, his knowledge of the position has expanded rapidly.
"I think with anything, any time you can turn your complete focus and attention to one thing, obviously you're going to feel a lot better, feel a lot more comfortable and pick up even more things," he said.
He has also continued his habit of making dominant performances appear effortless.
Following Saturday's performance against Southern Miss., for instance, KU coach Mark Mangino described Meier's effort — which would have constituted a career day for a great deal of Big 12 receivers — as a "quietly" impactful outing.
"He is just so smooth at it and makes it look so easy that I think if you're a casual observer or a fan, it seems rather simple," the coach said Sunday night. "It's not, but he makes it look so easy and so smooth."
Meier's hope is that he can make it look so easy and smooth that, eventually, he can shed the red practice jersey, even if that doesn't appear altogether likely.
Though Mangino felt confident enough in Pick's abilities to name him the team's No. 2 quarterback before the season, he also has said that he probably won't ever completely divorce Meier, last year's backup signal-caller, from the quarterback position.
"Until they take me completely off of QB," Meier shrugged, "I guess I'll still be rolling around in that red jersey."
The Jayhawks continued their ascent up the national rankings lists, jumping three spots to No. 16 in the USA Today/Coaches poll and two spots to No. 18 in the Associated Press rankings Sunday.
In addition, Kansas was ranked 16th in the first Harris Interactive College Football Poll, which, in addition to the USA Today poll, is part of the BCS formula.
More like this story on KUsports.com