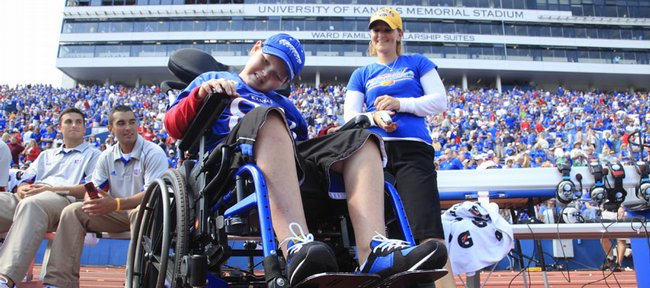 When Denise DeBrine and her son Jackson heard they were going to get upgraded to the "cushy seats" at Saturday's Kansas University football game, DeBrine was expecting the ones that folded out with pads.
Instead, they were treated to the "really cushy" recliners that also came with straight-on views of the south end zone in the deluxe Touchdown Club seating section.
Wearing a No. 80 jersey with his name on the back, Jackson had an even better view when he watched bands take the field from the Jayhawks' sideline at halftime. He was handed a game ball. And he had a chance to sit with the band as they capped off KU's victory by playing "Home on the Range."
All the upgrades came compliments of KU and were prompted by Junior KU Marching Band saxophone player Keenan Soto.
Jackson, a 9-year-old boy from Olathe who received a diagnosis of brain cancer, is a huge KU fan. Soto's mom is a paraeducator who worked with Jackson. And she wanted to know if there was anything special the band could do.
Soto didn't expect the family would get the "complete hookup." But they did.
"It was a huge blessing. (My mom) was thrilled. It was exactly what she wanted for them," he said.
At the age of 6, Jackson received a diagnosis of medulloblastoma, a form of brain cancer. After surgery, chemotherapy and radiation, Jackson was cancer free for two and a half years.
However, at the start of this school year, the cancer returned to the back of Jackson's neck and spine. This time, the cancer is inoperable and the best hope is for chemotherapy or the possibility of a breakthrough drug trial.
"He is such a good sport and has such a good attitude," DeBrine said.
Being a Jayhawk fan runs in Jackson's family. His mother attended the school for a while and his grandmother graduated from KU. The family even keeps a "Hawk's Nest" in their home with Jayhawk memorabilia.
"Anything to do with Jayhawks, he is here," DeBrine said.
Jackson's connection to the KU Marching Band didn't end Saturday. Band members plan to play at a benefit for Jackson next week.
"He has this sense of humor despite what he has gone through. He just puts a smile on your face," Soto said. "It's such a cool thing."
More like this story on KUsports.com