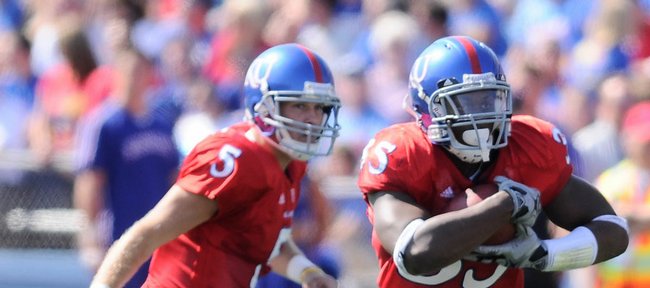 At 6-foot-2 and 235 pounds, Toben Opurum knows he usually has physics on his side.
"If I'm running a full head of steam at somebody, they're not going to stop me," the freshman running back said after Kansas University's 35-28 victory over Southern Mississippi on Saturday. "That's pretty much the mentality you have to have."
Though Southern Miss. kept Opurum from breaking a long run, the Golden Eagles couldn't keep him from getting tough yards Saturday.
Despite not having a run of more than 11 yards, Opurum finished with 28 carries for 109 yards and a touchdown, and he added a receiving TD. He became the first KU freshman to surpass 100 rushing yards in a game since Clark Green in 2002.
"There was a lot of pressure on Toben today," KU coach Mark Mangino said. "We downplayed that with him all week. He had to go in there and start as a true freshman, and it's a difficult duty. He did a marvelous job."
Most of Opurum's game, he admits, is getting the yards that often go overlooked.
Plano (Texas) East running-backs coach Jeff Jackson drilled one main theme in Opurum's head during his time there: "Run hard, fall forward."
That way, even if a run doesn't seem like it has gone much of anywhere, the back usually gets an extra yard or two simply by having his momentum carry him a bit farther.
"With him, he was always telling me to keep my pads low and deliver the hit," Opurum said. "That's one thing: Be the hitter and not the hittee."
Members of KU's secondary have learned that being the hittee isn't much fun when Opurum is involved.
KU cornerback Chris Harris admitted that he had his own strategy in practice for tackling Opurum: wrap up his legs.
"He's just like B-Mac (former KU running back Brandon McAnderson)," Harris said. "It's so hard to stop a guy that's so patient and reading the holes like that, who will deliver the hit."
Perhaps the only negative for Opurum was his fourth-quarter fumble. On KU's next possession, the freshman made sure to focus on keeping possession.
"They tell us, 'Two hands over the ball the entire time when you've got people around you,'" Opurum said. "I had to make sure I was doing that. I couldn't make that same mistake again."
Opurum said the 28 carries were the most he ever had in a game, as his high school team ran a pass-first offense.
"It's definitely nice to have this week off," Opurum said with a laugh.
More like this story on KUsports.com