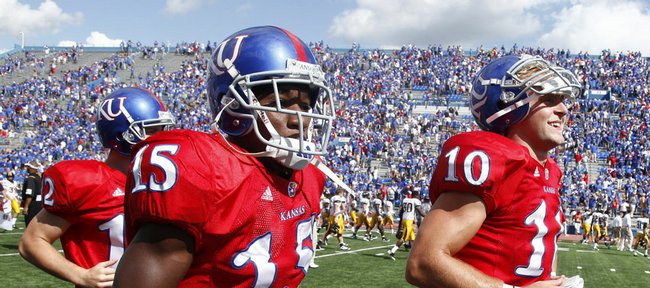 On Wednesday, in the aftermath of an ugly two-day stretch in which members of his team engaged in multiple confrontations with members of the school's men's basketball team, Kansas University football coach Mark Mangino insisted that the incidents would do little to shake the focus of his team heading into a weekend matchup with unbeaten Southern Mississippi.
And Saturday, his 20th-ranked team made good on that declaration, holding off a talented Golden Eagles team, 35-28, despite the public-relations nightmare currently engulfing the school's athletic department.
"Our kids were prepared to play," said Mangino, whose team improved to 4-0 heading into a bye week. "You can't go out and get over 400 yards of offense and 35 points and play stellar defense in the fourth quarter if you're not into it. And our kids were into it."
Had his team struggled with concentration problems, however, it wouldn't have been altogether surprising.
Just before Saturday's game, KU athletic director Lew Perkins addressed the issue for the first time publicly, calling it the most complicated situation he's dealt with in his 40-plus years as an athletic administrator. Earlier in the week, meanwhile, as the story gained national attention, the school's athletic administration was forced to go into damage control, which included the organization of a Wednesday meeting between the football and basketball teams that, players said, put an end to an apparently ongoing feud between the two nationally ranked programs.
"If people didn't want to get in trouble or didn't want their names out there, then it would be over and done with," true freshman receiver Bradley McDougald said of what he took away from the meeting between the two teams. "Which it was. We shook hands, we talked about it. The athletic director came in, he talked about it, and we just put it behind us."
"I think we were focused before any of that stuff happened," KU quarterback Todd Reesing added. "It's over, it's done, and I don't think we need to talk about it anymore."
Sharp will return for ISU
Kansas senior running back Jake Sharp, a projected game-time decision after suffering an undisclosed injury prior to last weekend's victory over Duke, suited up but was held out of Saturday's victory as a precautionary measure, Mangino said.
In talks with the team's medical staff before the game, the coach was informed that Sharp could play if necessary, but that there was a level of risk involved.
"I had to make a decision as a coach based on the medical information that I got, and it was not in Jake's best interest to play today," Mangino said. " ... He's meant too much to this program, he's got too much invested in this program for me to put him at risk and he miss the rest of the year because I was selfish."
In Sharp's place, true freshman Toben Opurum made his first true career start, and ran for 109 yards and a touchdown and became the first freshman since Clark Green in 2002 to rush for 100 yards in a game.
He also caught two passes for 21 yards and a touchdown, bringing his TD total this season to a team-high seven.
"Hey, we've got other players out there that got to make plays," Mangino said. "(And) if we can't do it without Jake today, then we're not going to be a very good football team. But we need him for the long haul, and he'll be ready to go (Oct. 10 against Iowa State)."
Reesing miffed by penalty
After drawing a curious unsportsmanlike-conduct penalty in the second quarter Saturday, Reesing took a shot — subtly — at the flag that was issued as he was heading back to the line of scrimmage following an 11-yard carry.
"Apparently, after you get tackled and you get up, you're not allowed to drop the ball on the ground," he said, with a good level of sarcasm. "So I guess from now on, whenever I get tackled, I'm going to make sure I hand the ball to the referee so I don't get any unsportsmanlike penalties."
More like this story on KUsports.com