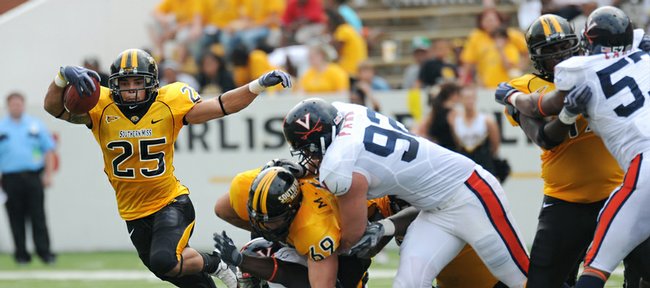 Damion Fletcher wondered what the hold-up was.
During his first three years at Southern Mississippi, the running back had heard the rumblings of this "Wildcat" offensive formation, had watched as Darren McFadden and Felix Jones tore through opposing defenses while using it as members of Arkansas' team two years ago, and was wondering when, exactly, the Golden Eagles would give the formation a try.
"I always asked about it," said Fletcher, a senior from Biloxi, Miss. "Even back when McFadden was running it, I was always asking about it.
This fall, much to Fletcher's excitement, second-year coach Larry Fedora decided to implement a variation of the Wildcat, installing a variation of the Wildcat (nicknamed the "Eagle" at Southern Miss., based on the program's mascot), which means that, when the 3-0 Golden Eagles take the field at 11 a.m. today against No. 20 Kansas University, the Jayhawks defense will have its hands full.
A derivative of the previously popular Wing-T, the Wildcat has become a bit of a novelty act within the college game. A handful of Div. I teams, including Arkansas, have used it liberally in recent years, and it has earned some national attention as an occasional package employed by the NFL's Miami Dolphins, who have seen positive results by lining up former Auburn back Ronnie Brown in the quarterback position.
The potential benefits of the Wildcat, meanwhile, are plentiful.
Perhaps most notable is that it gives the offense a one-man advantage in coverage. In traditional formations, for instance, in which the quarterback operates from the backfield, the defense operates essentially with an 11-to-10-player advantage, but the Wildcat, with extensive use of the direct snap to a running back, often negates that extra defender.
In addition, it stretches a defense and often puts the ball into the hands of a team's top playmaker, which potentially opens the door for a big play on every snap.
In a 37-34 come-from-behind victory over Virginia last week, for instance, Southern Miss. running back Tory Harrison scored the game-winning touchdown on a 57-yard run from the formation.
"We planned on calling it about five times," Fedora said of last week's victory over Virginia. "We only had three plays out of it going into the game, three different plays, and we ran all three, and all were successful. I think we ran it about seven or eight times in the game, and it was a big play for us."
Said Harrison, "It's exciting; you just know that every play can be a home run."
Kansas coach Mark Mangino remained mum this week on his plans to defend against the Golden Eagles' formation — "Geez, if I told you, then they're going to find out, huh? We wouldn't want that to happen," he joked with reporters — but he did acknowledge that he has had experience with the Wildcat formation before.
As an assistant at Kansas State in the mid-1990s, the coach helped oversee a KSU offense that experimented with aspects of the Wildcat, and in the years since, his teams have run into the formation on multiple occasions.
"It's not foreign to our players," he assured, before adding, "We've got to put a sound plan together, because if you're not assignment-sound, you're going to get in trouble. The key thing is being smart and being where you're supposed to be."
Still, one aspect of the Wildcat is that, at its core, it's difficult to plan against.
Kansas players said Tuesday that they'd seen limited game film of the Golden Eagles' version of the Wildcat, and that they'd learn more as the week progressed. What they do know is this: It is a formation that presents obvious challenges and can turn minor defensive miscues into devastating mistakes.
"Even though you know most of the time they're going to run the ball, you don't know who's going to get it," KU cornerback Daymond Patterson said. "And when you do take that wrong step as a (defensive end) or a linebacker, it opens up a big gap, and the running back gets to explode through the hole very quickly."
So far this season, the Golden Eagles have managed to explode through their share of holes, and Fedora promises they have more up their collective sleeve than they've shown so far.
For now, though, team members are happy finally to be carrying play books containing the formation.
"I saw the Dolphins run it, but I would never think that Southern Miss. would run it," Harrison said. "I was pretty excited when they put it in in the fall. I think it took awhile to warm up to it, until we started getting the hang of it, and got our timing right and everybody got used to running the reps."
"Everybody loves it now," he said.
More like this story on KUsports.com