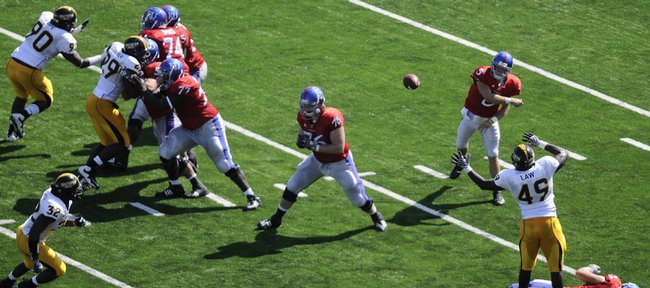 FINAL: KU defeats USM, 35-28
KU's defense will have to come up with one more stop to win this game.
The Jayhawks offense didn't help out their defense, as Reesing retreated on third-and-9 and was sacked for a costly 14-yard loss.
Following a good roll on a 52-yard Rojas punt, USM takes over at its own 33.
KU's defense comes up with the stand it needs.
Patterson just misses an interception on first down with a pass that falls incomplete, USM gains three on a second-down receiver screen.
Jake Laptad comes up with the game-changer, sacking Davis for a 10-yard loss on third down. On fourth-and-17, Davis' long pass is tipped away by Patterson, and KU will hold on.
After two kneeldowns, the Jayhawks' victory is in the books. KU holds on for the 35-28 victory.
KU 35/USM 28 — 2:24 left in 4th quarter
KU's defense comes up with the big stop it needs. On third-and-10, Davis' pass caroms off Banks' hands, and USM elects to punt with two timeouts still remaining. Patterson calls for a fair catch, and KU takes over at its own 28.
KU 35/USM 28 — 3:30 left in 4th quarter
Southern Miss calls timeout with possession at its own 37. If you're a KU fan, you probably have to wonder: Would Fedora go for two if his team scored a touchdown on this possession?
KU 35/USM 28 — 3:52 left in 4th quarter
A great game by Opurum has been marred by a huge, huge mistake.
KU had driven all the way inside the USM 30, but Opurum fumbled on a first down carry. Southern Miss' John Henderson fell on the loose ball, and the turnover gives the Golden Eagles a huge break.
KU 35/USM 28 — 6:19 left in 4th quarter
Ryan Murphy comes up with another big play for KU's defense, dragging down a USM receiver short of the chains on third down.
Southern Miss punts, and Daymond Patterson makes a risky play, diving on a rolling punt to make sure it doesn't bounce any further. The sophomore would have been much better off by just letting that one roll.
Either way, KU takes over at its own 27.
KU 35/USM 28 — 8:05 left in 4th quarter
KU gets fortunate on a third-and-9, as a pass to Meier is incomplete, but Southern Miss is flagged for pass interference. Not much contact there, but the replay showed the USM defender briefly had a fistful of Meier's jersey.
KU's offense stalls on third down, though, as Reesing is speared for a sack by a blitzing Jamie Collins.
After a punt, USM will have a chance to tie it, taking over from its own 12.
KU 35/USM 28 — 10:05 left in 4th quarter
So much for talking about how great KU's defense has been on third downs. The Jayhawks let another opportunity slip away on third-and-10, as tight end Leroy Banks catches a pass over the middle and extends for 11 yards.
On the next third-and-two, Fletcher squirts through the line for two yards and another first down.
Maxwell Onyegbule finally gets some pressure on Davis, and he deflects a pass that Dudley almost intercepts.
Steven Foster forces a quick throw on the next play — a third-and-15 — and Ryan Murphy shows great hands in scooping up an interception before it hits the turf. Huge play by the KU defense. It's amazing what a little quarterback pressure can do.
KU 35/USM 28 — 14:15 left in 4th quarter
The official attendance is 50,025. Interestingly, KU's students must not have been intrigued by the close game, as much of the top 25 rows in the student section are cleared out.
Southern Miss' third penalty proves to be costly, as KU would have faced third-and-long, but instead, the Golden Eagles were flagged for a roughing-the-passer penalty.
The next play, Meier finds a hole in the USM zone, and Reesing hits him for an easy 12-yard TD pass. Branstetter's kick pushes KU's lead back to seven.
KU 28/USM 28 — End of 3rd quarter
Another huge kickoff return for KU. This time, it's Stuckey, who goes 50 yards down the left sideline to give KU possession at the USM 40.
Completions to McDougald and Wilson move KU up 12 yards, and the Jayhawks will start the fourth quarter 28 yards from the Golden Eagles' end zone.
KU 28/USM 28 — 47 seconds left in 3rd quarter
After a shovel pass to Rell Lewis loses a pair of yards, Reesing gambles with a throw down the field. Unfortunately for KU, this toss isn't accurate at all, and Eddie Hicks intercepts the pass at the USM 37. The Golden Eagles, after a rough start to the second half, are picking up some momentum.
Davis continues to pick apart KU's secondary. Eleven yards to Brown. Nine more to Parham. Davis follows with a seven-yard rush.
KU's defense can't get a stop on third-and-11, as Massey catches a pass and extends for 12 yards to move the chains.
Three plays later, Davis finds Massey open in the end zone for a 4-yard score. Arist Wright couldn't stay close enough.
The extra point ties up the score.
KU 28/USM 21 — 6:01 left in 3rd quarter
KU coach Mark Mangino has made the switch from Briscoe to McDougald at kick returner, and it pays dividends on the next kickoff. McDougald returns the kick 47 yards, giving KU its best field position at the USM 48.
Reesing, though, can't escape USM pressure on first down, and he's flagged for his second intentional grounding call. KU faces second-and-22, and after some confusion, Reesing takes a timeout.
KU 28/USM 21 — 6:15 left in 3rd quarter
Southern Miss strikes with a big play on the first play of the drive, as Davis finds Brown for a 49-yard completion deep down the middle of the field. Though the play is first ruled as incomplete, a video replay overturns the original call.
The Golden Eagles take advantage of KU's aggressiveness on defense for two more big plays. Davis hits Fletcher on a screen pass for 15 yards, and the next play, Davis takes a delayed draw up the middle, going airborne into the end zone for a 16-yard score.
USM has answered KU's touchdown with a 64-second, 80-yard drive.
KU 28/USM 14 — 7:19 left in 3rd quarter
USM picks up a false-start penalty, and KU's fans let out a mock cheer. The Golden Eagles had no flags in the first half.
On third down, KU brings a blitz but doesn't get much heat. Luckily for the Jayhawks, Patterson makes a nice play, coming around a USM receiver to knock Davis' pass away for an incompletion. A poor punt gives KU possession at its own 30.
Opurum has a nice run on an option left, dodging two defenders before rumbling forward for 11 yards.
Reesing takes the Jayhawks down the field methodically from there. His best throw comes on a third-and-9 from the USM 45, as he zipped a pinpoint pass to Briscoe over the middle for 26 yards.
Opurum completes the drive, pushing his way into the end zone from one yard out. Ho hum. Another 12-play, 70-yard drive for KU's offense.
The Jayhawks have pulled away a bit with a two-touchdown lead.
Statistics of note
• Reesing 20-for-28 passing, 240 yards, 2 TDs
• Toben Opurum 15 carries, 70 yards (4.7 average); 2 catches, 21 yards, TD
• Kerry Meier 6 catches, 111 yards, TD
Some thoughts
• KU's offense was good in the first half. Really good. The Jayhawks racked up 347 total yards and 21 first downs in the first half. Unfortunately for KU, two drives stalled in USM territory.
• A nice game so far by Toben Opurum. Fifteen carries for 70 yards to go with a nice touchdown catch. He's filled in nicely in Sharp's absence.
• Time of possession might be something to watch as we go on. KU has had the ball 20:16, meaning USM had it just 9:44. We'll see if the Golden Eagles wear down as the game goes on.
A few notes, courtesy of the KU athletics department
• Kerry Meier's 62-yard TD reception was KU's longest touchdown of the season.
• Briscoe's 20-yard TD run was the first touchdown run of his career.
• Todd Reesing's 263 yards of offense moved him past former Texas quarterback Vince Young to seventh on the Big 12's all-time total offense list.
• Bradley McDougald had six catches for 41 yards in the first half. The freshman record for receptions in a game for KU is nine.
KU 21/USM 14 — Halftime
KU has a costly penalty to start USM's drive, as Drew Dudley is whistled for a 15-yard facemask. The Golden Eagles are immediately in KU territory.
Wow, questionable decision-making on a fourth-and-1 by USM's coaching staff from the KU 16. With the clock running, USM tried a hurry-up snap and a quarterback keeper, but Davis was stuffed at the line for no gain. USM's Larry Fedora gambled and lost with that call. With one timeout, the Golden Eagles could have tried a 33-yard field goal attempt, but as it is, they go into the locker room down by seven.
KU 21/USM 14 — 1:17 left in 2nd quarter
Chris Harris makes a nice open-field tackle on a third-and-2, dragging down Parham for a one-yard loss on a reception. KU loses its last timeout to stop the clock with 1:49 left in the half.
KU's ensuing possession, though, is sabotaged by drops from Meier and Wilson. Reesing scrambles for three yards on third-and-10, and the Jayhawks are forced to punt. USM will take over at its own 36.
KU 21/USM 14 — 3:16 left in 2nd quarter
KU's defense comes up with a much-needed turnover. On a QB draw, Davis has the ball stripped by Stuckey, and Justin Springer falls on it to give KU possession back at its own 20.
The passing game is still clicking for KU. Eighteen yards to Wilson. Nine yards to Meier. Six yards to Meier.
The Jayhawks are moved back 15 yards by an unsportsmanlike penalty on Reesing. The replays didn't show what the flag was for.
Mangino decides to go for it on a fourth-and-2 from the USM 29, and Opurum easily gets the yardage on a run around the left side. He also hurdled a defender to pick up a few extra yards at the end.
Opurum gets to finish a drive as well. He catches a wheel route out of the backfield, concentrating to bring in a 12-yard TD pass before taking a big hit in the end zone.
Branstetter's PAT puts KU back up by a TD.
KU 14/USM 14 — 8:38 left in 2nd quarter
This game is starting to remind me of a video game on the easiest setting. Both quarterbacks are dropping back, and when they look up, every receiver is breaking open.
For the second straight drive, though, KU stalls when it gets in USM territory. Reesing is pressured on third down, and after throwing the ball away, he is whistled for offensive grounding, which moves KU back to the 50.
USM's Tracey Lampley comes up with a huge play on special teams, returning an Alonso Rojas punt 49 yards to the KU 36. Rojas was at least able to slow him down in the open field to allow Stuckey to make the tackle from behind.
KU 14/USM 14 — 12:01 left in 2nd quarter
USM's Austin Davis has gotten into a groove this drive. He connects with Gerald Baptiste for 21 yards on a sideline route, and two plays later on a rollout, Davis hits Leroy Banks for 28 more yards.
Following a nine-yard run by Fletcher, KU's defense takes a timeout to regroup.
It doesn't help. Three plays later, Davis goes over the top to 6-foot-6 DeAndre Brown, who catches a ball in the corner of the end zone over Darrell Stuckey.
Seven plays and 91 yards in just 1:45 for Southern Miss. KU's defense needs to find some answers quickly.
KU 14/USM 7 — 13:46 left in 2nd quarter
KU tries the receiver pass from Meier, but the senior overthrows Wilson down the field.
On third-and-6, Reesing once again is indecisive, and he is taken down on what could be the definition of a coverage sack.
KU is forced to punt, and Alonso Rojas does a nice job of putting it inside the 10, forcing a USM fair catch at the USM 9.
KU 14/USM 7 — End of 1st quarter
Perhaps KU can kiss those first-quarter offensive blues goodbye.
The Jayhawks have moved half the field already on their current drive, which included a crucial third-down scramble of 11 yards by Reesing on a third-and-8.
Reesing followed by picking up chunks of yardage with throws underneath to his receivers. Receptions of seven and 13 by Bradley McDougald has moved KU to the USM 43.
KU 14/USM 7 — 2:16 left in 1st quarter
Daymond Patterson makes a great play on first down, shedding a blocker and sprinting up to make an open-field tackle on Freddie Parham on a wide-receiver screen. What could have been a big gain was halted by a great individual effort.
KU continues its strong defensive play on third down, as on third-and-8, Jeff Wheeler brings the pressure, forcing Davis to throw the ball away.
The Jayhawks take over at their own 9 after a punt.
KU 14/USM 7 — 4:10 left in 1st quarter
KU runs with some effectiveness on the first three plays of the next drive, as two runs from Opurum and one from Reesing combines for 11 yards and a first down.
Tanner Hawkinson picks up a false-start penalty on the following second down, but Reesing picks him up on the next play, finding Meier over the middle for 13 yards and another first down.
One thing you have to like about Opurum's running is that he always seems to fall forward at the end of a run for an additional yard or two. On an option right, he bowls over USM's Justin Davis for an eight-yard gain, and Davis is slow to get up.
Reesing shows some indecisiveness on third-and-7, and he loses the ball after scrambling for two yards. Luckily, KU falls on it.
The Jayhawks decide to go for it on a fourth-and-6 from their own 31, and the decision pays off. At the last second, Reesing finds Johnathan Wilson for an 11-yard pass over the middle to move the chains.
KU adds to its lead with a well-designed play on the next snap. With Reesing moving to his right on what appeared to be an option, he flipped the ball to Dezmon Briscoe going the other way for a reverse. Briscoe sprinted 20 yards around the left side for a TD, reaching the ball across the goal line. Briscoe fumbled after scoring, but an official review confirmed that he had possession when he scored.
The Jayhawks are two-for-two on their first offensive possessions.
KU 7/USM 7 — 10:22 left in 1st quarter
Jacob Branstetter makes another tackle on a kickoff return. Maybe KU should make him a gunner on punts.
After picking up a first down, Southern Miss uses a quick snap to catch KU's defense off guard. With the Jayhawks defense unsettled, Austin Davis finds Damion Fletcher on the right sideline, and the speedy back runs 49 yards before getting knocked out of bounds by Darrell Stuckey at the KU 7.
A few plays later on a rollout, Davis finds his tight end Jonathan Massey for a 1-yard TD pitch and catch. The Golden Eagles need just 3 minutes and 12 seconds to answer with a TD of their own.
KU 7/USM 0 — 13:40 left in 1st quarter
On the kickoff, USM has a significant player limp off the field. Tory Harrison appears to have a leg injury, and he hobbles to the sideline. We'll have to see if he comes back in later on offense. Otherwise, that could be a significant loss for the Golden Eagles.
Who needs a running game? Before the Jayhawks even run it once, they hit a home run downfield for a touchdown.
Todd Reesing floats a beautiful touch pass down the right sideline to Kerry Meier, who breaks behind the secondary for a 62-yard touchdown. He actually was defended pretty well, but Meier did a great job of waiting until the ball was almost to him before raising his arms up to catch the ball. I don't think the defender knew it was coming.
Jacob Branstetter's PAT gives KU an early 7-0 lead.
11:10 a.m.
Kansas wins the toss and will receive.
11:06 a.m.
It's a late-arriving student crowd today. The northeast corner of the stands still has 15 rows or so to be filled. I'd assume by midway through the first quarter, we'll see that corner fill in.
Sixty-one degrees at kickoff under partly cloudy skies with winds blowing at nine miles per hour.
10:59 a.m.
Based on the scoreboard clock still reading 11 minutes till kickoff, I'd expect our true start time today will be 11:10.
10:45 a.m.
Another quick Sharp update: He is on the field in pads, but he is not participating with the first-unit offense. Toben Opurum is taking those snaps.
Opurum also was listed as the starter on the scoreboard.
10:28 a.m.
As of now, I don't see Jake Sharp suited up and participating in drills with the running backs. I'm guessing he won't be out there today.
Here are some notes about Southern Miss as we prepare for today's game.
• Running back Damion Fletcher has rushed for at least 1,300 yards in his first three seasons at USM. He also is currently second on the Conference USA all-time rushing charts. The other four players with him are NFL players: DeAngelo Williams, Kevin Smith, Mewelde Moore and Matt Forte.
• Quarterback Austin Smith has not thrown an interception in his last 128 passing attempts.
• Southern Miss has held its opponents under 100 yards rushing for eight straight games.
• The Golden Eagles have won eight straight games dating back to last year, which is the second-longest win streak in the country. Florida (13) is the longest, and Ole Miss also had eight straight wins before losing to South Carolina on Thursday.
• Southern Miss trailed at halftime, 27-10, to Virginia before rallying for a 37-34 victory.
• USM's Freddie Parham had a 100-yard kickoff return for touchdown last week against Virginia.
• Though much has been made of 6-foot-6 wide receiver DeAndre Brown, he actually didn't have a great game last week against Virginia. The sophomore had three drops, one fumble and contributed two catches for just seven yards. Last week, he was still at only about 70 percent after recovering from a broken leg.
• Southern Miss has 15 straight winning seasons — the fourth-most in FBS behind Florida State, Florida and Virginia Tech.
• Tory Harrison, USM's second option in the running game, had three carries for 101 yards last week. Look for him in the backfield of the Wildcat offense with Fletcher. Harrison also had three catches for 34 yards last week and attempted one pass, throwing and interception on a running-back pass.
10:02 a.m.
As sawman3333 guessed below, KU has come out with its red uniforms for today's game.
The Jayhawks are 6-1 with the red uniforms, with the only loss in them coming against Texas Tech last season.
9 a.m.
Welcome back to the Newell Post Live, coming to you from Lawrence where the Kansas Jayhawks are getting set to take on the Southern Miss Golden Eagles.
A quick note for those of you attending the game: There is standing water in lot 96, so there is limited parking in that zone. Those arriving close to gametime are advised by KU Athletics to park in lot 90 instead.
Through three weeks, the advanced statistics are screaming two things about the Kansas football team.
One, the Jayhawks have been phenomenal on third downs, both offensively and defensively.
Two, the Jayhawks have a ton of room for improvement, both offensively and defensively, in the first quarter.
Before we dive into this week's topic, I want to go ahead and fully explain Bill Connelly's S&P; statistic that we will be using, which measures a team's efficiency and explosiveness.
Click on the link above for a full explanation.
Let's take a look at some of the S&P; numbers for KU through the first three weeks (Remember, 0.749 is average for a Division-I college football team).
Here are KU's offensive S&P; numbers each game, listed by first, second or third down. Thanks to Connelly for sharing all his statistics.
Northern Colorado

First Down S&P; — .920

Second Down S&P; — 1.578

Third Down S&P; — 1.079

UTEP

First Down S&P; — .809

Second Down S&P; — 1.015

Third Down S&P; — .925

Duke

First Down S&P; — .986

Second Down S&P; — .908

Third Down S&P; — 1.119

As you can see, no matter what down you look at, KU's offensive numbers are well above the national average. But in particular, the Jayhawks have excelled on both second and third downs. Against Duke, KU was best on third downs.
Now, here are KU's defensive S&P; numbers each game, listed by first, second or third down. Remember, 0.749 is average for a Division-I college football team, and the lower this number is, the better KU's defense played.
Northern Colorado

First Down S&P; — .408

Second Down S&P; — .564

Third Down S&P; — .592

UTEP

First Down S&P; — .579

Second Down S&P; — .684

Third Down S&P; — .211

Duke

First Down S&P; — .838

Second Down S&P; — .389

Third Down S&P; — .354

According to the numbers, the Jayhawks have easily played their best defense on third downs. This is especially evident in the last two games, as the Jayhawks defense has posted minuscule S&P; numbers (.211, .354) on third downs.
The traditional statistics also support KU's dominance on third downs. The Jayhawks offense is first in the Big 12 in third-down conversions (53.3 percent) and the Jayhawks defense is also tops in the league in third-down conversion percentage (23.3 percent).
Let's turn our attention to S&P; by quarters. Here are KU's offensive numbers.
Northern Colorado

First Quarter S&P; — 1.041

Second Quarter S&P; — 1.234

Third Quarter S&P; — .898

Fourth Quarter S&P; — 1.606

UTEP

First Quarter S&P; — .589

Second Quarter S&P; — 1.015

Third Quarter S&P; — .961

Fourth Quarter S&P; — .939

Duke

First Quarter S&P; — .761

Second Quarter S&P; — 1.004

Third Quarter S&P; — 1.055

Fourth Quarter S&P; — 1.419

As you can see, the statistics from the last two games have confirmed what most of us saw: KU's offense was much worse in the first quarter than it was the rest of the game. We can also see that the Jayhawks recovered quickly, posting a strong S&P; of over 1.000 in each of the three games.
Here are KU's defensive numbers by quarters.
Northern Colorado

First Quarter S&P; — .656

Second Quarter S&P; — .140

Third Quarter S&P; — .649

Fourth Quarter S&P; — .474

UTEP

First Quarter S&P; — .323

Second Quarter S&P; — .259

Third Quarter S&P; — .668

Fourth Quarter S&P; — .1.166

Duke

First Quarter S&P; — .952

Second Quarter S&P; — .216

Third Quarter S&P; — .635

Fourth Quarter S&P; — .660

Two things should stand out: One, the first quarter has been the highest S&P; number for KU's opponents in two of the games; and two, KU's defense has played exceptionally well in each of the second quarters.
It shouldn't surprise you, after looking at KU's strong offensive and defensive numbers in the second quarter, to find out that the Jayhawks have outscored their opponents, 51-0, in the second quarter this season.
The question now is if these trends will continue. Can KU stay dominant on third downs, both offensively and defensively? Will the Jayhawks continue to have poor first quarters?
It's definitely something to watch for. Connelly's prediction is this:
"If KU wins easily against USM, we'll say 3rd Down S&P; was the key. If KU struggles, we'll say 1st Quarter S&P; (against Duke) was a warning sign of things to come."
Check back for more analysis as we get closer to gametime.
More like this story on KUsports.com