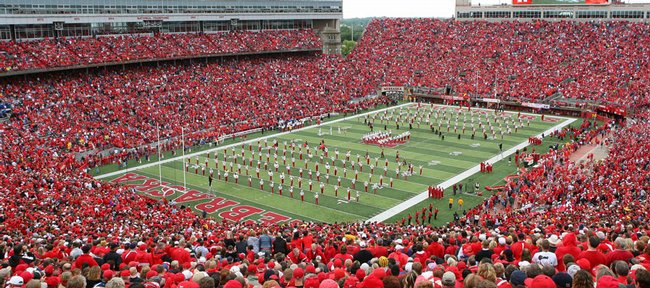 When I read that Nebraska University would celebrate its 300th straight football sellout tonight, I was hardly surprised.
But I was a bit taken aback when I realized I had been in NU's Memorial Stadium for the start of that streak. The date was Nov. 3, 1962, and the opponent was Missouri.
I was an MU senior that year and had traveled to Lincoln, Neb., with my roommate, who was the football beat writer for the student newspaper.
For some reason, I saved the program from that game. After rummaging around in a couple of closets, I found it, smiling when I saw on the front cover that I had plunked down a whole 25 cents for it.
When I came to the roster pages and went over the names, I was struck by how many of the participants had chosen to remain in football as coaches, scouts and administrators.
Would you believe, for instance, that two men who coached back-to-back at Missouri played in that game?
Warren Powers, a senior defensive back for the Cornhuskers, was MU's head coach from 1978-84, and Powers' successor was Woody Widenhofer, who was a sophomore linebacker for the Tigers' that season.
Perhaps you read last summer about Jim Johnson, the highly regarded defensive coordinator of the Philadelphia Eagles who died after a bout with cancer.
Johnson was known for his attacking defenses that targeted quarterbacks from every angle, a reputation I always found ironic because Johnson was Mizzou's quarterback that season, the man who guided the Tigers to a 16-7 victory on that historic day.
Missouri's two halfbacks were Johnny Roland and Bill Tobin. Roland, who played eight seasons in the NFL, retired in 2005 after nearly 30 years as a college and pro coach. Tobin was once general manager of both the Bears and the Colts and gained instant fame with his "Who the hell is Mel Kiper Jr.?" utterance.
Today Tobin is listed as a scouting consultant for the Bengals. His son Duke is Cincinnati's director of player personnel.
A couple of other father-son angles evolved from the participants on that early November day almost 47 years ago.
Nebraska tackle Monte Kiffin, who spent many years as an NFL aide for several teams, is now on the staff of his son Lane, who took over at Tennessee University this season.
Also, Kent McCloughan, one of the Huskers' halfbacks, is now in his 43rd season as a scout with the Oakland Raiders. McCloughan's son Scot is general manager of the San Francisco 49ers.
Several of those MU and NU collegians went on to play professionally, but only one is in the Pro Football Hall of Fame. Bob Brown, a 6-4, 280-pound Nebraska tackle — a huge player for that era — was named to the pro shrine in 2004 after playing in 10 pro bowls and earning All-NFL honors seven times.
Arguably, the second-best player on the field that day was Andy Russell, a Missouri linebacker who played for the Pittsburgh Steelers from 1963-76. Russell, Jack Ham and Jack Lambert formed what is widely acknowledged to be the NFL's greatest linebacking unit.
Thanks for reminiscing with me.
More like this story on KUsports.com