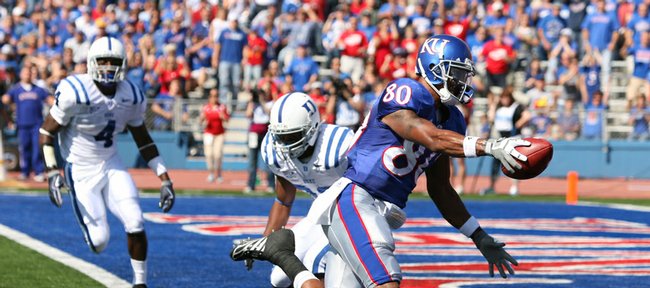 The last time a Kansas University football team began the season 4-0, KU went on to win the 2008 Orange Bowl.
Sitting at 3-0 heading into their final nonconference game of the 2009 season — 11 a.m. Saturday vs. Southern Miss. — the No. 20-ranked Jayhawks are poised to jump out to a 4-0 start for just the second time in the Mark Mangino era.
In fact, Kansas enters the weekend as one of 21 Div. I teams with a 3-0 record. Seven others sit undefeated at 2-0, which leaves the Jayhawks in the upper echelon of the college football world for the time being.
Don't try selling that to the players themselves, though. For these guys, 3-0 is little more than a means to end, a necessary block in the running play that is a 4-0 start.
"We've had a good week of practice, and I've seen a lot of guys around here who are eager to round out the nonconference schedule 4-0 and go into Big 12 play undefeated," senior wideout Kerry Meier said.
A victory this weekend would send the Jayhawks into their bye week unbeaten for just the eighth time since the formation of the Big Eight Conference in 1957 and just the third time since the Big 12 was created in 1996.
A victory against the school that produced legendary Green Bay Packers quarterback Brett Favre also could prompt some to begin comparing this team to the last Mangino squad that began a season 4-0.
"The common thing I see between them is that both teams worked extremely hard in the offseason, both teams worked extremely hard during the season, and they got better each week and continued to improve as the season went along," offensive coordinator Ed Warinner said.
Added junior cornerback, Chris Harris, a starter on both teams: "We're kind of similar to them with our poise and not panicking. That's what we had in 2007, just that mental toughness to be able to come back."
Although there are a few worthy comparisons between the two, Mangino himself chose not to partake in the compare-and-contrast exercise after just three games.
"I don't know how many games this team will win," Mangino said recently. "But this team has a completely different personality than the 2007 team. One thing both teams share is terrific work ethic. But beyond that, I can't compare them."
A large reason for the difficulty in measuring the two squads against each other comes from each team's leadership. Although this year's captains — Meier, Todd Reesing, Jake Sharp and Darrell Stuckey — have been around the block a few times, they don't lead in quite the same manner that guys like Derek Fine, Brandon McAnderson, Aqib Talib and James McClinton did. In short, this group is not as vocal as the guys who led them in 2007.
"When you have all those guys that have played so much football, then you have several coaches that are out there on the field for you," cornerbacks coach Je'Ney Jackson said. "Now, we have a lot of guys who have played a lot of football for us but not nearly the amount of snaps that those guys had. They're getting better and the leadership is getting better, but, to me, that's the big difference. On that 2007 team, we had guys who played for us for four years."
A handful of key contributors on this year's team can say they had similar roles during the Orange Bowl season two years ago. When asked what their take was when comparing the two squads, most shared one thought.
"It does feel similar," Meier said. "But we're only in the third week of the season and it's tough to predict where this season is going to go. Every team is different in some way, but we're going to keep working as if we're the underdog and playing like we have something to prove each week."
For all the similarities and differences between the two, no matter how big or small, perhaps the most telling aspect of both teams was the way they approached every Saturday.
"In 2007, we really took it one game at a time and took it one opponent at a time," senior safety Justin Thornton said. "And this week 100 percent of our focus is on Southern Miss. They're a good team and if we're not on our A-game, they could come in here and beat us."
More like this story on KUsports.com