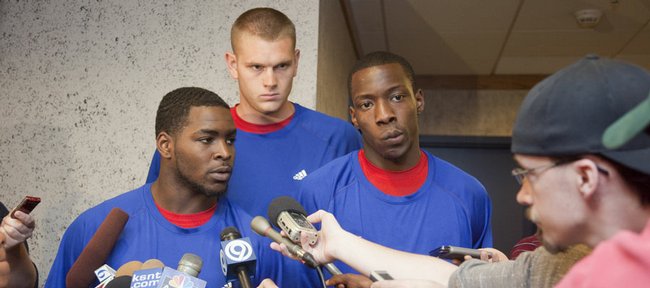 Videos
Self, players address fights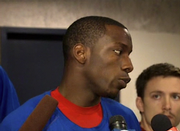 KU basketball coach Bill Self, along with players Sherron Collins, Cole Aldrich and Tyshawn Taylor, discussed three on-campus altercations in which members of the team were involved.
Podcast episode
KU coach Bill Self addresses the recent incidents regarding the KU men's basketball and football teams.
Podcast episode
KU basketball players Tyshawn Taylor, Sherron Collins and Cole Aldrich talk about the recent incidents between the KU basketball and football teams.
Wearing a splint on his thumb and heavy wrap on his injured left hand, a contrite Tyshawn Taylor met the media Thursday afternoon in Wagnon Student Athlete Center.
"I am embarrassed about the situation. It's a situation none of us should have gotten ourselves into," Taylor, Kansas University's sophomore basketball guard from Hoboken, N.J., said of his role in Tuesday/Wednesday scraps between KU basketball and football players that left him with a dislocated left thumb.
"We embarrassed our campus, our university, our team, both teams, and it's a situation that shouldn't have happened. Looking back at it, I feel like it was stupid and I wish I could take it back."
Nine-and-a-half hours after taking part in the first 6 a.m. Boot Camp conditioning session of the preseason — one set up as a form of punishment for this week's off-the-court situations — Taylor, senior Sherron Collins and junior Cole Aldrich on Thursday repeatedly apologized for the actions of the hoops and football teams.
"It was a group of individuals that let something small build up," Taylor said. He didn't go into specifics of what caused Tuesday night's fight in front of the Burge Union or Wednesday morning's incident by Wescoe and Budig halls. Sources have said it involved a dispute over a woman who used to date an athlete from one of the teams and now dates a player from the other team. "If we'd eliminated the first small thing that happened, the big thing wouldn't have happened."
Taylor also apologized for posting inappropriate song lyrics on his Facebook page.
"I felt I made some comments I shouldn't have made. I didn't have intentions of it being bad," Taylor said. "To be honest, I didn't want this situation to escalate to what it got to. I wish we could have nipped it in the bud from the beginning and the situation a couple days ago would not have happened."
Collins said a Wednesday afternoon meeting between the football and basketball teams, which was headed by athletic director Lew Perkins, has resulted in the end of the feud.
"We squashed everything. We got to talk it out," Collins said. "We shook hands and let everything go."
It's too bad, Collins stated, that the undisclosed disagreement resulted in fisticuffs in which Taylor was injured.
"I think for both sides it's a situation that could have been resolved just by talking," Collins said. "We've got to be grown men. Grown men don't do stupid things, don't let ego get in front. We have to move on and continue to support each other. We'll be at the football game Saturday."
Coach Bill Self showed how he felt about the situation by ordering his players into the gym for early-morning sprints.
"We had a semblance of Boot Camp today and will start it officially on Monday," Self told the Journal-World early Thursday afternoon, noting the players would report again at 6 a.m. today.
He would not come right out and say the extra Boot Camp sessions were disciplinary measures against his squad. The inference was obviously there, however.
"I've been on the road recruiting a lot and have not had a chance to spend any time with the guys of late," Self said. "I was able to spend some time with them today."
Later in the day, like his players, he also met a pack of media members. He said he would deal with the spat with the football team in-house. He did not report any suspensions, but has not ruled them out.
"I will not say what will transpire and what will not transpire. I will tell you this: We are taking it very seriously," Self said, noting all of his disciplinary measures have been kept in-house in his coaching career.
Of the incidents between the teams, Self said: "We have shed a negative light on a great start to a school year on a chancellor who is just getting her feet wet on the job. To me that's totally embarrassing, especially at a place that they (players) all love attending. They are certainly disappointed they are a part of doing that. It's very disturbing to me."
He had no problem with extensive media coverage of the incidents, a lot of it involving Taylor, who Self stressed is "one of the best kids I've ever coached."
"It's been portrayed to be a big situation. It is. Nobody is taking that away," Self said. "We're talking about a select few (individuals) as opposed to handfuls. Unfortunately, a select few shed a negative light on what I consider to be a pretty clean and classy basketball program.
"I would say to our fan base, I am sorry this occurred. We will have problems in the future. There will be something that comes up in the future that we don't like dealing with. That is the way it is with every program. You can't say everything is bullet proof. I do think people should be pretty confident this will be addressed in a very strict manner."
Facebook talk
Self said a member of his staff monitors Facebook pages. "The ultimate responsibility is for them (players) to project the image they need to project. We will monitor it closer. The responsibility also falls on their shoulders, not just people following them around to make sure they do things right."
Injury update
Taylor is expected to miss three to four weeks with his dislocated thumb.
"I've got to do a couple more checkups and see how things progress," Taylor said of an exact time frame.
"We are hoping he can run out of the tunnel with us and do all the dances and all the other stuff," Collins said of the Oct. 16 Late Night.
Recruiting
Harrison Barnes, a 6-8 senior forward from Ames (Iowa) High, will make an official recruiting visit to KU for the Oct. 16 Late Night in the Phog. He will visit Oklahoma (Oct. 2-3), UCLA (Oct. 9-10) and Duke (Oct. 23-24). He already has visited North Carolina and will make an unofficial trip to Iowa State on Nov. 6-7.
More like this story on KUsports.com